A lot has changed since we began our tech journey back in 2019, with SmartrCriteria. A year later in 2020, we launched our affordability tool SmartrFit; and more recently we added products including ESIS and a Property Check tool.
We've been wonderfully supported by our lenders and user community, and as a result, we've been able to shake things up and think differently to deliver more.

But we can't stand still and must continue to embrace change
Our industry and consumers have wholly embraced change in the wake of the pandemic. With the cost-of-living crisis and a culmination of other issues likely to continue influencing; there's no doubt tech savvy ways of researching and sourcing products are here to stay.
As an adviser you need more choice when it comes to lenders and products, as well as flexible solutions to help you quickly find them.
That's exactly what we've tried to achieve with our new user experience.
We've brought together all of the tools we've developed over the last three years and housed them in one integrated platform.
What does this mean for our users?
As a result, SmartrFit is no longer an affordability tool that works with SmartrCriteria – it has evolved to offer advisers a Mortgage Research and Product Sourcing Platform where users have access to the following:
Criteria Tool (formerly SmartrCriteria)
Affordability Calculator
Product Sourcing including ESIS/Illustrations and Evidence of Research Docs
Property Checker Tool.
All tools are available for both Residential and Buy-to-Let, with our Criteria tool offering other lending types too.
Each tool retains the features our users know and love - and are still available for free – while being available on one platform for a better experience and more flexibility.
We want our mortgage tech to work around you and your clients' circumstances; rather than you having to work around the tech and access multiple tools or re-key data. Ultimately this wastes valuable time.
Introducing our new look...
1. Access SmartrFit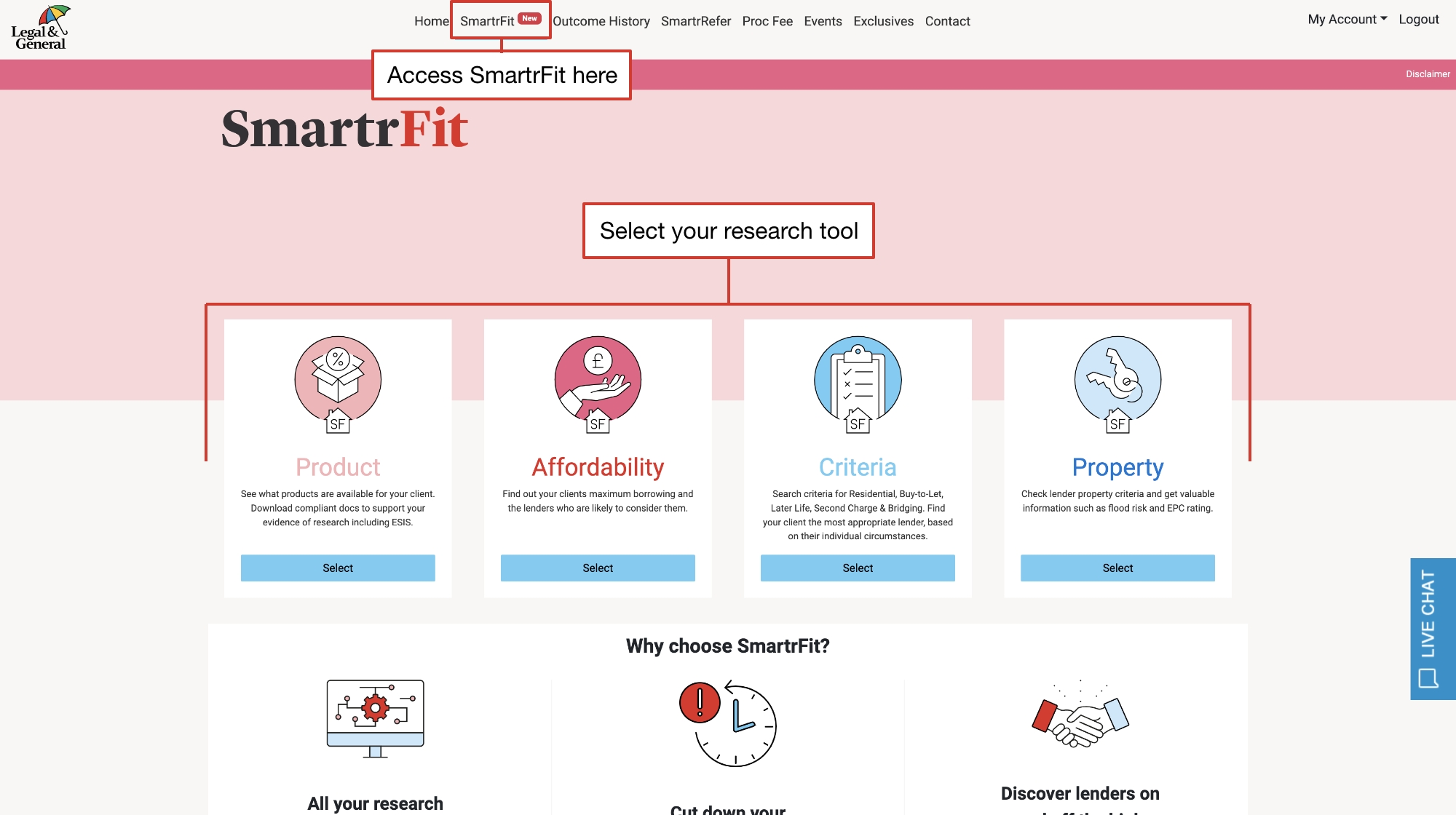 4. Get your results
5. Filter your results or refine your search, and integrate other tools with ease

Our quick edit bar has changed to allow you to see all the information you need in one place.
The filters are all still in place, and now you can also easily view or add results from other tools to refine your search.
We hope this new functionality will provide you with the freedom to search in your preferred way, and ultimately aid you in delivering great customer outcomes. Whether your search style is to start wide and narrow down your results to source products; or to check the EPC of a property first… it's all there in one place for you to access quickly, and with ease.