We're always looking for the best talent to join our rapidly growing business. Do you feel you can help us realise our ambition of making the housing market fairer for all? If so, take the next step in your career and be part of a team that's making a real difference to people and communities across the UK.
If you're interested in a career in Production, take a look at our online candidate pack to see the training and development opportunities available to you.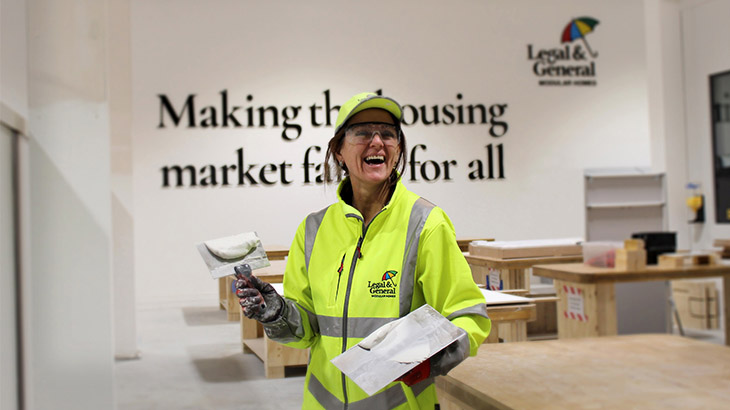 As well as the fantastic opportunities we have at Legal & General Modular Homes you'll also be entitled to great benefits.
Ready to take the next step?
We have exciting and diverse career opportunities and are always looking for the best talent to join our rapidly growing business.
We support careers across multiple disciplines:
Commercial
Construction, production and logistics
Design and engineering
Finance, procurement and supply chain
Health, safety and environment
Human resources and administration
Our Academy provides a broad range of business-related training programmes designed to enhance the skills and experience needed in our work environment.
Colleagues in Production work across a range of tasks within the build stages. After an initial induction, new operatives learn skills within key zones of the build process resulting in a qualification in Modular Mastery.
Other activities include health and safety training, leadership development and continuous improvement to ensure our colleagues live our values and realise their potential.
Defence Employer Recognition Scheme (ERS)
We are delighted to have received the Bronze award from the Defence Employer Recognition Scheme (ERS) in recognition of our support to defence personnel including those from the Armed Forces community. The award follows the signing of the Armed Forces Covenant, further reinforcing our commitment to creating a welcoming and inclusive workforce, from all backgrounds.

Chancellor Rishi Sunak tours Legal & General Modular Homes factory
We were delighted to welcome the Chancellor to meet our apprentices and learn more about our modern approach to housebuilding.
This is our story video
Get in touch
We'd love to answer all your questions around modular homes and modular developments. Our team is here to help.