Bringing your new kitten home
You should definitely be prepared when bringing home a new kitten, as they're sensitive to new environments and have been separated from their family so may be feeling a little anxious.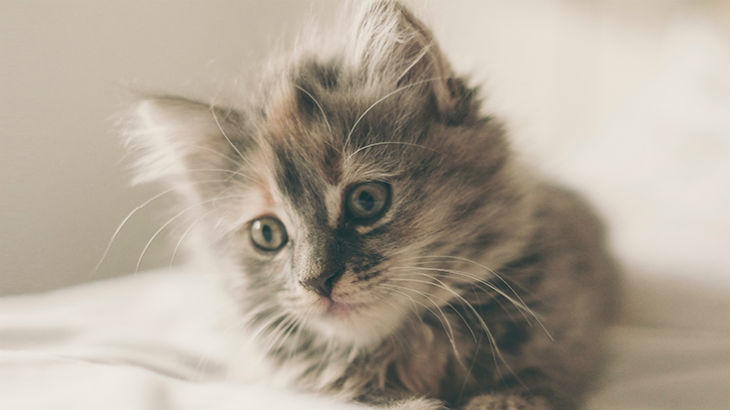 Before you bring your kitten home
Coming into a new home with new surroundings and new smells will leave your cat feeling uneasy so it's important to make them feel relaxed by considering the following:
Create a small area that your kitten can call its own, providing food, water and a few toys. You'll want to sit with them so ensure the area is big enough for you too.
Fill the litter tray with roughly two inches of cat litter and place it locally. Ensure that it's away from the feeding area so they're able to use it undisturbed, when required.
If your kitten was brought home in a cat carrier, fill it with soft blankets so it has a small safe haven. Ensure there is enough room for it to move around in and stand up. Face it towards the door so it can see anyone or another pet coming into the room to avoid being startled.
Scratching posts are great for your kitten to use, especially if you prefer your sofa not to be torn to shreds. If you have soft furniture in your home, you may feel it's best to buy a scratching post for each room. Alternatively, you could try sticking tape to corners of upholstered furniture to dissuade scratching.
Once settled in, your cat will want to explore and reach higher ground. You may find that one day they're sitting on top of your kitchen cabinets so always ensure there is nothing dangerous lying around or that can be knocked off the top.
Take a look around your house to ensure there aren't any holes, as these can be easy for your kitten to squeeze in to.
Sharing the ground rules with the rest of the family is vital. It's important they understand the rules and ensure there is consistency.
Introduce other pets slowly and calmly. For a kitten in new surroundings, there's nothing worse than a hyperactive pet charging towards them, sniffing and demanding authority.
Kitties first day
Bringing your new kitten home in a carrier is a great idea, with all the excitement of the day the carrier provides a safe and secure environment.
This will be used as your kittens safe haven for the new few weeks.
The whole family will want to meet their new family member but remind them of the ground rules and introduce each member slowly.
Put your kitten into the small area you created for them, sit down and let them come to you. They'll want to explore and sniff around calmly so just let them roam. Some kittens are particularly frightened so if they refuse to come out of their carrier, just give them time.
Some kittens eat very little or not at all when they first arrive into their new home so keeping thing's familiar may be a good idea. If possible, feed them the same food they had at their previous home, this will help them feel more secure.
Always make sure you change their water frequently and if your kitten hasn't eaten or drank anything for a few days, seek advice from a vet.
The next few weeks
Once your kitten has had a week or two to settle in, book an appointment with your vet to check all is well with your furry friend. If your kittens previous owner gave you an immunisations record, take that along too.
At this stage your kitten may emerge from its safe haven and may want to play, so find some suitable toys for you both to play with. Homemade toys are usually preferred, like a scrunched up ball of paper or a shoe lace that can be dragged around the room for your kitten to chase.
We love our pets and they're an important part of our family, they're reassuring and a constant presence in our lives. Pet Insurance provides peace of mind and can help to cover the cost of unexpected vet fees when your pet needs treatment due to an accident or illness.