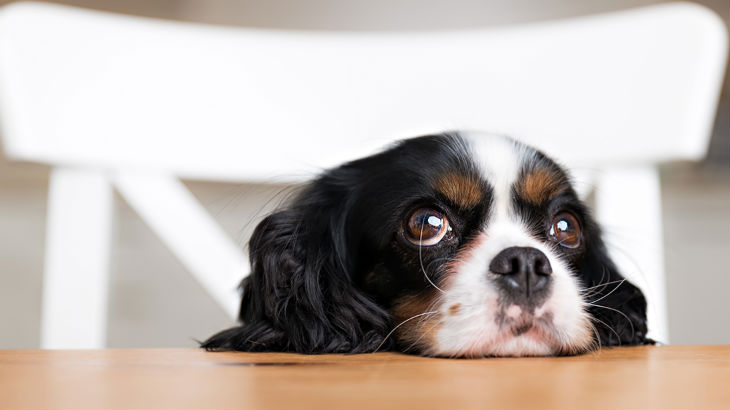 'You are what you eat' as the old saying goes, and like any member of your family, you want to ensure that your pet eats well; diet after all is tantamount to its overall health and wellbeing. While treats in moderation are encouraged – particularly when training your faithful friend – it is a pet owner's responsibility to provide nutritious, well-balanced mealtimes throughout the day (even when in your absence). With 77% of vets now concerned that pet obesity is on the rise, food choices and exercise go hand in hand to ensure your companion remains bright-eyed and bushy-tailed – from puppy or kitten through to adulthood.
What's on the menu?
With entire store aisles now dedicated to food for your pet, there's more choice than ever before when it comes to feeding a dog or cat – from cans and pouches of wet food to kibble mix and gourmet pâtétrays. While some choose to go homemade – Some owners feed pets leftovers straight from the table – the majority of owners are reliant upon the colourful tins and trays that line our supermarket shelves.
The most popular? 85% of both cat and dog owners choose to buy in dry food for their pets. Not only is dry food good for your animal's oral health – it can help keep a canine's teeth healthy – but it also means better breath for a dog or cat. Yet wet food also remains a firm favourite (of both animals and owners alike) and 41% of pet owners interested in serving chilled food to their pets.
Feeding a puppy or kitten
While exhilarating, the first few weeks with a puppy or kitten can also prove stressful should you not have the right food stocked in your cupboards. With some young animals having only just been weaned (between 8-12 weeks old), it is vital that you provide the right balance of nutrition at this tender age. Despite 61% of owners looking to food labelling for nutritional value, it's recommended that you also seek advice from your vet and/or animal breeder, to shape a diet based on the needs of your littlest family member.
For puppies, the amount you feed them can vary greatly depending on size, breed and more.  Whether this comprises a dry or wet food diet is entirely your choice, but dependent on your dog's weight, official feeding guides can help dictate meal size (by nugget or kg) to ensure your puppy receives the correct portions. Specialist puppy food will ensure a more nutrient-rich meal packed with the essential vitamins and minerals needed to help them grow, while breed-formulated options are often better catered to particularly small or larger dog breeds.
For kittens, as with puppies, your cat's stomach will be tiny in infancy, and the amount you feed them will vary depending on their size and breed, so smaller portions at regular intervals is key. Both wet and dry food options are available for your cat, and kitten-friendly formulas can give you peace of mind when it comes to providing a balanced diet of protein and vitamins to support their immune system. You mustn't feed cow's milk to kittens; instead, formulated 'cat milk' can often be found on the cat pet food aisle should you wish to incorporate this.
Feeding a senior pet
When it comes to feeding an older pet, it's important to consider a number of elements before choosing the most suitable diet for them (and for your pocket). As dogs and cats reach senior age (around age seven, dependant on breed for dogs), they are no longer in their prime. For this reason, they may need extra help to ensure they remain happy and healthy for as long as possible.
For dogs, this includes monitoring their weight, with the option to reduce portion size or opt for a low-calorie alternative specially designed for senior animals. As vets estimate that up to 45% of all pets they treat are overweight, it's crucial that a dog's dinner does not contribute to obesity issues, and that it receives regular exercise alongside a well-balanced diet. Regarding further health complaints including dental, digestion or kidney-related issues, vets can recommend a more tailored diet to help your pet get back on track.
For cats, owners may also notice weight gain in their pets as they prefer the warmth of a lap (over laps around the garden). As their metabolism slows and their immune system wavers, a protein-rich diet containing essential vitamins and minerals is key to keeping your cat as healthy as possible. Notoriously fussy eaters, cat owners also face the challenge of enticing their pets with a meal that is tasty (and easy to digest) so as to keep their strength up during their twilight years.
Scooby snacks
With most dog and cat owners finding it hard not to feed their pets treats, it's sometimes hard to resist the temptation to spoil your four-legged friend. Although pet treats are fine on occasion, you should still be wary of their calorific content – tidbits containing natural ingredients and fewer additives can help your pet avoid those unwanted pounds. Alternatively, a great way to treat your companion is with a simple play of catch in the park or a relaxing brush of their fur coat at home; not all treats have to be food-related, and pets love affection and attention over everything else.
We love our pets and they're an important part of our family, they're reassuring and a constant presence in our lives. Pet insurance doesn't have to be one of life's complications because our dog and cat insurance aims to be refreshingly simple and straightforward.
Source: Mintel Pet Insurance Report 2017