What to do if you find a lost dog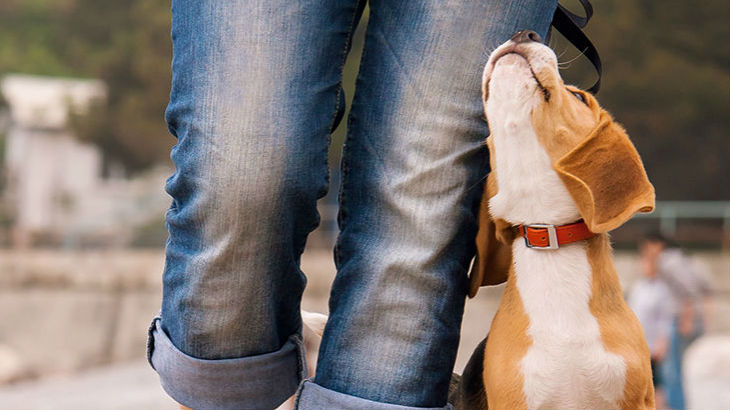 If you've found a wandering dog, it might not be immediately clear what to do. The law has made it compulsory for all dogs to be microchipped in an attempt to make it easier to track down recently lost dogs. 
On top of this, the Control of Dogs Order 1992 states that any dog in a public place must wear a collar with the owner's name and address (including postcode) engraved or written on it, or engraved on a tag. There exists the threat of a £5,000 fine for owners that don't have this in place.  
Have you found a stray dog? Here's what to do: 
If safe to do so, check to see if the dog's collar or name tag has the owner's contact details, then attempt to contact them and leave a message.
Arrange to return the wandering dog to the owner.
If there are no contact details, report the found dog to your local dog authority via your council, and hand it over to them (failure to do so could result in a prosecution for dog theft).
Remember to check with your neighbours. Usually a dog will have strayed from their property, especially if they have just moved house.
Ring local vets and rescue centres, as well as national rescue organisations like the RSPCA or SSPCA.
Take the stray dog to a local vet to have it scanned for a microchip.
Register the dog's details on pet lost and found websites like "DogLost" or "Pets Located".
Create a 'found' poster and distribute around your local area. 
What should I be aware of when dealing with a wandering dog? 
Here are some important things to remember when dealing with stray dogs:
When approaching the stray dog, be aware that the dog may be scared or distressed. If their behaviour isn't normal, wait for the local warden to arrive.
Similarly, if you decide to take the found dog home with you to wait for the local warden, treat the dog with care as it will be sensitive.
If you want to keep the dog, you still have to get in touch with the local authority and follow the correct legal steps or face prosecution. But if no one claims the dog you may be allowed to rehome them.
Warning: Please ensure you take care and never put yourself at personal risk when approaching or rescuing stray animals.