Exclusive Research

We found the best places in Great Britain for dog owners to live by mapping the resources that dog owners told us were important to them
Dog owners said the most important resource was a nearby park for walks, followed by a local vet practice, nearby pet shops and professional dog walkers
Sutton Coldfield is the most dog-friendly place in Great Britain, thanks largely to its many dog-friendly parks
The West Midlands has the most dog-friendly towns and cities on average, while Yorkshire and the Humber has the least
The best place in Great Britain for vets is Hemel Hempstead, because they're all open at weekends and 86% are accredited by a regulatory body
Hartlepool has 5.7 pet shops per 1,000 dogs, more than any other urban place
Farnborough has the best access to dog walkers – 4.6 companies per 1,000 dogs
Dog owners need many things to give their dogs the best life possible. Whether it's a place for walkies, vets and walking services to keep them healthy, or shops to buy their favourite chewy things – where you live determines how easily you can access the resources you need as a dog owner. But what resources do dog owners care about most? And which places in Great Britain have the best supply? 
After speaking to dog owners living in towns and cities to find out which resources are important to them, we mapped those resources – over 22,800 urban green spaces, 3,200 pet shops, 2,000 vet practices and 3,000 professional dog walking services – across urban Great Britain.
Combining dog owners' opinions with hard data, we calculated an overall dog-friendliness score for each location. We let dog owners decide which resources had the strongest influence on our dog-friendliness score to design a score built by and for dog lovers. 
Sutton Coldfield is the best urban place to own a dog
We factored in each place's availability of parks, vets, pet shops and dog walkers to create a dog-friendliness score ranging from 0 to 100 to identify idyllic havens for dog owners. 
Out of more than 100 of the largest towns and cities in Great Britain, Sutton Coldfield got the highest dog-friendliness score at 56.9. The Royal Town of Sutton Coldfield, a jewel in the crown of the West Midlands, boasts some of the most expensive property prices in the region and is the fourth least deprived town in England.
The West Midlands had the highest average dog-friendliness score of all Great British regions. While towns in Scotland and South West England – including Inverness (scored 10.7) and Bournemouth (9.5) – languished at the bottom of our table. 
Some places, like Slough, London and Bristol, scored highly because they have a lot of green spaces for dog walks. The likes of Gillingham, East Kilbride, Hemel Hempstead, Aberdeen and Cardiff are among the top 10 places for dog owners because they are great places to find a vet. Locations were less likely to feature highly on our list for scoring well on pet shops and dog walkers, because the dog owners we spoke to said these resources were less important. 
Dog-friendly green space is the most important resource for dog owners
According to the dog owners we spoke to, the best thing a dog owner can hope to live near is a park for walkies. We asked them to rate the importance of every resource on the same 1-to-10 scale. 
Dog owners rated the importance of a nearby park 8.9 out of 10 on average – almost half of dog owners rated it 10 out of 10. They rated having a choice of parks 7.5 out of 10 and gave a rating of 7.2 for having a large park where dogs can run freely. 
The second most important resource was a local vet practice. Dog owners rated the importance of having nearby vets 7.3 out of 10, but finding the right kind of vet was even more important. They rated a vet that opens at weekends 8.3 out of 10 and having a vet accredited by the Royal College of Veterinary Surgeons got 8.7. 
Forty-three percent of our dog owners said they regularly shop at a specialist pet shop. The average importance rating for nearby pet shops was 6.2. 
Only 1 in 10 dog owners have hired a professional dog walking company to walk their dog, which is why this was the least important of the four resources (3.5 on average). 
We used these importance ratings from dog owners to determine how much influence each resource had on our overall dog-friendliness score. 
Sutton Coldfield has the best green space for dog walks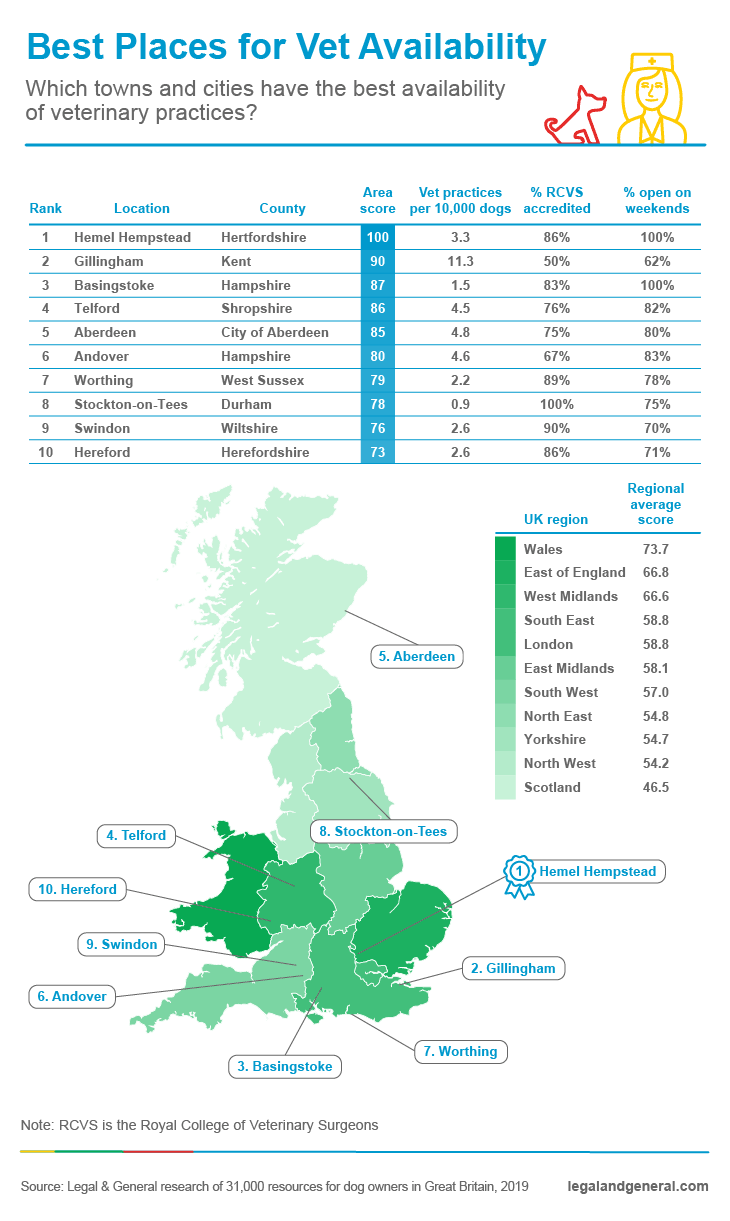 Across the half a million acres of parks, playing fields and other dog-friendly green spaces we analysed – measuring the number, size, and total area of green spaces in each location – Sutton Coldfield has the best supply of green spaces for dog owners.
 - Sutton Park, Sutton Coldfield
Sutton Coldfield's residents can claim to live in Britain's most dog-friendly town thanks largely to the 2,000-acre Sutton Park that's right on their doorstep. Sutton Park has it all: a nature reserve, a brook, seven lakes, woodland, grazing ponies, and even several dog boarding services situated on the park boundary. Almost one-fifth of the land in Sutton Coldfield is green space where you can walk your dog. 
Things can change over short distances, though. Lichfield is only 8 miles from Sutton Coldfield but has the joint fourth lowest parks score. Dog owners said they typically travel no further than 4 miles from home to reach a dog walking destination, putting the beautiful Sutton Park out of reach for Lichfield residents.
 - Windsor Great Park, Slough 
Slough ranked second for dog-friendly green space, with a parks score of 79 out of 100. But locals know that Windsor Great Park, the River Thames and acres of green belt provide Slough with plenty of dog-friendly greenery nearby.
 - Epping Forest, London
In the concrete jungle of London it's said that you're never more than 6 feet (or perhaps 50 metres) from a rat. But according to our analysis, you're also never farther than 20 minutes' walk from one of London's 545 green spaces, making it an ideal place for walkies.
Hemel Hempstead has the best availability of vet practices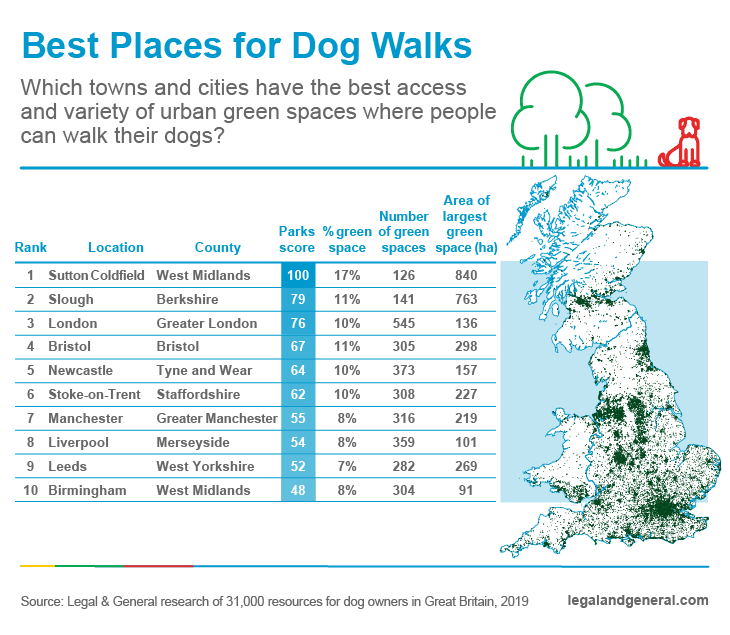 We considered three factors when analysing the 2,000 vet practices in Great Britain's main towns and cities: the number of practices open at weekends, the number of which are quality-checked by their regulatory body, and the number of practices for every 10,000 dogs that call the town home. 
Hemel Hempstead, 24 miles northwest of London, has the best supply of vets in Great Britain. The Hertfordshire town has 3.3 practices for every 10,000 dogs, higher than 84% of British urban areas, all are open at weekends and 86% are quality-assured by their regulatory body. 
Gillingham in Kent is ranked second at a score of 90 out of 100. The number of vets in Gillingham is 11.3 practices per 10,000 dogs, better than anywhere else. But not all are open at weekends. 
Hartlepool has more pet shops per dogs than any other urban place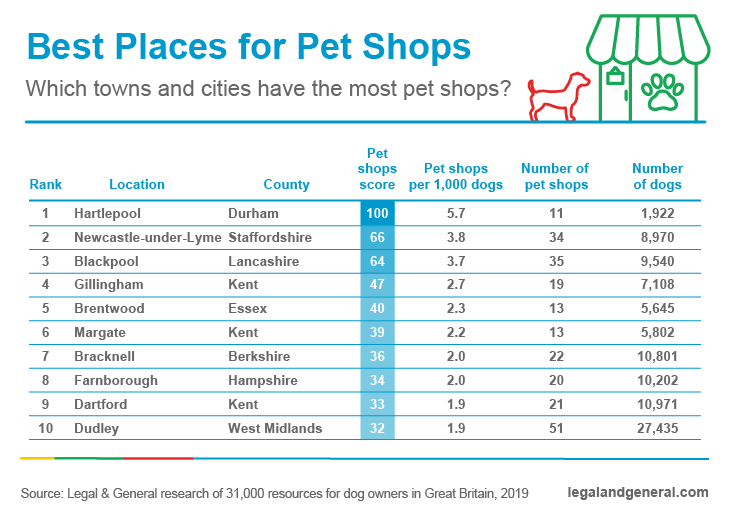 The third most important resource according to dog owners was to live near a specialist pet shop. Almost half of dog owners (43%) said they regularly use a pet shop, but roughly the same proportion said they'd rather go to a supermarket instead. Those who use pet shops typically travel no farther than a 10-minute drive to reach their favoured store. 
In the minds of some locals, Hartlepool became less dog-friendly last year after reintroducing a dog ban on beaches. According to our analysis of over 3,200 specialist pet shops, Hartlepool is still the best place to find your pooch's favourite chew toy, with 5.7 pet shops in Hartlepool for every 1,000 resident dogs. Hartlepool's residents can even enjoy the best pet retailer in the UK, according to the PetQuip Awards 2018. 
The top places for pet shops differ from the top lists for parks and vets, and one common theme separating them seems to be wealth. Hartlepool, Blackpool and Margate are among the most deprived places in England, and another three on the list are more deprived than the majority of British towns. Whereas the likes of Sutton Coldfield and Hemel Hempstead, which scored highly for parks and vets, are among Britain's least deprived places. 
But another group of towns appears in the top 10 for pet shops: London's satellite towns. Brentwood, Bracknell, Farnborough and Dartford are all less deprived than most other places, and are home to many commuters who work in London. These places also scored highly in our analysis of professional dog walkers. 
Farnborough has more dog walking companies per dogs owned than any other urban place
Most dog owners are willing and able to walk their dogs, but others struggle to get out or make time. Only 12% of dog owners we spoke to said they hire a dog walker to help with walkies, which is why this was the least important resource of all at just 3.5 out of 10 on average. But owners who do hire dog walkers rated its importance 6.7 out of 10, and they gave the importance of positive reviews from fellow dog owners an 8.9 out of 10. 
Based on the 3,000 professional dog walking companies we mapped, the supply of dog walkers is higher in London and the South East than in any other region of Great Britain. Farnborough, Hampshire has the most dog walkers available for hire (4.6 per 1,000 dogs). But several other towns surrounding London are among the best places for dog walkers, including Bracknell (3.1 per 1,000 dogs), Brentwood (2.8) and Dartford (2.2). More disposable income and the busy lifestyle of commuters could both be reasons for the South East's abundance of professional dog walkers. 
Summary 
Wherever we live, we all strive to give the best care for our pet. But having the things you need on your doorstep will certainly make life easier. No location featured in the top 10 for every resource we analysed, so if you're a dog owner the best place for you and your furry best friend will depend on which resources you think are most important. 
When we set out to find the place that makes a dog owner's life easiest, we decided to find out which things are important to most dog owners and then used data to reveal which place was objectively closest to the average owner's ideal. Dog owners we spoke to said it was most important to live near parks and a local vet, which is why the leafy Royal Town of Sutton Coldfield tops our list of the most dog-friendly places in Great Britain.
Fair use statement
Our research on the most dog-friendly cities in Great Britain is available for you to share for any non-commercial purposes, but please link to this page so our research team is credited and others can explore our results in full.
Methodology
To decide which resources should feature in our analysis and how strongly each one should influence our overall dog-friendliness score, our research team spoke to 100 dog owners, living in towns and cities from every region of Great Britain, to find out how important each resource is when caring for their dogs. The dog owners rated the importance of each resource on the same 1-to-10 scale to make the resources comparable. We asked dog owners several questions about each resource to build a fuller picture about the way in which the resources are important. We determined each resource's weight in the analysis by averaging the importance ratings from each question relevant to the resource. The unique dog-friendliness score was created by our research team, by rescaling each variable to range from 0 to 100 and then finding the weighted average for each location using each variable's importance as the weight. The overall score was calculated by applying the same method to resource scores. The variable scores in each location were based on a data set we collated of 31,000 places of interest for dog owners, collected from vet and service listing websites, plus an Ordnance Survey map of green spaces. We used the latest estimates of dog population by postcode district, published by data.gov.uk, to scale resource provision by location size.