When Diane retired three years ago, she thought she'd finished with checking emails and making phone calls.
"I worked in corporate travel management all my life, for the last nine years on a very intense emergency assistance account," she says. "It was constantly dealing with stressed people, so you had to be at the top of your game. When I reached the age of 65, I felt the time was right to ease up a bit."
Volunteering in the pandemic
With looking after her grandchildren and various home improvement projects to manage, she was kept pretty busy. But when the pandemic struck, she stepped up as a community response volunteer with Royal Voluntary Service (RVS). This team of volunteers supports the NHS by running shopping errands and delivering medication for people; Diane's friendly voice could be the first port of call for someone registered as in need of support.
"Some people are just glad to chat – I've had some great conversations!" she says. "Often I had to draw on my telephone manner from my old career, to be alert and helpful with their needs."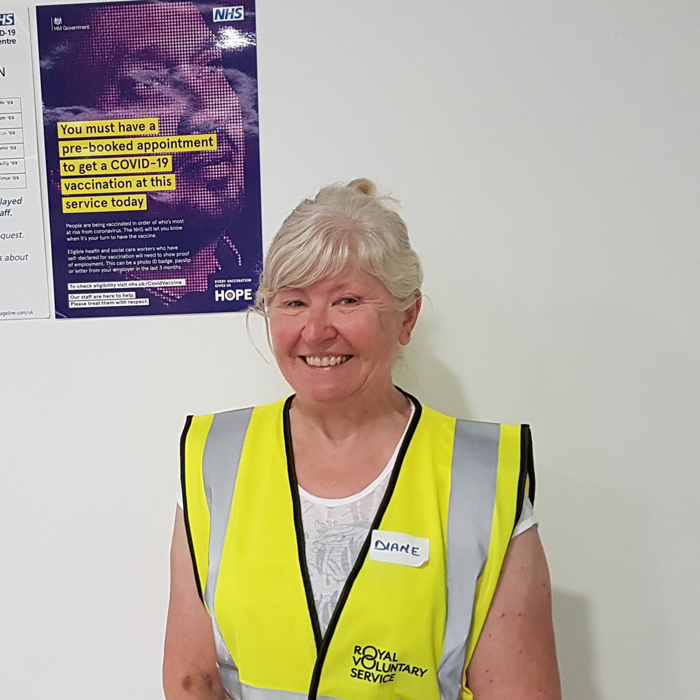 Some of the people she has spoken to are far from family, perhaps very anxious about what's happening outside their front door and with no-one to speak to, or coping with health issues on their own.
"People often start off a bit low; one lady thanked me just for making her laugh," says Diane. "It's so fulfilling. I've always been used to speaking to anyone, from the highest board member to the tea-maker – people are people, and I'm one for helping in the way I'd like to be helped."
Supporting pilgrims in France
Her caring side came out 17 years ago. Diane started volunteering with the Catholic Association in Lourdes, a sanctuary in France where pilgrims go to pray.
As part of the core care team, she helped feed, wash and dress the pilgrims in need of support.
"I'm not Catholic myself – I started going at a particularly awful time in my life, when I felt very dejected, and a friend suggested I volunteer," she says. "I really enjoyed it – it's a bit like being an overgrown mum! I've met some lovely people and am really looking forward to going back next year. It's about seeing beyond the wheelchair to the person."
Volunteering with the vaccine roll-out
When the vaccine roll-out began, Diane started volunteering as a marshal at a vaccine centre and, again, her sense of humour and caring personality proved invaluable. "It's about noticing if anyone in the queue needs a glass of water or a chair," she says. "I loved the atmosphere; people were so pleased that they would soon be able to see their family again, they chatted about their new grandchildren or whatever they were looking forward to doing."
Being alert to other people's needs, means she can provide help however it is needed. One lady was vaccinated in her car, after Diane noticed that it was going to be very difficult for her to get up the steps and into the hall. That's the kind of flexibility she had to deploy in her career.
"In my job, people needed a travel agent that would understand and come up with solutions; if there was no direct flight, then could I fly them to a nearby airport and hire a car for them?" she says.
Diane is also now back running "Nanny Daycare" twice a week (her fifth grandchild was born in July), but is still keeping up with her RVS volunteering.
"I enjoy helping where I can. This interaction with people who, like me, have been keeping a distance from others, has helped me recover from the loneliness that creeps up on you without you realising," she says.
Volunteer at your local vaccination centre
NHS Volunteer Responders is urgently looking for new Steward Volunteers to support at vaccination sites in areas across England, and we would like to encourage you to sign up if you can. Volunteers are needed now more than ever to support the vaccination effort, as restrictions end and life gets back to normal.
The tasks are simple but really important – guiding people through the vaccination process, ensuring that social distancing measures are in place, and identifying people who require additional support. The NHS Volunteer Responders scheme is very flexible, which means it can fit into your life around work and other commitments. Once you've downloaded the app, you can accept shifts as and when you're available.
Volunteering can support your own wellbeing, with proven benefits to both mental and physical health, particularly helpful now when so many of us are working from home. If you would like to volunteer, or would like to find out more about the volunteering options available – visit the Royal Voluntary Service website.