For many of us, retirement is all about saying goodbye to the responsibilities of work. No more deadlines, long hours or commuting. While you may be happy to have left those behind – what about the perks of the 9-5? There's a lot to be said for the social engagements that come with our working lives – as well as the reassurance of a monthly payday, and feeling of satisfaction when you're merited on a job well done.
Who's to say that has to stop in retirement? We all have talents nestled away in the hobbies we enjoy outside of work. Whether that's writing, music, baking or painting. Your skills are valuable, so why not share them with someone and make some money in retirement? In this article we look at a few hobbies that make money, and how you can enjoy them without feeling like you've returned to the daily grind.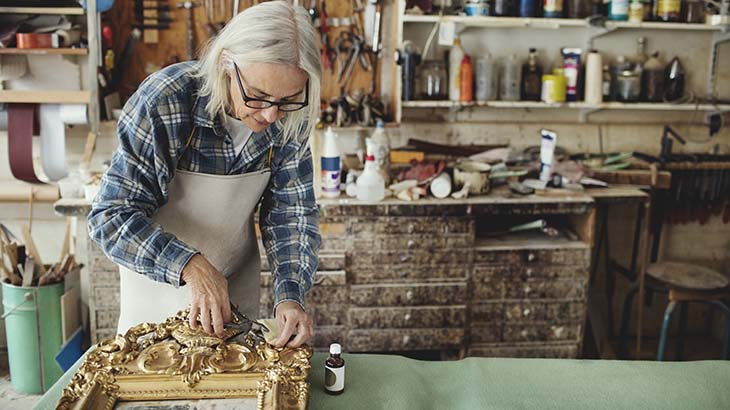 Top retirement hobbies that make money
Whether you love the thought of teaching, or prefer to sell specialist products or services, there are lots of ways – online and in-person – to spread the word.
Here are a selection of hobbies that make money:
Share some inspiring words
Do you have a passion for writing? Many businesses are looking for articles that they can publish online. Content that's been written by a specialist with a way for words and a little sprinkling of magic. Try a website like Upwork or Fiverr, which allow you to advertise yourself for free, and search for companies looking for writers. You can set your own hours and work around other commitments.
Baking and cooking
If you love getting creative in the kitchen, why not host classes online? You can stream them live, and students can pay to cook-a-long with you. From your favourite recipes to culinary techniques, share your kitchen skills with a keen online audience who can ask questions along the way. You can use the time between classes to bake bread, cakes and pastries to sell at local markets or shops, and spread the word about your online lessons.
Play that funky music
Many of us would love to play a musical instrument – or get around to picking up that guitar gathering dust in the corner. We might have a family member keen to learn, too. If you know your time signatures and can tell the difference between a semiquaver and a packet of crisps, why not share your skills and advertise in the local paper or on a bulletin board in the supermarket. You can teach from the comfort of your own home, and enjoy seeing your students play more complex tunes each week.
Make do and mend
The environmental impact of fast fashion is more important than ever before, so your sewing, mending, tailoring and knitting skills could be in high demand. Instead of donating or discarding worn out or tired clothing, spread the word that you're available to breath new life into someone's favourite dress or much-loved trousers.
Tap into your creative side
Perhaps you've always had a talent for painting or photography but have packed away the paintbrushes or lenses. Now could be a good time to dig them out and start selling your artwork or prints. Ask around in local shops and markets to see if you can sell your pieces. There's a spot in someone's living room just waiting for your artwork.
Share your arts and crafts
Have you enjoyed gifting friends and family your handmade soaps, jewellery or celebration cards? Why not share them with more people. There's often a demand for items just like these at local fairs and markets, with plenty of visitors looking to buy gifts for their own loved ones. Selling online is another option, with lots of websites promoting handmade products – like Etsy and eBay. Even Amazon has an artisan-only platform for retailers.
Help others get fit
Are you a fitness fanatic? Then you could try training others who are keen to get fit but don't know where to start – or are wary of working out with someone much younger than themselves. Try setting up a running club in your local park, or organising small training groups at your gym. It's a great way to share your passion and maintain a healthy body and mind during retirement.
So, there you have it – seven ideas to get you started. If there's something we haven't mentioned here that you feel you could explore, don't let us stop you! Often it's the most unexpected hobbies that make money.
How do I start making money from my hobbies?
Getting the ball rolling can often be the hardest part of making money from your hobbies. What began as a relaxing pastime, or a way to make thoughtful gifts for family and friends, has slowly turned into something that's demanding much more of your time and energy!
Here are a few tips for how to plan your retirement hobby, so it works for you:
Decide whether you want to sell online or in-person. You might feel more comfortable chatting to customers in-person, or enjoy working from home and selling online. Or a balance of both might work for you.
Think about how your customers will find you. Will you advertise online, post flyers or leaflets in your local area, or set up a shop or stall?
If you want to teach, you may need to get a DBS check or achieve certain qualifications first. Best to do some research before you put that advert in the window.
Plan your finances. While the aim is to continue enjoying your favourite hobby, it should eventually be profitable.
For more inspiration, you can read our article on starting a business in retirement.
Where to sell handmade items
While you can find almost anything online, sometimes there's nothing like a personal touch when it comes to selling something handmade. At the same time, the convenience of having a corner of the house set up as your own workshop might appeal more.
Here are a few pros and cons to help you weigh up whether you should set up an online shop to sell your handmade items, or meet your customers in person.
Pros and cons of selling online
Pros:
Reach a wider audience, outside of your local community
Enjoy the flexibility of running your business from home
An online shop can be more cost effective
Cons:
There may be fees attached to each transaction on your website
Successfully promoting a business online can be challenging
There may be lots of similar businesses competing with you
Where to start selling online
Large marketplaces, like Amazon or eBay
Small marketplaces, like Etsy or Shopify
Create your own website
Pros and cons of selling in-person
Pros:
It can be less competitive than selling online
A great way to meet customers and other sellers
Gather feedback from customers – which items are people more drawn to, which items aren't selling as well
Cons:
Travel and rent can be costly
Extra expenses like making your market stall stand out to the crowd and attract potential customers
Can be time consuming with travel and setting up
Where to start selling in-person
Local markets
Craft fairs
Pop-up stores
Flea markets
If you're already inspiring your family and friends with your creativity, why not start making money from your hobbies. It's a great way to bring in some extra money in retirement, and you can fit it around other commitments and still enjoy your newfound free time. If you're feeling inspired, meet Tricia and Viv who both waited until retirement before starting their own businesses.