Your award-winning Mastertrust pension
The Mastertrust trustees and Legal & General are delighted that the Legal & General WorkSave Mastertrust recently won 'Best Master Trust' at the prestigious Corporate Adviser Awards 2021.
The Corporate Adviser Awards recognise excellence and innovation in the delivery of workplace benefits advice, consultancy, products and services. They are considered some of the leading awards in the workplace benefits community.
Corporate Adviser editor John Greenwood said: "Congratulations to all of the winners and highly commended organisations at this year's Awards ceremony. The judging process is incredibly rigorous – in some categories we had as many as 20 judges debating at length the pros and cons of the propositions of entrants. That makes winning one of these awards a real hallmark of quality."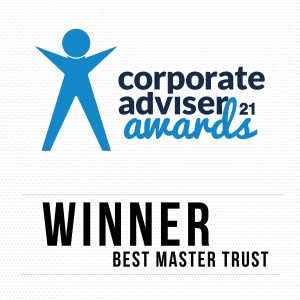 The Legal & General WorkSave Mastertrust was able to demonstrate initiatives that boosted digital capability and improved the quality of member communications. The judges considered we had put ourselves in customers' shoes by providing holistic support to members around their financial and mental wellbeing during the pandemic.
In addition, the level of member engagement achieved at the virtual Annual Member Forum was recognised, along with a strong environmental, social and governance (ESG) proposition that encompassed both the trustees' stance on ESG investments and the default fund arrangements that reflect Legal & General's Climate Impact Pledge.
Other achievements that contributed to the winning entry was the fantastic reach Legal & General achieved with their virtual member presentations on subjects including scheme refreshes, financial wellbeing and redundancy, as well as the high level of accountability that was provided to trustees, clients, members and the regulator with a robust reporting schedule.
Dermot Courtier, Chair of the Mastertrust commented, "The trustees and I are absolutely delighted that the Mastertrust has won this award. It is testament to the hard work and dedication of all those involved with the Mastertrust seeking to ensure positive outcomes for members."
The Mastertrust is thriving. We continue to strive to be the best and give you the confidence to invest in your financial future with a market-leading pension.