Budgets are for life, not just for Christmas
As we approach one of the most financially fraught times of the year, many of us will be trying to work out how much we can afford to spend at Christmas without going into debt.
Some people will have already worked out how much they usually spend during the festive season and been putting chunks of money into a savings pot at regular intervals since January.
This means they'll now know how much they've got in their Yuletide budget and can decide how they want to divide their fund to cover expenses such as gifts and festive food.
Of course, it can be really difficult to find money to put away every month. But if there's any way you can get into the habit of regularly setting aside even a few pounds, you'll thank yourself for having something to contribute towards the bills next December.
Retirement saving is much the same.
Paying in every month over many years will help you to save some money towards your retirement.
But you need to know how much you'll need to live on before you can decide whether your monthly contributions will keep you on track to achieve the lifestyle you're hoping for
To help people visualise what their pension pot will provide so they can take any necessary actions to safeguard their future income, the Pensions and Lifetime Savings Association (PLSA) has put together some lifestyle examples.
Called the UK Retirement Standards, the examples demonstrate how much income you'll need from your pension to achieve a minimum, moderate or comfortable standard of living.
The standards are based on the cost of a typical range of goods and services that most people use. They also suppose that most retired people do not pay mortgage, rent or social care costs.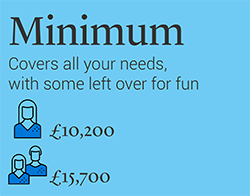 According to the PLSA's research, a single person would need an annual income of £10,200 and a couple would need £15,700 to achieve a minimum living standard. This would cover all your basic needs and allow for you to take part in some social events. For example, you could holiday in the UK, eat out about once a month and do some affordable leisure activities about twice a week. The good news is that through a combination of the full state pension (currently standing at £8,767.20 per year) and being enrolled into a workplace pension, this level should be achievable for most people.
A single person would need an annual income of £20,200 and a couple would need £29,100 to achieve a moderate living standard. In addition to the minimum lifestyle, this income would offer you more financial security and more flexibility. For example, you could have a two-week holiday in Europe and eat out a few times a month. Savers would have the opportunity to do more of the things they want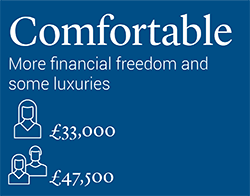 A single person would need an annual income of £33,000 and a couple would need £47,500 to achieve a comfortable living standard. At the comfortable level you could enjoy some luxuries like regular beauty treatments, theatre trips and three weeks in Europe a year. To find out what you might receive at retirement if you were to buy a guaranteed lifetime income, also known as an annuity, see your pension benefit statement.
You can also use our retirement planner to see how changing things like your contribution rate or retirement age might affect your future income.
Please note that the value of investments can fluctuate and so any projected estimate of your final income can't be completely accurate and should only be taken as a guide.
Don't forget to add together all your retirement pots from any previous pension plans. You can also add your state pension. If you're not sure how much this will be, you can check your state pension on the UK Government's website, gov.uk.
If you don't think you'll have enough, there's plenty of advice available from free and trusted organisations including the Money Advice Service and Citizens Advice. You could also seek advice from an independent financial adviser registered with Unbiased.
To review your retirement savings, log into your Legal & General account at legalandgeneral.com/mya.
Download a copy of this article, Budgets are for life, not just for Christmas, as a pdf.