Happy birthday to us!
October 2019
Family,Home,Money,My wellbeing,Health
Happy first birthday to us!
It's been a year since we launched our financial wellbeing hub to give you as much support as we can with navigating life's monetary ups and downs while planning for your retirement.
Since launching our site in October 2018, we've expanded our brief to take into account more than just your financial wellbeing. Today, our Quick reads section also features issues which affect your mental and physical health.
So, if you ever get time for a quick break at work, you can find out how to spot the signs of stress that might stop you from performing at your best. Or you can find out more about keeping fit or boosting your emotional health with a spot of volunteering in your community.
Award-winning support for you
Our hub was designed with your needs in mind, in collaboration with people like you, for people like you.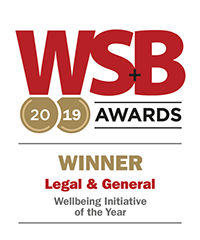 So we're delighted to have been recognised in the 2019 Workplace Savings and Benefits awards as the Wellbeing Initiative of the Year. We researched the range of help you might need the most and found that support to tackle some common crunch-points in life was needed including:

coping with debt
managing on a budget
buying a home
saving for major events like weddings
starting a family.
We signpost you to sources of independent help such as the Money and Pensions Service (formerly Money Advice Service) and respected debt advice agencies so you're in safe hands.
We're continuing to evolve our wellbeing services so we can keep being here for you when you need us, at whatever stage you are in your life. Keep an eye out for new developments coming soon.