07 April 2021
Housing Today interviews Rosie Toogood, CEO
Brave, bold and ambitious: Legal & General steps up modular housing plans, by Joey Gardiner of Housing Today.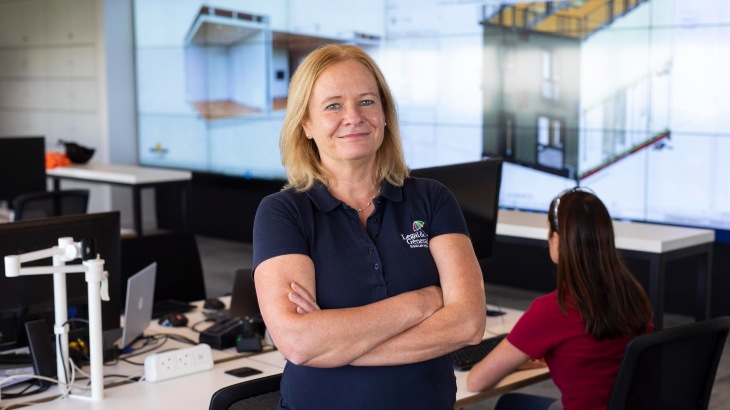 After an apparent false start, Rosie Toogood says the firm's ambition to transform the housebuilding industry by creating a superior product that can be delivered at scale is finally taking shape. Joey Gardiner reports.
Legal & General's modular housing business announced last month that it was taking on 350 people this year as it starts to accelerate production following years spent getting the much-heralded business out of the starting blocks. Set up by the insurance giant in 2016 with a brief nothing short of solving the housing crisis, Legal & General Modular initially promised that it would be up and running within six months. However, just over five years and more than £100m of losses later, the business has only one completed scheme to boast of, for Silva Homes, comprising just eight finished houses.
After an apparent false start, when more than £20m of investment in plant and machinery had to be written off, Legal & General hired former Rolls-Royce executive Rosie Toogood in June 2017 to run the business. She brought manufacturing sector disciplines and experience. Legal & General's chief executive Nigel Wilson has compared the business with creating an iPhone – years in the making but with the potential to transform the housing industry. So, with the business about to complete its first significant scheme, and about to start on site with its biggest project to date, Toogood says things are finally buzzing. It looks likely that 2021 will be the year when the world will find out whether Legal & General's patient investment stands a chance of paying off. Housing Today caught up with Toogood to find out where the business is at.
The technology
Legal & General Modular's 550,000 ft2 factory in Sherburn-in-Elmet, near Leeds, has been kitted out to deliver up to 3,500 fully modular homes a year. It builds two- and three-bed houses out of cross laminated timber (CLT), with a four-bed house type currently in development. It can also produce apartment blocks, up to five storeys in height, built from concrete and steel, with one and two-bed apartment products fully developed, and a duplex apartment split over two or three storeys to be developed this year.
Modules are delivered to site fully constructed, albeit without external cladding, which is put in place after installation on site.
The factory processes include significant levels of automation alongside sophisticated labour-saving plant and equipment. Toogood says the factory uses automated machines to precision-cut plasterboard and CLT panels directly according to CAD drawings, thereby minimising waste and off-cuts.
Another example of the "really, really cool innovations" hailed by Toogood is the use of synchrolifts, which elevate and rotate the position of ceiling units so that workers can add plumbing, heating and lighting in comfortable position at ground level. This innovation alone, Toogood says, takes "massive amounts of time" out of the build process.
This involves designing in systems that allow data to flow through the whole process: into the preparation of the parts, into the assembly of the parts, and the supply chain
The wider point, she adds, is that construction is approached with a manufacturing mindset, with the few basic house types a core around which different options for fit-out and external appearance can be offered. "The idea is quite similar to automotive," she says. "The chassis, the structural core of the module, you try to keep the same - every two-bed is the same, every three-bed.
"We're getting to the point where the things the customer really cares about, we're able to offer a level of choice on. On kitchen fit-out, or bathroom fit-out, or floor coverings. We can configure those later in the process."
The business is also adopting a "zero defect" mindset. "We're really disappointed if we get nine minor defects. Zero tolerance of this is really, really important."
The hope is that this philosophy will pay dividends. "Just look at what has happened in automotive and aerospace – those industries have invested to do what we're now doing over the last decades, and they've transformed those industries. They have driven down the cost of the product, and driven up the quality of the product," she says.
"That's what happens when you invest like we're doing in deep manufacturing expertise and a process that just keeps getting better every day."
The strategy
The idea, described by Legal & General chief executive Wilson as "brave, bold and ambitious" is no less than to transform the housebuilding industry by creating a superior product that can be delivered at scale.
But Legal & General Modular itself will not be a speculative housebuilder selling direct to individuals. The core customer for the firm's products is seen as housing associations, councils and build to rent developers with large ongoing development programmes.
The 185-home Bonnington Walk scheme for Bristol council is Legal & General Modular's most ambitious project to date
However, Legal & General Modular is of course part of a significant group of housebuilding businesses within the insurance firm, which includes traditional housebuilder Cala Homes, as well as build to rent, affordable housing and later living businesses. Toogood says she expects what she calls "internal" customers to be a "big part of our delivery pipeline."
The firm's projects to date, including eight affordable homes for landlord Silva Homes at Buckler's Park, and 154 homes at Portholme Road, Selby for the council, which will be installed on site next month, exemplify its core market. Last month the firm announced the start of works on site for its most ambitious scheme to date, the 185-home Bonnington Walk scheme in Lockleaze for Bristol council, of which 50% will be affordable.
Toogood says these developments put the business on target to build 3,000 homes a year by 2024, which is its medium-term aim.
While Toogood says demand for their homes is "buoyant", she is also clear that the strategy is not to expect the opportunities to just flow in to it from landowners and developers. Like rival modular start-up Ilke, Legal & General has also invested in a development team that can seed its market by securing land opportunities, working up schemes and handling planning for organisations that want to provide new homes, but do not have capacity or expertise to do all that themselves.
"We're filling a need," Toogood says. "There are many councils and housing associations that are really driving to achieve housing targets, but they are not staffed by big development departments and don't have the strength in depth. "For those organisations we can take the whole responsibility for delivering new homes. We see an expansion in end-to-end delivery."
What's taken it so long? Toogood does not want to get into the detail of whether mistakes were made by Legal & General in setting up the business before she got there. However, it seems clear there was some kind of false start, five years on from the initial promise of a working factory within six months. Company accounts for the firm from 2017 show that Legal & General Modular wrote off £28m from the value of its fixed assets, of which £21.4m related to plant and machinery specifically. Later accounts show it has since sold more than £11m of plant and machines.
Since she joined, Toogood says the product produced by the factory has evolved to offer greater levels of sustainability, with the homes for Selby featuring solar panels, and the homes planned for Bristol being gas-free, heated by air-source heat pumps. The business has also spent time securing full NHBC accreditation for its products, thereby giving assurance to mortgage lenders and insurers, and in 2019 admitted that it was departing from the use of CLT for its higher density apartment products.
But what happened inside the factory itself it is less clear. Previous reports have suggested that a rail-based assembly line was abandoned in favour of a more flexible system, in which each module passes through 11 separate workstations before completion. Toogood will only state in broad terms that the time taken to develop the factory reflects an early "strategic optimisation decision" she took not simply to produce a few high quality homes, but to set up a platform that has the ability to scale up.
She says: "The thing we are really focused on is not just building houses in a shed. What we're doing is building a system that will build thousands of houses a year.
"That involves designing for manufacture, designing in systems that allow data to flow through the whole process: into the preparation of the parts, into the assembly of the parts, and the supply chain. This is so we can build thousands of homes a year."
While 3,000 homes per year is the immediate target, it is clear that the ultimate ambition goes beyond that, with Legal & General previously having made no secret of its long-term desire to open more factories.
The future
Right now, Toogood says, there is a real buzz about the business – covid-19 restrictions notwithstanding – given anticipation of a significant ramp up in activity this year and next.
Legal & General Modular's factory processes include significant levels of automation alongside sophisticated labour-saving plant and equipment
She says the business, which by last year employed 350 people, has already taken on another 50 people this year and will hire 300 more before 2021 is out. This increase in staffing is to deliver not just the Bonnington Walk scheme in Bristol but also a series of developments which Toogood says are confirmed and will come through this year, but are simply not yet announced.
This will include another external scheme of more than 250 homes, and two "internal" projects – meaning for other Legal & General housing businesses – adding a further 300 homes. This will see the business start to pull in "significant revenues" for the first time this year, and grow further next.
Beyond this 750-home pipeline for the next 18 months is, Toogood says, a series of further projects in discussion totalling another 2,000 homes, which will allow the business to ratchet up further in 2022.
"There is a really strong demand in the marketplace, and a long pipeline developing," she says, describing the market as "really buoyant". She adds: "We're now really starting to build momentum and seeing multiple schemes coming to fruition at the same time. "We're seeing a real customer pull for modular homes because of what they can offer in terms of the quality standard, the sustainability credentials and the ease and simplicity and speed of delivery."
The attitude
Toogood concludes: "It takes a big investor like Legal & General to be brave and break the paradigm and that's what we're doing. We have a plan and we're very happy with progress against that plan.
"There's a real buzz about the place. We're all really excited to show people what we can do. We've done a number of prototypes and initial customer deliveries, but this is the big stuff.
"It has a been a while, and that will be a really really special moment for the business to do it at scale."