Later life care is generally something that people never plan for; and can hit families at the time of crisis. It's only when eldercare for a loved one needs to be considered that the realisation sets in that this can be a very confusing and complex system.
Care concierge is a telephone service which allows you to speak directly to a care expert about your loved one's later life care needs.
The care service enables you access to the following benefits:
Support with understanding what kind of care is needed and how to arrange it.
Guidance on typical care costs and the available options towards paying for care.
This helpful service is available to you as your employer has a group protection policy with us.
Provides access to an online care service platform where there is a wealth of information around key issues.
Benefits:
Guidance from professionals who know the care system, meaning that the right options are found more easily.
Helps to reduce the emotional burden on you and your immediate family.
Helps to reduce the time span between needing care and accessing care.
Information and guidance on how to find the best care for you or a loved one.
Understand the funding option that may be available to help cover the cost of care.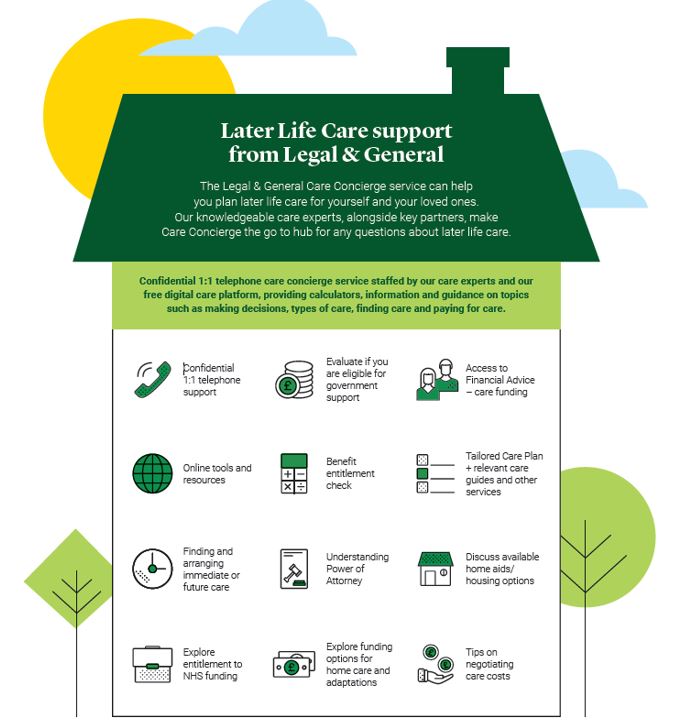 Free Online Care Service Plaform
Providing reassurance and practical advice
Legal & General's Care Concierge service was 'an absolute lifesaver' when Susannah needed help for a family member. Her Uncle, in his 70s, struggled after losing his wife and was admitted to hospital twice with various health issues.
Susannah felt helpless: "Someone suggested I call Legal & General's Care Concierge service and I spoke to the most amazing woman. She was an absolute lifesaver. She gave me some options to think about, including other people I could talk to and where we could access emergency funding. I can't speak highly enough of the Care Concierge service - I don't know what we would have done without them."
It's your responsibility to choose a suitable care provider. We are not responsible for providing any care or assessing clinical needs. We don't guarantee any specific care provider's information or service. You should not engage any care provider if you have any doubts or concerns about them. We are not part of any contract between you and your care provider.