Stars of the Silver Screen

How YouTube became the go-to video platform for the older generation
How old is too old when it comes to being internet famous? We may traditionally think of the internet, social media and computers in general as the preserve of the young, but with baby boomers (those roughly over the age of 50) becoming increasingly tech-savvy, time-rich and financially comfortable, it looks like they're engaging with YouTube more than ever.
According to a report by Google and Ipsos, over half of baby boomers watch online video, and YouTube is by far the most popular site, with 82% of over-50s using it. Boomers Google the word 'YouTube' over 3,600 times every minute of every day. Added to that, boomers now spend more time online (19 hours a week) than watching television (16 hours) or reading print, making the internet their preferred form of entertainment and news.
YouTube: The Cross-Generational Communicator
Over 50s aren't just content with watching YouTube videos anymore, they're now active participants, creating and uploading their own video content, sharing the wisdom they've learnt over the years, often to incredibly attentive and loyal younger audiences.
"My daughter was struggling with her bills and it made me realise I could help everybody out, not just her", explains Alan Wall, 66, whose DIY YouTube channel 'Dereton33' has 58,000 subscribers. "The knowledge gained from a lifetime spent as a professional plumbing and heating engineer could help all those starting out with their own house to cut those expensive maintenance bills – I could give something back to help everybody."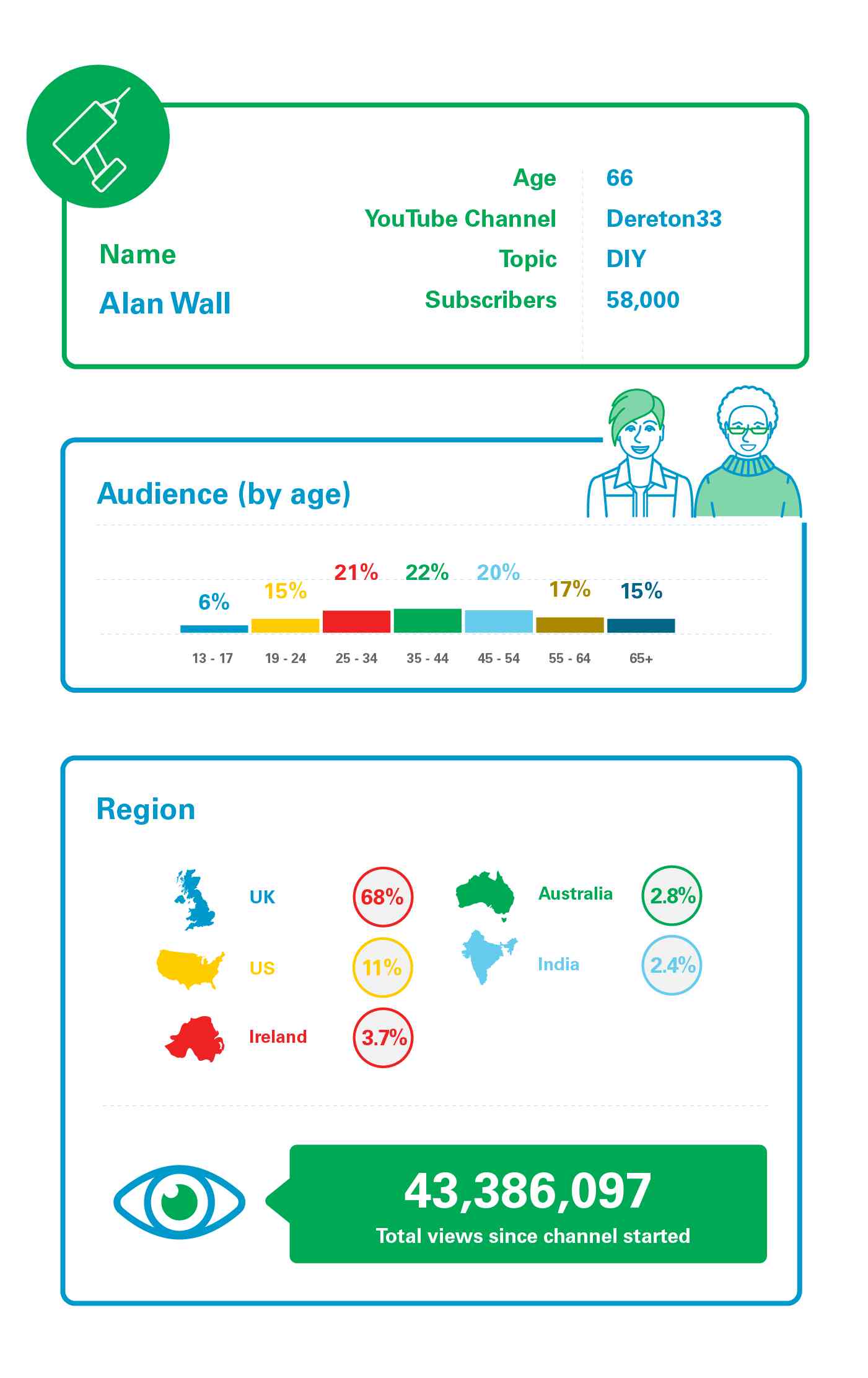 Having a look at Alan's subscribers reveals that his audience is mainly Millennials (typically those born between 1985 and 2000), with 43% of his regular viewers being between 25 and 44-years-old. This shows that not only is YouTube for older audiences but that older YouTubers are able to reach and influence younger viewers too.
Cathartic content: How YouTube is helping over 50s come to terms with ageing
YouTube is not only helping over 50s bridge the generational gap, but it's helping them come to terms with the changes that later life can bring.
"I was fairly freaked out about turning 50 as not only was my youngest child leaving home but also my mum had died in her 49th year, so it felt very weird getting older than she had ever been", explains 53-year-old YouTuber Joanna Gordon, who runs 'The 50 Year Old Vlogger', a channel giving advice to those over 50. "Starting the channel gave me some focus as well as a fun, creative outlet – being creative always makes me feel better emotionally. Once I got past the 'big five oh' and the world didn't end, it felt like I could take a breath and get on enjoying the next 50 – the channel really helped me get through that period."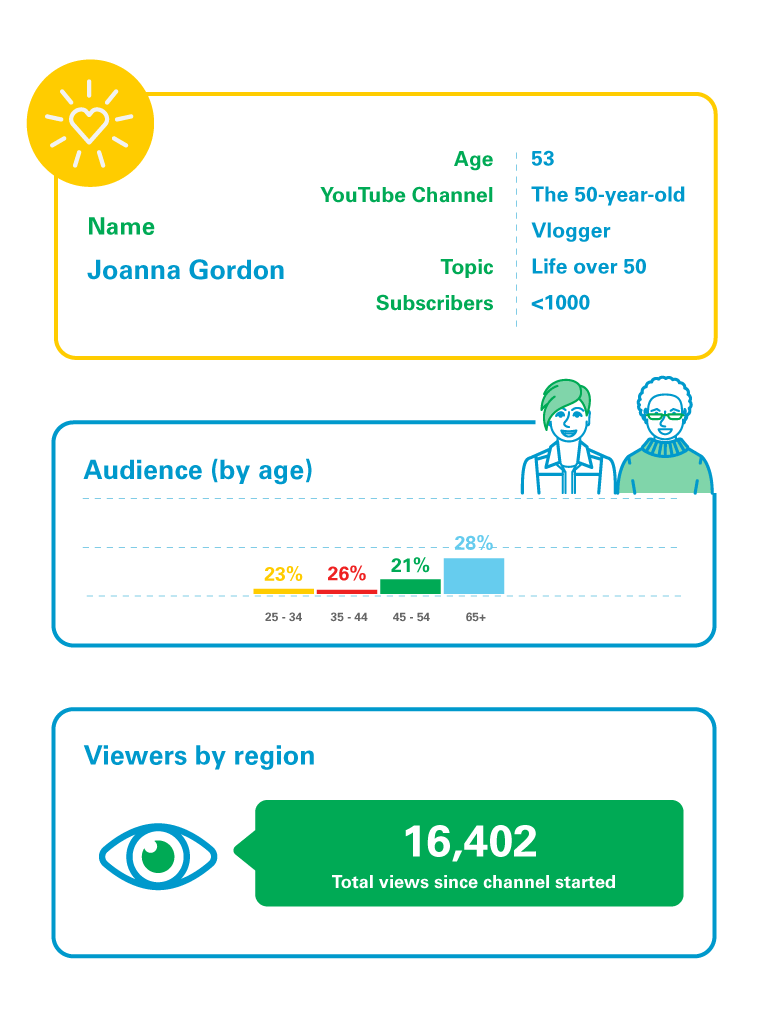 Stars (and pound signs) in their eyes: How older YouTubers are making money
Not only is YouTube helping boomers come to terms with getting older, but in some cases it can be a business opportunity too. Tricia Cusden, 70, ran an online make-up store called 'Look Fabulous Forever', but it wasn't until she started creating make-up tutorials aimed at older women on her self-titled YouTube channel that she began seeing her e-commerce business take off.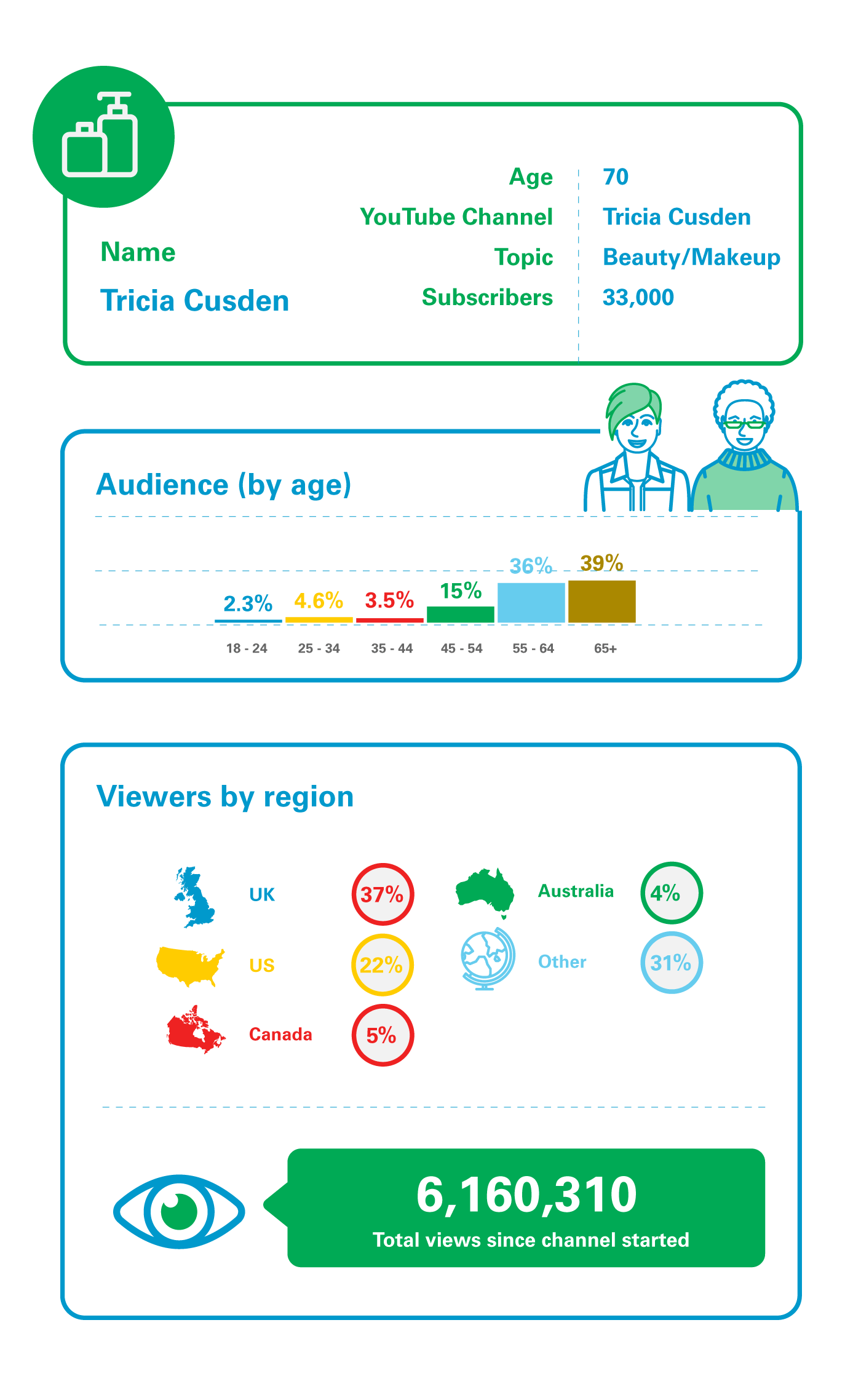 "I started the business when I was 65 and Look Fabulous Forever allowed me to use all the skills and knowledge I had acquired up to that point. It really was a question of being at the right age and having the right idea to act on", Tricia told us. "The videos were first made to explain how the products in the make-up range I'd developed were to be used. I started my business selling make-up face-to-face at parties, but after about four or five months, the make-up tutorials had started to be seen and shared with women all round the world, and thanks to the videos, I changed direction and focused my energy on being an e-commerce beauty brand and YouTube became a big part of my success."
She adds: "We've now had over 6 million views on our tutorials and it's still an important way in which new customers discover our brand. YouTube allowed me to reach a global audience of older women, which 10 years ago would have been impossible."
Like and subscribe for more purpose in life: How YouTube helps over 50s reinvent themselves
Sometimes creating content online isn't just potentially financially beneficial but emotionally rewarding too. For many retirees, unemployment can feel forced upon them, and the huge amount of free time can sometimes be daunting. But having their own creative outlet online can in some instances help boomers to feel more needed, and more liberated, than ever before.
"When you retire from the work place you drop out of the work ethic, which leads to a sense of boredom and lack of self-esteem", explains Alan. "Finding YouTube gave me a sense of purpose again – not only that, the fact that I could use my heating and plumbing skills meant I could help the generation of non-skilled people with no practical skills at all. So you see my channel on YouTube not only combats apathy but gave me that sense of purpose."
"I think being older allows you more freedom from worrying what other people think – it doesn't hold you back in the way it might do when you're younger", adds Tricia. "I had nothing to prove to anyone by creating my YouTube channel, and that is incredibly liberating. I really am happier now than I ever have been and that's because I have so much more freedom than I ever had in the past."
Joanna also notes that it allows her to use her 'creativity' as well as keep "up-to-date with technology" which has made her "feel worthwhile and valid still", something that was echoed across all of the YouTubers we spoke to.
YouTube, me, and everyone we know: Using YouTube to combat loneliness
Not only is YouTube a potential way for older generations to combat apathy, but it also can in some instances fight against one of the biggest problems facing older people today: loneliness. According to the UK's largest charity for older people Age UK, 3.9 million people live alone in later life, and 1.9 million of those people feel 'ignored or invisible'. By engaging with people online via social media, comments and email, older YouTubers can feel the benefits of its social atmosphere.
"Technology makes it easy to keep in touch with friends and family at home and around the world, not just in writing, but as voice and/or video conversations", explains 'Keef', 60, whose YouTube channel KeefCooks has over 55,000 subscribers. "I have gadgets that let me do things that were simply impossible in previous decades. For example, I can produce high-quality, ultra-high-resolution videos and publish them to a global audience."
"Social media is an easy way to feel connected to people through sharing of ideas and engaging in conversations which would have been impossible 10 or 15 years ago", adds Tricia. "We've recently opened a pop-up shop and a lot of customers have come in and said they feel like they know me through having watched my videos and reading my blog! I have also become friends in the real world with women I've met online which has been a very unexpected pleasure of starting the business."
Technology can seem like a daunting new language for many, especially those in later life who may think that the time for getting into smart tech, the internet and social media has simply passed them by. Our silver screen star YouTubers have shown that it's not only doable, but that in their lives they've seen the benefits of doing so. For them it has been great for combatting later-life loneliness, apathy and, for some of the lucky ones, has been a fantastic way for them to earn money by doing something they love.
So what advice do these stars of the silver screen have for the average person over 50 who may be thinking about becoming a viral sensation? Well you can watch our stars give you their top tips on creating a YouTube channel and share their best comments in our videos here: