The power of retirement planning
September 2023
Helpful resources
Turning later life dreams into retirement realities
How would you fill the days if you didn't have to work? That's probably a dream question just now, but one day you'll be asking it for real. As you move into retirement, you'll harvest the benefits of decades of pension growth, turning retirement dreams into later life realities.
What will your retirement look like?
Understanding how much your retirement income will be will help you work out what age you can retire. Our Retirement Planner can help.
But what actually are those dreams?
And will you be able to make them real in your life?
Those are big questions. And sooner or later, all of us will need to answer them.
So we surveyed 2,004 UK people aged 50 plus[1]. We asked them about their original retirement dreams, then checked to see if everything had turned out as planned.
How do people think they'll spend their retirement?
There's one expectation that most of us share. Almost all the people we asked said that feeling financially secure for the rest of their life was very important. Pretty much everyone wanted to maintain their pre-retirement lifestyle too.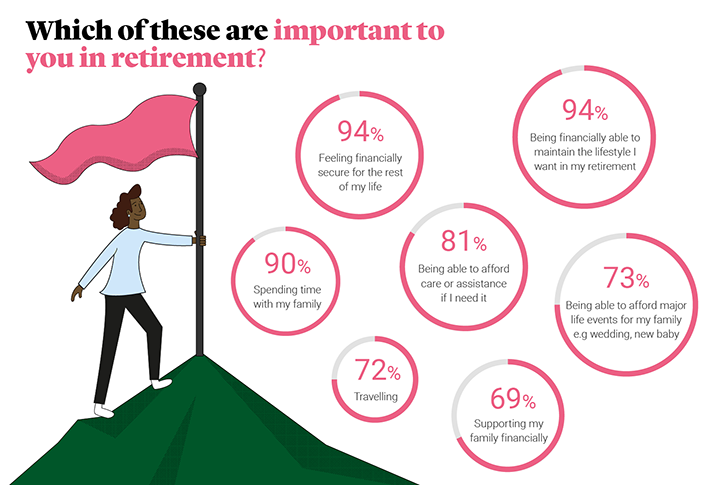 And as you might expect, after decades of working for someone else, many people planned to start putting themselves and their loved ones first.
Of course, that can mean a lot of different things. Some people want to shoot off around the world. Others are content to quietly pursue a favourite or new hobby, get some DIY done or just hang out with their grandchildren:
So that was the plan. But what actually happened next?
How do people actually spend their retirement?
As it turned out, things went much as expected for the people we polled.
Later life's a long time coming, so by the time many of us get there our plans are pretty solidly worked out.
Our survey suggests that people spend a little more time looking after their families and doing DIY, and a little less time traveling and taking up new hobbies, than they thought they would. Apart from that, everything mostly went as they'd hoped.
But a relaxing retirement doesn't just appear from a clear blue sky. Getting to the promised land takes some savvy saving.
Just under half the people we spoke to said they needed more money than they'd planned for. About one in five said they needed a lot more.
So, if you're looking ahead to retirement, don't just imagine your dream lifestyle. Make sure you're ready to fund it too.
Planning your finances as well as your lifestyle
Before retirement, the first thing to do is to work out how much you're going to need. Think about what sort of lifestyle you'd like and what you'll want to get up to. Cover all the basics first. Then plan for everything – from taking the grandkids out every so often to an annual holiday in your favourite hot spot.
And of course, the cost of living crisis is pushing prices up. So if you've already worked out your ideal retirement income, bear in mind it might no longer cover everything you'd like it to. It could be time to revisit your calculations and see if it's worth paying a little more into your pension every month.
If you're not sure how much you'll need, our Retirement Living Standards tool is a useful starting point. It'll give you a rough idea of your ideal later life income.
Once you've worked that out, our Retirement Planner will help you explore what sort of income different sizes of pension pot could get you at different retirement ages.
Once you've got a feel for your ideal income, you'll need to make sure you're saving enough to achieve it. Start by checking up on your pension pot. Ask yourself:
How much money do I have in it just now?
How much am I saving every month?
How much could I have by the time I retire?
When you've worked that out, you can see what sort of retirement income it might get you.
Turning a pension pot into a retirement income
Our respondents had an average pension pot of a little more than £185,000. That's actually quite high – according to the Office of National Statistics in 2020, the general UK average is about £107,000[2].
But what if you are fortunate enough to have £185,000 saved up when you reach retirement age? Like 94% of our respondents you'll probably want to feel financially secure in your retirement. So at the time of writing (June 2023) you could:
Take the maximum 25% of your pension pot tax free, giving you a £46,250 lump sum
With the other £138,750 buy an annuity, for a guaranteed-for-life income of c.£8,000 a year*
Then you'd add your State Pension to that, which in 2023/24 will pay you at most about £10,600 a year. Assuming you got that, you'd end up with a basic annual pre-tax income of about £18,600 from these two combined.
You'd also have your lump sum ready to cover any unexpected costs or emergencies. Or as many people do, you might use it to pay off your mortgage, buy a new car or set yourself up for a travelling retirement with a motorhome. It's completely up to you!
Of course, that's just one option. There are lots of different ways of turning your pension pot into a retirement income.
And now it's over to you…
After all, you're the only person who can both imagine your dream retirement and then make it happen. Hopefully we've inspired you to get stuck in!
*We've used our Annuity Calculator to show the guaranteed income you could get from a pension pot of £185,000, after you've taken all the tax-free cash you can out of it. It's a pre-tax income based on buying an annuity if you:
are aged 65 and choose a Guaranteed Minimum Payment Period of 10 years
don't go for any extra product options or benefits.
Remember it's just an estimate. The exact amount you get will depend on your provider, your personal circumstances, any product options you choose and annuity rates when you buy one.
Research was carried out online by Censuswide from 14th – 19th April 2023.
Pensions not in payment to 55-64 years, median £107,300. Saving for retirement in Great Britain: April 2018 to March 2020, ONS 17 June 2022.