A guide to funeral flowers
Funeral flowers help us to say what we can't always find words to express. Making practical funeral flower arrangements convey your heartfelt condolences, as well as bring comfort to grieving families at the most difficult of times.
Our guide takes you through each of the popular arrangements chosen by families from funeral coffin flowers right through to football funeral flowers, as well as discussing more personal choices made between different funeral flower meanings. We also consider what to write on funeral flowers, how much to spend, and where to send your funeral flower arrangements.
Who can send funeral flowers?
Anybody can send funeral flowers, but traditionally coffin flower arrangements, and those displayed at the service, will be organised by immediate family. The funeral director will support the family through this process with the help of a good local florist. Friends of the deceased or individual family members who wish to make their own floral tributes can do so either through the funeral director or independently.
Where should I send funeral flowers?
Funeral flowers delivery should be to the funeral home if you would like them to be included in the service. The funeral director will take care of your flowers and ensure that they are displayed appropriately alongside the other tributes. If you would like to send flowers directly to the bereaved to let them know that you are thinking of them, this is ideally done either before or after the funeral itself. Many types of funeral flowers discussed in this guide will also be entirely appropriate to send as sympathy flowers with a thoughtful card.
Types of funeral flower arrangements
Deciding which flowers for a funeral will express a particular sentiment is a difficult choice, especially for those making the funeral arrangements. For practical reasons, some arrangements are specifically designed to be laid down, but there really is no strict criteria to follow – selecting the flowers that feel right is always best.
Special tributes – these are specially shaped arrangements such as teddies, hearts, angel wings, football team colours, etc. A special tribute is a very personal gesture, usually from family, friends, or a club the deceased belonged to. Bespoke designs may be accommodated by local florists too.


Letter tributes – these touching arrangements are usually displayed with the coffin or in the hearse. 'Mum', 'Dad', 'Nan' are popular tributes and tend to be requested by close family.


Sheaves – a lovely alternative to a bouquet, a sheaf is hand-tied with pretty twine or ribbon and can be given by anyone. Sheaves are usually sent directly home to the bereaved family straight after the funeral service.


Sprays – traditionally casket funeral flowers, sprays are large, flat bouquets which adorn the coffin. The largest spray that sits on top of the coffin is chosen by the person arranging the funeral or the immediate family. Sprays can be single ended or double ended if you would like a bigger covering. Colours of spray vary from traditional white funeral flowers to more contemporary, vibrant displays. Smaller sprays are a fitting tribute to express sympathy for a friend or family member.


Funeral cross flowers – this arrangement is in the shape of a cross and is most likely to be sent by family or close friends.


Heart shaped funeral flowers – a popular type of special tribute, heart-shaped arrangements are a touching choice to express love and sympathy.


Funeral wreaths – owing to its circular shape symbolising eternal life, a funeral wreath is one of the most popular funeral flower arrangements sent as a tribute. Their wide variety of colours, sizes and styles make wreaths a good choice for both traditional and alternative funeral services.
Posies – these versatile bouquets are arranged in a circular shape so that they can be admired from all angles. A posy is the perfect tribute for any mourner and can be sent either to the funeral home for inclusion at the service, or to the bereaved family as sympathy flowers.


Basket – featuring a mix of flowers and foliage, a floral basket can create an interesting and colourful display alongside the coffin or on tables at the service.
This is an important factor because funeral flowers can go up to several hundreds of pounds. Larger, more intricate displays will cost much more than simpler, smaller arrangements. Prices vary even within types of funeral flower arrangements. Getting the best for what you can afford is key, and florists will have a wide range of funeral flowers available for your budget. It is the gesture that matters most after all.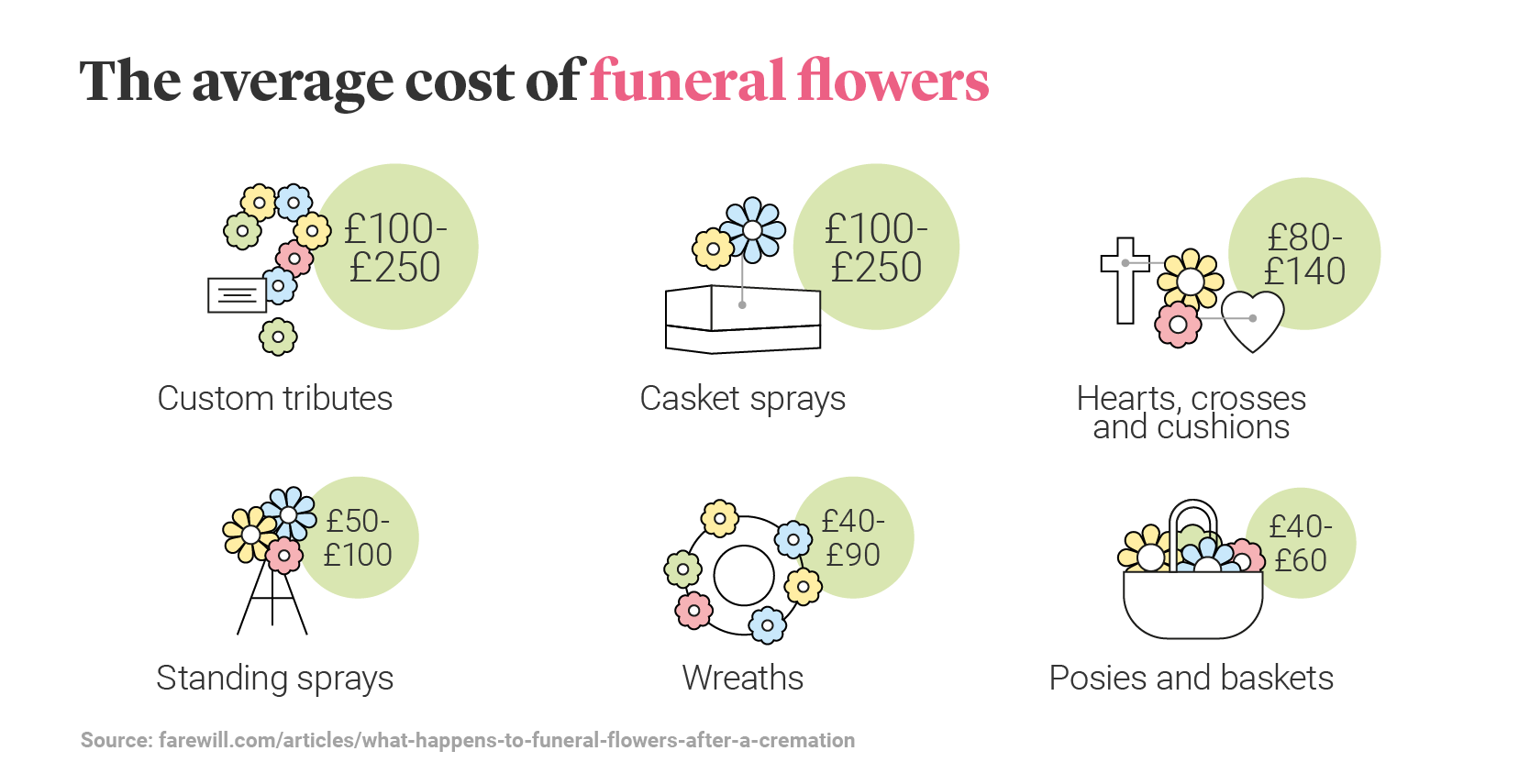 What are the different funeral flower meanings?
Traditional funeral flowers such as lilies and roses are chosen often for their beauty and individual meanings. If you are looking to personalise your flower choice with a special symbolism, then be inspired by these funeral flowers ideas of old and new and their meanings.
Traditional funeral flowers
Lilies – innocence restored to the soul of the departed
Lilies are often the first choice for funeral service flowers because of their association with peace, purity, and innocence, most specifically related to the deceased. The White Stargazer variety is a symbol of sympathy.


Roses – love, respect, appreciation and much more
With their huge array of colours and meanings, roses are a popular choice for mourners looking to express sentiments that are more individual either to the deceased or their relationship to them. White roses stand for reverence, humility, youthfulness, and innocence whereas pink roses say love, appreciation, gentility, and grace. Red roses are for courage, love, and respect, but a dark crimson rose is the traditional colour for grief and sorrow. Yellow roses are often given by close friends of the departed to symbolise a strong platonic relationship.
Carnations – pure love and admiration
These fragrant and very affordable flowers stay their best for a long time, which makes them a wonderful option for those looking for a more affordable option. White carnations represent pure love and innocence whereas pink stands for remembrance and red, for admiration.
Gladioli - strength, sincerity, and moral integrity
A simple, elegant choice; gladioli's have a striking, tall flower stem that is available in a range of colours including white, pink, red, purple, yellow, orange and salmon. With their symbolism of strength of character, gladioli are a classic choice of funeral flowers for a man.


Chrysanthemums – grief
In parts of Europe and Asia, chrysanthemums are exclusively associated with grief, however, this is not the case in the UK or the USA where chrysanthemums traditionally stand for truth. Find out more on worldwide funeral traditions. Nevertheless, these are positive and cheerful flowers that are ideal gifted as a token of sincerity and understanding.


Orchid – eternal love
This graceful flower says I will always love you. Traditionally, pink or white orchids are given as sympathy flowers.
Alternative funeral flowers ideas
Hydrangea – heartfelt sincerity
More commonly sent to a family in bereavement, the hardy hydrangea is a fine plant to be enjoyed indoors and eventually planted outside, where it will continue to bloom for many years.


Tulips and daffodils – fresh start, hope
These spring blooms can bring encouragement and hope to families in difficult times. Their vibrant and cheerful hues make daffodils and tulips fitting for a celebration of life.


Their favourite flowers in a funeral bouquet
If the deceased had a favourite flower, it may be comforting to you and the family for this to lead the funeral flower design. Perhaps a flower that reflects their personality would be more significant, such as bright and bold or delicate and graceful.
What to write on funeral flowers
When it comes to writing funeral flower card messages, try not to put too much pressure on yourself to say something profound or meaningful. Sometimes it can feel like the words fall short of saying how you really feel.
The important thing to remember, however, is that simply making contact and showing that the family are in your thoughts is appreciated. Funeral flower messages do not have to say too much, sometimes short and simple messages like 'Always in our hearts' or 'You will be dearly missed' are all you need.
Making messages personal by sharing your favourite memory or characteristics can be of great comfort to the bereaved, as well as aptly conveying what the deceased meant to you. See our advice on what to say when someone dies and writing a eulogy.
Lastly, there are some practical considerations you may wish to think about before making your final choice of funeral flowers arrangements.
What type of funeral will it be?
Is it a traditional service or celebration of life? The tone of these services may dictate the arrangements or colours chosen.