What would your funeral song be?
Collating a playlist for a special occasion or event is never simple, but no music choice is as difficult as choosing a specific set of funeral tracks.
Over anything else, music can be the most appropriate way to personalise a funeral service and we know how important it is to get it right. In this guide, we reveal the most popular funeral songs as well as provide inspiration on how to choose music that captures the moments of a loved one's life.
The most popular funeral songs
We wanted to find out exactly what songs people choose to have at funerals and why.
To uncover the most popular funeral songs, we sifted through Spotify data and analysed over 300,000 songs from playlists with the titles 'funeral songs', 'my funeral playlist', 'mums funeral' and 'dads funeral' until we'd established the most popular funeral tracks.
Our data shows the most popular song choice for funerals in 2021 is 'Cigarette Daydreams' by Cage the Elephant - the song that features the most across all analysed playlists. Also topping the funeral music chart is Wiz Khalifa with 'See You Again' and Ed Sheeran's 'Supermarket Flowers'.
Narrowly missing a spot in the top ten were the famous tracks 'Spirit in the Sky' by Norman Greenbaum and 'Where is my mind'? by the Pixies.
Does this mean traditional hymns are no longer being regularly requested at funerals? Our research reveals that not a single traditional hymn features in this year's top 10 most popular list.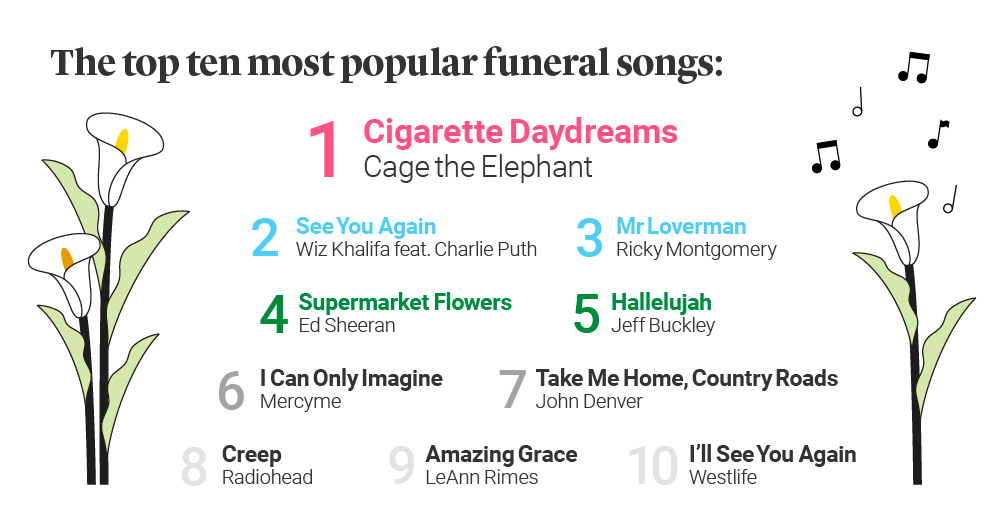 Popular funeral songs chosen by the public
We also spoke to people about what they'd like at their own funeral when the time comes. We took to the streets of London to ask people 'which funeral song would you like to be played at your funeral?'
Of those we spoke to, we found that not only had most thought about it, but they had a very definite idea of what funeral exit songs they'd like people to hear. You can see some of their answers on our video here, ranging from classics to some more unexpected choices.
How to choose the best funeral songs
Everyone's tastes are different, so what makes a good funeral song is very subjective. Traditionalists may prefer orchestral music, while those with modern tastes may plump for pop, rock or hip hop. When choosing funeral music, you should consider how the music can capture the life of a loved one. Below we explore funeral songs by genre and provide some tips on how to choose the right tracks.
Celebration of life funeral songs
If you're looking for something uplifting which may put a smile on people's faces at a difficult time, Norman Greenbaum's 'Spirit In The Sky' is a great choice. Originally recorded in 1969 but covered by many artists since, this psychedelic rock number deals with death but with a catchy gospel groove. Or for something short and sweet, 'In My Life' by The Beatles is a trip down memory lane for the '60s generation.
Classic funeral songs
If you want a certified classic, Frank Sinatra's 'My Way' is one of the most popular funeral songs for dads in particular. Alternatively, 'Time To Say Goodbye' by Andrea Bocelli and Sarah Brightman is a timeless orchestral piece, and was originally a farewell song for boxer Henry Maske. And one of the more poignant funeral songs is Queen's 'Who Wants To Live Forever', which celebrates the inevitability of death, but also everlasting love.
Modern funeral songs
Not everyone wants to play baby boomer classics, and there's a growing list of modern funeral songs that have fast become favourites. Robbie Williams' 'Angels', from 1997, has entered the canon of great funeral songs. A more recent classic is Green Day's 'Wake Me Up When September Ends' from 2004, which singer Billie Joe Armstrong wrote following his father's passing. And for a moving piano ballad, Adele's 'Someone Like You' from 2011 is a beautiful funeral song to consider.
Humorous funeral songs
If the departed had a mischievous sense of humour, 'Always Look On The Bright Side Of Life', written by Eric Idle for the legendary Monty Python comedy troupe, will raise a smile. And if they had a darkly comic sensibility, AC/DC's 'Highway To Hell' could raise the roof.
Planning for later life
There's never an easy time to talk with the people you love about what will happen after your death. However, talking about your wishes can make your passing a little easier for your loved ones. Whether that be through writing a will or having an important conversation with your family, there's lots of ways you can give guidance to those managing your estate. By having these conversations, you can also make your funeral requests clear. You can set out the kind of funeral you'd like, be it the words that are spoken during the ceremony to the choice of funeral music.
With the average cost of funerals on the rise, it's always good to determine if you can provide financial support for your family after you're gone.
One simple option to help towards those costs is over 50s life insurance. Our Over 50s Fixed Life Insurance allows you to choose a premium that suits you, starting from just £5 a month, depending on your age. You'll have peace of mind knowing that you can leave a cash sum to your loved ones to help contribute towards your funeral costs, unpaid bills or even as a small financial gift when you're gone.
Methodology:
Legal & General used a Spotify API on 01 September 2021 to find:
All 988 playlists under the keyword 'Funeral Songs, with a total of 159992 tracks among them
All 250 playlists under the keyword 'Dads funeral', with a total of 9066 tracks among them
All 986 matching playlists under the keyword 'My Funeral Playlist with a total of 145669 tracks among them
All 81 playlists under the keyword 'Mum's Funeral' with a total of 2391 tracks
The top 10 songs are determined by how many playlists each track features in. In the event where different edits (i.e. radio edits or remastered tracks) of the same song by the same artist appeared more than once, the best-ranking version has been included in the final list and the others have been omitted.