12 August 2021
Five top reasons why you should get a property survey
Buyers often think that the cost of a property survey is adding an unnecessary expense to an already very expensive time. However, how many buyers would feel confident buying a car without it having an MOT or service documents? Research carried out by the insurance firm Churchill showed that on average in the UK only 25% of all homeowners purchase a property survey for their new home. However, figures show that 56% of those that had major building works carried out on their property after discovering pre-existing issues, said that if they had been aware of the faults in advance it would have influenced their decision to buy the property. Just like with many second-hand purchases, it is useful to know the previous history and overall condition before you buy.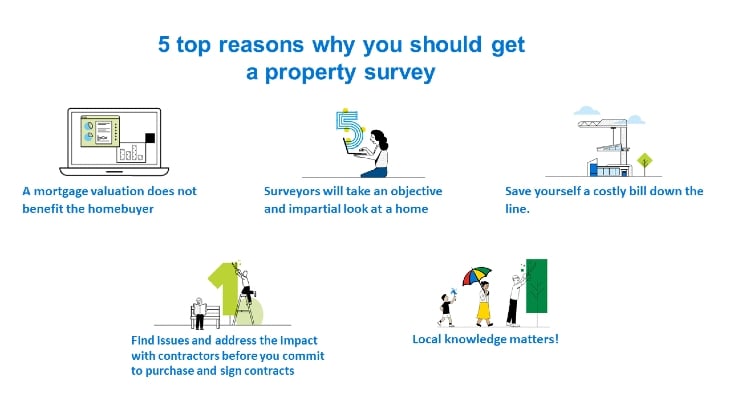 There are many reasons why you should get a survey before you purchase a new house, but here are the top five:
1. A mortgage valuation does not benefit the homebuyer
A valuation informs the lender of the value of the property they are lending against, to confirm whether the property is worth what you are paying for it. During the valuation (usually less than 20 minutes in length) characteristics of the property including significant defects which might have an impact on the property's value are taken into account, however, the valuation scope doesn't delve into common issues such as damp, dry rot, subsidence, in as much detail as a survey. It is also worth noting that the lender does not have to disclose the valuation report to the homebuyer.
Traditionally, a surveyor would have visited the property to compile the valuation report. However, these days, most valuations are carried out remotely as desktop valuations. Desktop valuations do not require surveyors to visit the property, but rather rely on recent sales data, which is all gathered online and remotely.
2. Surveyors will take an objective and impartial look at a home
All our surveyors take an impartial view when inspecting a home, which alongside their wealth of skills and experience, make it more like that they will be able to spot problems a buyer may not notice. While the average home buyer spends 35 minutes viewing a potential property before deciding whether or not to purchase it, our surveyors will spend a minimum of two hours inspecting the property (depending on the size). Our surveyors will also go in areas which you may not visit before moving in, such as the attic!
3. Save yourself a costly bill down the line. If you can't afford a survey, will you be able to afford any surprise repairs?
According to the Royal Institution of Chartered Surveyors (RICS) buyers who didn't get a survey faced on average £5,750 worth of repairs when they moved in and 17% of these ended up paying more than £12,000 on average to make their homes habitable. Ask yourself, if you can't afford the price of the survey, can you afford the hefty cost of house repairs down the line?
4. Find issues and address the impact with contractors before you commit to purchase and sign any contracts
Should the surveyors encounter any defects that require expensive repairs, it doesn't automatically mean you shouldn't purchase the property. Should the seller not wish to address the reported issues, you could use the report as a renegotiation tool, asking for the price of the property to reflect the cost of the repairs. By decreasing the purchase price, you will have the money to do the repairs by someone that you choose. Our digital home buyer report, Digital Home Survey, allows you to send issues reported in the survey directly to your contractors, for a quick estimate of work.
5. Your surveyor will have a broad understanding of known issues within your chosen area and any local risks
We know that local knowledge matters. Our team of RICS surveyors will have a broad knowledge of your chosen area, types of local property, and issues to look out for, such as past flooding or potential risk, proximity to pylons, overhead cables and electro-magnetic fields, current or past underground mining.
You can trust their detailed assessment to give you confidence by being completely sure of what you're buying and help you avoid costly surprises!
If you wish to discuss the benefits of getting a property survey, or find out more information, please don't hesitate to contact us.