Protecting you against pension scams
We're committed to trying to protect our members against the onslaught of scammers in the pensions industry.
Due to events such as the COVID-19 pandemic, cost of living crisis and conflict in Ukraine, financial scams are more prevalent than ever. Pension scheme members need to be aware of the threats to their retirement savings from unscrupulous scammers. The Independent Governance Committee are pleased that Legal & General has signed up to The Pension Regulator's Pension Scams Pledge.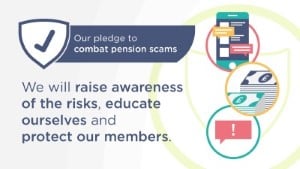 As well as raising awareness about scams among pension scheme members, the Pledge requires that companies and trustees specifically warn their members during high-risk activities, such as taking a lump sum or income drawdown, or transferring to another pension scheme, and carry out additional checks and processes to ensure that funds are safe.
We also have an obligation to maintain records of fraudulent attempts on our members and to regularly report on these to Action Fraud, The Pensions Regulator and the Financial Conduct Authority.
Scams are often smart, sophisticated and hard to spot. To help you protect yourself we ask you to consider the following information.