Your newsletter from the Independent Governance Committee
Your newsletter from the Independent Governance Committee
An update on your pension savings

I'm delighted to present the latest newsletter from the Independent Governance Committee.
We understand this has been a challenging and difficult year for our members due to COVID-19.
Despite the pandemic, or maybe because of it, it's been a very busy period for us. The purpose of this update is to let you know what we've been doing to ensure your scheme continues to be well run and that your assets are safe. Some of the things we've been doing include monitoring how well your plan is administered by increasing the frequency of performance reports from the Legal & General administration team in Cardiff to ensure you continue to receive good services.
While we work closely with Legal & General, the Independent Governance Committee members are independent of both Legal & General and your employer. Our role in overseeing the management of your pension scheme is to represent you, work to safeguard your best interests and ensure you're receiving value for the money you contribute to your pension savings.
One of the effects of the pandemic has been to focus many people's minds on what's most important to them. For us, this has meant pursuing the work we began with Legal & General last year to ensure that issues affecting the environment, the way people are treated (in the workplace, the community and the supply chain) and the way companies are run are an important consideration in the way investment funds are selected. This newsletter will highlight some examples of what we and Legal & General have been doing in this area.
If you'd like to find out more about what the Independent Governance Committee members do, please see our Annual Report for more information.
Finally, we're always keen to hear your views to help us understand what's important to you. If you'd like to get in touch with us, please email IGC@lgim.com
Dermot Courtier
Chair of the Independent Governance Committee
COVID-19 – supporting our members
From the earliest indications of the severity of COVID-19, we've worked with Legal & General to understand how the pandemic could affect both you and your pension savings. Together we've made sure you and your employer are supported with the information you need. For up-to-date information on how the pandemic may be affecting your pension scheme, suggestions of what you might like to consider if there are changes at work, plus some wellbeing support to help you cope in these uncertain times, Legal & General has put together its COVID-19 hub. Why not see if the hub can help you?
Taking action on the things you care about
Like so many of you, we, your Independent Governance Committee (IGC), care about issues that affect the environment, society and the way organisations are run.
These issues are collectively known as ESG matters – which stands for environment, social and governance – and it's important to us that they are considered as part of the decision-making process about where your pension money is invested. In fact, ESG was the central theme of our recent member forum and will continue to be a guiding light in the way we oversee the management of the scheme.
We work with Legal & General to make sure that ESG factors play a full role when it comes to selecting the funds in which your retirement savings are invested on your behalf. We're pleased to report that Legal & General Investment Management (LGIM is the investment management arm of Legal & General Group) is a market leader in applying ESG considerations to its investment strategy having won the Corporate Adviser award for Best ESG Asset Manager in 2018 and 2019.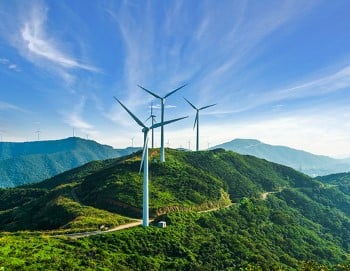 Legal & General Investment Management has also significantly expanded its Climate Impact Pledge, which drives the objectives of conversations it has with companies about ESG issues and influences the way it uses its shares in those companies when voting on your behalf. This has real implications for the influence your pension investments can have on helping to create a more sustainable world. The pledge has been extended to assess more than 1,000 of the world's companies on their attitudes and behaviours relating to climate change and, using your and other investors' shareholdings, Legal & General then talks to these companies to encourage and press them to improve their efforts to be on track to reach net zero carbon emissions fast enough to prevent the worst effects of climate change.
As part of Legal & General's pledge, the company holds organisations to account by voting against those that fall short of the minimum standards. In some cases, Legal & General Investment Management may stop investing in those companies altogether.
You can find out more about Legal & General's work in this field on the company's ESG Hub.
Legal & General's main responsibility is to look after your money and help maximise your future retirement income. This means they need to invest in funds that offer great financial returns.
Legal & General believe that ESG investments can provide exciting opportunities to help boost your savings. They also believe that raising the ESG standards of the companies and markets in which they invest can actually reduce the risks to your money.
Pensions Actually! Our Annual Member Forum with Love Actually Director and Comic Relief Founder, Richard Curtis
On 29 October 2020, we were delighted to be joined by one of the most successful UK film directors of all time, Richard Curtis, who spoke to members at this year's member forum. Richard discussed the purpose, aims and ambitions of his new campaign group, 'Make My Money Matter'. Make My Money Matter aims to ensure that the trillions of pounds invested in UK pensions build a better world. You can find more information about Make My Money Matter here.
If you couldn't attend the member forum, we have sent you a link so you can still watch it and find more information about pension investments and responsible investing to build a better world. If you haven't received the link and you would like to view it, please email IGC@lgim.com
Over 1,100 members joined us during October's event and we received hundreds of questions. Thank you to all those who sent comments. Among the very positive feedback we received from members was this:
We'd love to hear from you
We have also put together a short survey to ask for your views on the member forum, what's most important to you when it comes to your pension and how you would like to hear from us in the future.
We'd love to hear from you. It should take no longer than five minutes to complete.
Not a question but a comment to say that was absolutely brilliant. I didn't really know what I was attending but the draw was Richard Curtis. Wow! I learned a huge amount and am thinking about things entirely differently as a result. At 54, I still have a fair few years of investment and I feel I'm in a much safer pair of hands with Legal and General being my pension provider. Thank you for an excellent hour. Seriously superb...made me tear-up in parts!!
Below, we've selected the most frequently asked questions that were generated by the event. We've grouped these into themes and included details of our replies and sources of further information which we hope you'll find useful:
Your question
Our response
Beware of scams – don't let thieves steal your future
We all hope we don't fall victim to scammers but they can be very persuasive about getting people to part with their retirement savings. And we're sorry to say that they've been aggressively active during the pandemic.
Legal & General has a strict identification and verification process to help protect members of its pension schemes but being your own first line of defence is the surest way to keep the scammers out.
Remember, if it sounds too good to be true, it probably is, and you should assume any cold call in relation to your pension is a scam. Click here to learn how to spot the signs of a scam and what you can do to keep your retirement savings safe.
Get involved
We, and Legal & General, are keen to understand more about what's important to you, the things you may be concerned about or most interested in when planning for later life. Whether you're just starting to save into a pension, or perhaps have multiple pensions from different employers, or are planning to start taking an income, we want to know what we and Legal & General can potentially do better to support you with your savings goals and make sure that the services on offer suit your needs.
The Independent Governance Committee would welcome your feedback. Please email us at IGC@lgim.com