20 April 2022
Legal & General homes in on modular housebuilding
Property Week visits our factory for exclusive interview with our CEO Rosie Toogood, original article by Anviksha Patel.
L&G's 550,000 sq ft factory at Sherburn-in-Elmet, Yorkshire, reverberates with the rhythmic sound of drilling and cutting as a small army of workers quietly undertakes tasks such as plastering and installing windows in the modular units.
This way of working is very different to the model used by the FTSE 100 volume housebuilders, and while L&G does not claim to be delivering the same number of homes as them – yet – it recently announced a slew of new schemes across the country in addition to its existing pipeline.
As the company ramps up activity in its L&G Modular Homes division, its chief executive Rosie Toogood gives Property Week an exclusive tour of its main factory in Yorkshire, and a trial development site in Selby, 20 minutes down the road from the factory, where it is building 102 homes.
During our tour, she reveals why it has taken so long to get to this point and outlines the division's plans going forward.
It is fair to say that L&G's modular arm got off to a slow start when it launched in 2016. The company sunk tens of millions of pounds into setting up the operation but encountered a number of teething problems as it got to grips with how best to manufacture the homes.
In the first two years, the market was awash with rumours that things were not going according to plan. It was even suggested that L&G had had to install a new door at the factory as the modular units couldn't get through the building's original entrance.
However, Toogood refutes this, saying that the new doors were added as the factory was reconfigured to make the process of moving modular units to sites easier.
Housebuilding will get to a different place in terms of skills, design and quality
Toogood joined L&G Modular Homes in 2017 from Rolls-Royce with a remit to apply the sort of standardisation techniques that transformed the car industry in the 1960s and 1970s.
"I'm old enough to remember when cars were rubbish," says Toogood, who arrives at the factory in her definitely-not-rubbish Tesla.
"The automotive industry went on that journey; so did the electronics industry. Housebuilding will transform, because I think it's about to go on one of those journeys and get to a different place, in terms of skills, design, approach and in the quality that we build for customers."
Production-line homes
Toogood leads the tour of the factory, which is divided into separate areas. In the first area, the base panels are fitted and the electrics are installed. The final area is for plastering and painting.
Finished products remain at the north end of the factory until they are hauled on to a lorry in pairs to construction sites up and down the country.
Quality checks are carried out before the units are moved on to the next stage. Employees tell me it is rare for a unit to go back a step to be fixed, due to the number of quality checks undertaken, but it does happen on occasion.
Some workers at the plant have been brought in from the car industry and some worked in the housebuilding sector, but knowledge of building homes is not a prerequisite.
On the south side of the factory, there is an L&G Academy, where new recruits are taught.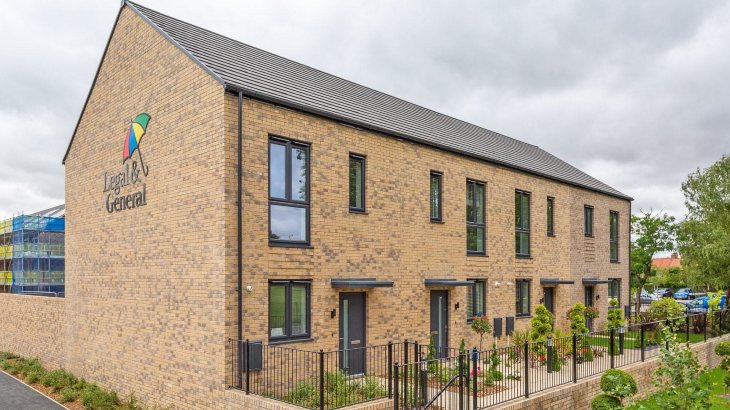 Modular village: one of 102 show homes nears completion in Selby, not far from L&G's factory
At the company's trial development site in Selby, it is hard to tell that the show homes were prefabricated.
Each house comprises two volumetric modular units that are stacked on top of each other and then bricked up, before a roof is added.
The homes tick all the boxes on the sustainability front.
They are all EPC 'A' rated, have air source heat pumps and come with electric vehicle charging points.
According to Toogood, the customer base for these new modular homes is not just first-time buyers; the pandemic has also sparked a rise in enquiries from young families and older couples who want to downsize.
"It's going to create quite a nice community to have so much variation, and I guess that's partly by design, partly by a bit of luck," she says.
L&G poured £37m into its modular business last year and it continues to make a loss – of £25m (pre-tax) last year.
"It takes big deep pockets to make this a success," concedes Toogood. "I think L&G went into this knowingly and is absolutely determined to make it work."
In its latest financial accounts, parent group L&G admits that its Modular Homes arm "has not progressed at the speed we would have originally planned or anticipated".
However, Toogood is adamant that it is now finally making real progress and while she is reluctant to give a definite date when the company will start to make a profit, she says she expects to see returns in the "next few years".
L&G is certainly starting to significantly ramp up activity in the modular space. The company has contracts to build 185 units in Bristol, 95 in Warminster, 153 in Broadstairs, 80 in Littlestone and 221 rental units in north Horsham, which will be delivered in partnership with L&G's build-to-rent business.
Building modules in the north to deliver to the south is a massive part of levelling up
Around 500 homes are in the planning process and 450 are under construction – and Toogood says another 700 are in the pipeline and will go to the planning stage in Q2 of this year.
The modular arm was set up – in the words of L&G chief executive Sir Nigel Wilson – to disrupt the housebuilding industry, and the company aims to build 3,000 homes a year.
Toogood says that ultimately she would like modular to account for 40% of all housebuilding in the UK.
"I don't think it's a cure-all, but I think [modular] has a big role to play," she says. "There will always be the need for a construction industry and the need for retrofitting homes, extensions and bespoke homes. I think modular will eventually build a high proportion of the homes in the UK.
"And I also think some of the methods we use in the factory will come into the traditional build arena."
Government backing
The government is clearly keen on the idea. Its housing arm Homes England is fully backing modern methods of construction (MMC) as a means of helping to address the nation's housing crisis.
Toogood thinks that modular homes could help with the government's levelling-up agenda as well. "Building modules in the north in factories like this to deliver to the south is a massive part of levelling up, to provide good skills jobs in the regions," she reasons.
"There's a massive opportunity for us to regenerate areas of the north by providing really good-quality housing."
Modular housing will also take off in the north, she predicts. "The north at times has been underserved because of the price point, and I think we can deliver really good-quality homes and create nice places to live throughout the country," she says.
L&G might have had a shaky start with its Modular Homes division, but with MMC and sustainability firmly on the government's and the industry's agenda, it might finally be on the cusp of disrupting the industry in the way that it originally envisaged seven years ago.
Original article written by Anviksha Patel and published by Property Week on Thu 31 March 2022