Becoming a parent is one of life's greatest joys, but as every parent knows, raising children can be a huge financial stretch.
And while traditional notions of the father being the 'breadwinner' are changing fast, considering life cover should be high on every dad's priority list. Whether you're married, co-habiting or are a single parent, being able to financially protect your family's future is one of the benefits of life insurance.
In this guide, we explain why life insurance for dads is important to consider, depending on your circumstances and needs.
Why is life insurance important for dads?
Life insurance is about making sure that those you love could manage financially if you pass away. Without the additional income, life insurance can help to cover ongoing living costs. While no two families are the same, it remains the case that mothers are more likely than fathers to stop or reduce their working hours to assume childcare responsibilities.
According to the Office for National Statistics (ONS), the employment rate among parents in a couple with dependent children is 93.3% for fathers, compared to 78.3% for mothers, which underscores the importance of life insurance for dads.
Given that one way to calculate how much life insurance you need is to multiply your annual salary by the number of years you'd like to cover, it makes sense for working fathers to think carefully about getting the right life insurance in place.
What can life insurance cover?
If you're a father and you're not familiar with how life insurance can benefit your family, here is a basic overview of what a cash sum could help cover if a valid claim is made in the event of a death:
Mortgage repayments or rent
Household bills
The cost of education, from nursery to university fees
Activities and hobbies
Paying off debts.
Types of life insurance for dads
Life insurance for dads can include the following:
Life insurance
This is sometimes referred to as 'level term life insurance', as the pay out from a valid claim is fixed and stays the same whether you pass away at the start of the policy or the end. You pay the same monthly life insurance premiums while the policy is in place unless you make changes to your policy.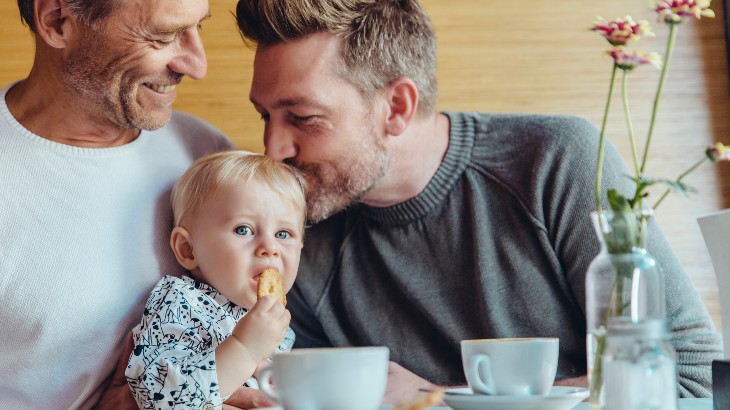 Decreasing life insurance
If you're looking to cover a repayment mortgage specifically, you could consider decreasing life insurance. This is where your cover decreases roughly in line with the way a repayment mortgage decreases, and is generally cheaper as the cash sum from a valid claim becomes smaller over time.
Single or joint life insurance
Parents can get a joint life insurance, which usually pays out upon the death of the first insured person and can sometimes be cheaper. But some couples prefer taking out two single policies, where the surviving partner would still have cover after the death of the first policyholder.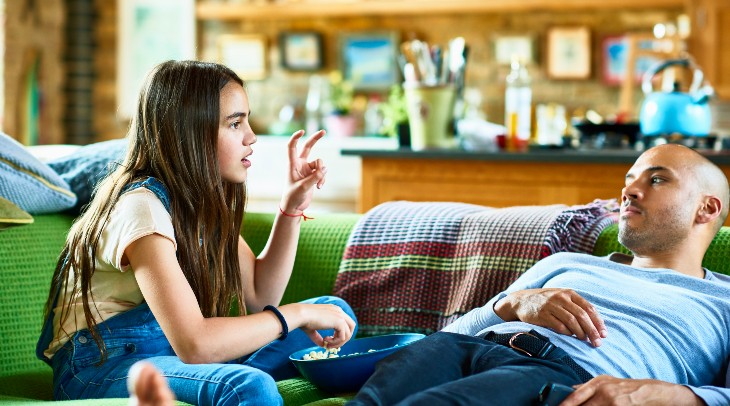 Life insurance for stay-at-home-dads
Yes, life insurance is an important way of protecting a family's finances, but it's not solely about covering the loss of earnings from a working parent who passes away. Stay-at-home parents –including many dads – make a contribution that is worth a great deal to a family. What price could be put on the support you offer the family, including household chores if a stay-at-home parent were no longer around? Getting life insurance to cover stay-at-home dads can relieve the financial pressure on a family in hard times.
Life insurance for older dads
Life insurance is generally cheaper if you're younger, as the risk of death is lower, but that doesn't mean life insurance for older fathers isn't something to consider. With Legal & General, you can take out a life insurance policy up to the age of 77 – or 74 for decreasing life insurance – so long as the policy ends before you're 90 (other eligibility criteria applies). The life expectancy for men in the UK is 79 years, so with many fathers living longer these days, life insurance can give financial protection for your family in later life.
Single dads and life insurance
Every family has different circumstances, and life insurance is just as important for single dads as for those living with their partner. If you're still responsible for the financial wellbeing of your family, the cash sum from a valid life insurance claim could prove invaluable to them if you were to pass away.
Life insurance for self-employed dads
According to the ONS, there are more than 1.1 million self-employed fathers, compared to 0.6 million self-employed mothers. With so many families reliant on a self-employed parent's income these days, life insurance for dads is important to consider. If your earnings are irregular as a freelancer or contractor, bear in mind that life insurance from Legal & General is available from just £5 a month depending on your needs and circumstances.
Why fathers should consider life insurance
No one likes to imagine life without their loved ones, but dads who take out life insurance can protect their family from the financial impact of the unthinkable. The future is always uncertain, but your life insurance premiums could help give your family a sound financial footing when they need it most.
If you're a dad looking for life insurance, read more about your life cover options.
Please note, life insurance is not a savings or investment plan and has no cash value unless a valid claim is made.