How to keep your house warm in winter
The cost of living crisis has made millions of Britons think differently about our spending and behaviour, from running a car more efficiently to learning how to keep a cold house warm. And in those chilly winter months, the importance of saving on energy bills has become ever more real. In this guide, we look at some of the small tweaks and big changes you can make to keep your home warm and save on energy bills.
Tips to keep your house warm in winter
Homes come in all shapes and sizes, and while modern homes are generally energy efficient, the same can't always be said for period properties in the UK. Here are some tips for how to keep even a poorly insulated house warm.
Seal off spaces. Too much air seeping out your home can make life chilly (though poor air circulation can lead to problems like mould). To retain more heat, you could place a draught excluder at the bottom of your doors, and use expanding foam to seal the cracks around your window frames. If you have a fireplace, make sure the damper is closed when the fireplace is not in use.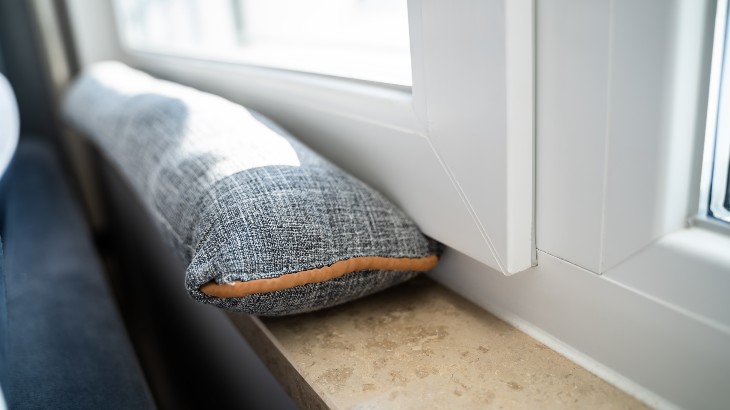 Bleed your radiators. Bleeding radiators is less grisly than it sounds – it means releasing trapped air which prevents hot water from rising. You can use a radiator bleed key to release the air and keep your radiators energy efficient.
Use thicker curtains. As a general rule, thicker curtains – which sometimes have an extra lining – are better at retaining heat in the home. And don't forget to close the curtains at night time (or when you're out) to keep the home warm.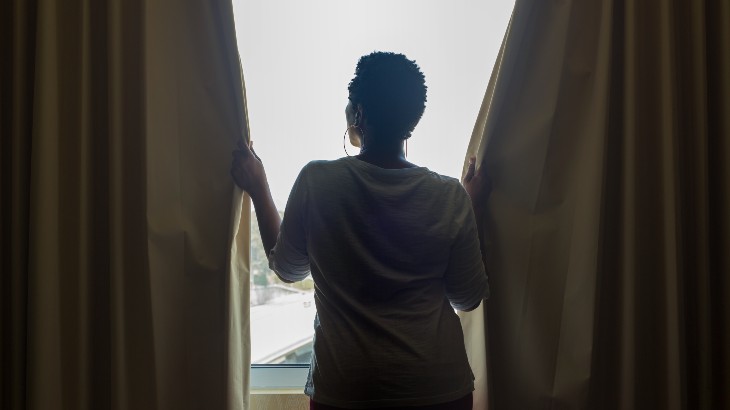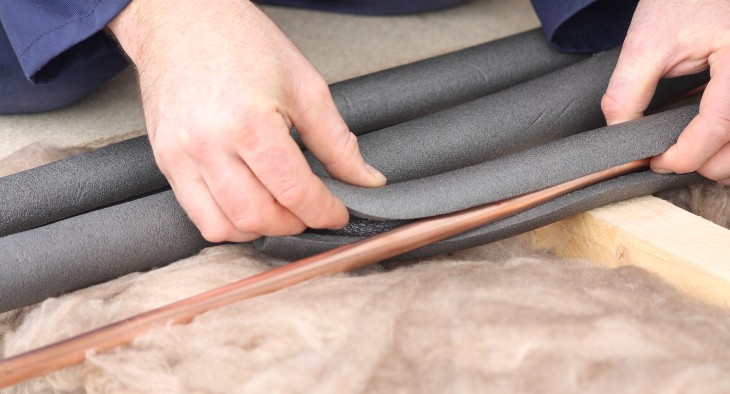 Get some pipe insulation. One innovative way of keeping your home energy efficient is to fit some pipe lagging. This helps to insulate your central heating pipework in spaces like your loft.
Make use of rugs. Runners and rugs are a great way to furnish a home, but they're also a useful winter warmer that are soft underfoot and insulate your home from cold floors.
Other ways to keep warm in the winter
Keeping warm is not just about making changes to your home. You can lose heat from any part of your body that is exposed, so wearing a hat, slippers, thermals, jumpers and robes can help you stay warm around the house. Dressing in materials like wool and cotton can help you keep the colder temperatures at bay.
What's more, staying active (both indoors and outdoors) increases your blood flow, while your muscles create heat energy. Read our guide on the ways to keep fit at home.
How to save on your energy bills in the home
It's one thing to learn how to keep your house warm in the winter, and another to make energy efficient savings all year round. Below, we cover some of the best ways to save on your energy bills – whatever the weather.
Install a smart meter. Knowing how to save on energy bills isn't just about guesswork. A smart energy meter can show you which appliances you use the most, helping you figure out how to cut down your usage. You can request a smart meter installation through Smart Energy GB.
Reduce your shower time. Difficult as it might be to leave that hot shower on a cold winter's day, shaving a minute or more from your shower time each morning could save you hundreds a year in energy and water bills. You could also consider installing a water saving shower head to reduce the flow of water.
Turn down the thermostat. It might sound obvious, but keeping the thermostat down can help you save money on energy bills. The World Health Organisation recommends temperatures of 18 degrees Celsius (for healthy, well-dressed adults) and 20 degrees (for children, older people and those who are unwell) whether you're awake or asleep.
Change how you wash clothes. Washing machines are energy-intensive, so doing a less frequent clothes wash – and filling the drum – could save you money. You could also shave money off your energy bills by washing at colder temperatures.
Switch off your devices. According to the Energy Saving Trust, the average UK household spends £65 a year on appliances that are left on standby. Remembering to turn off those devices and save some money by turning off all your christmas lights, is a small but useful recommendation in terms of how to save energy in homes.
Energy efficient home improvements
If you're looking to invest in more substantial ways of creating an energy efficient home, there is no shortage of options you could try.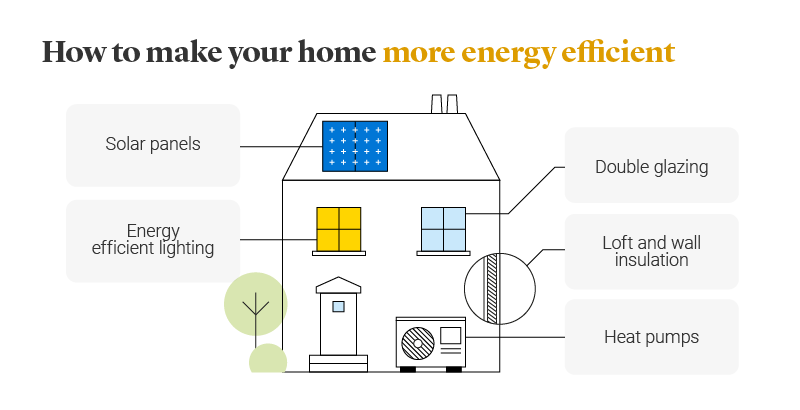 For more information, GOV.UK publishes online guidance for how to make energy efficient home improvements.
An Energy Performance Certificate (EPC) is a summary of a home's energy efficiency. It comes with an The EPC gives someone who's looking to buy or rent a home the opportunity to assess how energy efficient the property is. All homes (and commercial buildings) in the UK must have an EPC – which you must renew every ten years – with a few exceptions such as listed buildings that are unsuitable for upgrades.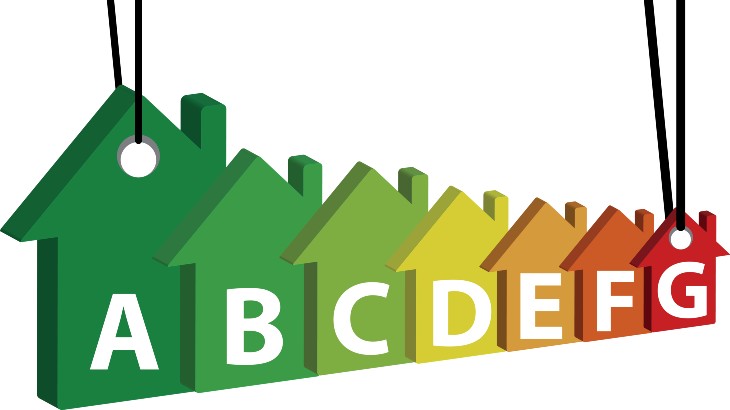 What is a good EPC rating?
The most energy efficient properties have an EPC rating of 'A'. A typical EPC rating for a home in the UK is band 'D'.
How to improve your EPC rating
Energy efficient home improvements can be a smart investment both in terms of saving you money and helping the environment. Here are just some of the ways you can invest to improve your EPC rating:
Insulation – from your loft space to your internal (and external) walls, and under the floorboards.
Replacing an old boiler with a new energy efficient one.
Upgrading to low energy lighting.
For more inspiration, the Energy Saving Trust offers more ideas on how to improve an EPC rating.