Thank you for purchasing the Affordability website plug-in
Our Affordability website plug-in is an easy way to add an affordability calculator solution to your WordPress hosted website*, allowing you to offer your customers a quick yet comprehensive way to view the highest loan amount they could receive from our panel of lenders.
After presenting this information the plug-in then gives each customer the option of requesting a call back to discuss their case with you in more detail.
Each time a customer requests a call back the affordability website plug-in will immediately send an email to the address you have specified. This email will contain the customer's contact information, their income and expenditure, and a list of maximum affordable loan amounts from our panel of lenders.
*integration only available with WordPress sites.
Download Affordability Calculator WordPress plug-in
First you need to download the plugin source file by clicking on the link below:
Download affordability website plug-in
You now need to install the plugin into your site via the Wordpress admin page.
How to add affordability website plug-in to your website
Now you've downloaded the plugin to your computer, follow the steps below to integrate the affordability calculator plugin with your website:
1. Open your WordPress Admin website and navigate to Plugins> Add New
2. Click the "Upload Plugin" button, select the zip file you downloaded above and click "Install"
3. The new "Mortgage club – Affordability Calculator" plugin should appear in plugins

4. Activate the plugin

5. Click on Settings
6. For Client Id and Client Secret enter the details provided to you by Mortgage club. For Environment select "Live" unless otherwise instructed. Provide a valid email address and the web page URL you would like us to redirect your customers to after they have completed the call back form.
You can also select a colour for the affordability calculator plugin to use to integrate seamlessly with your existing website.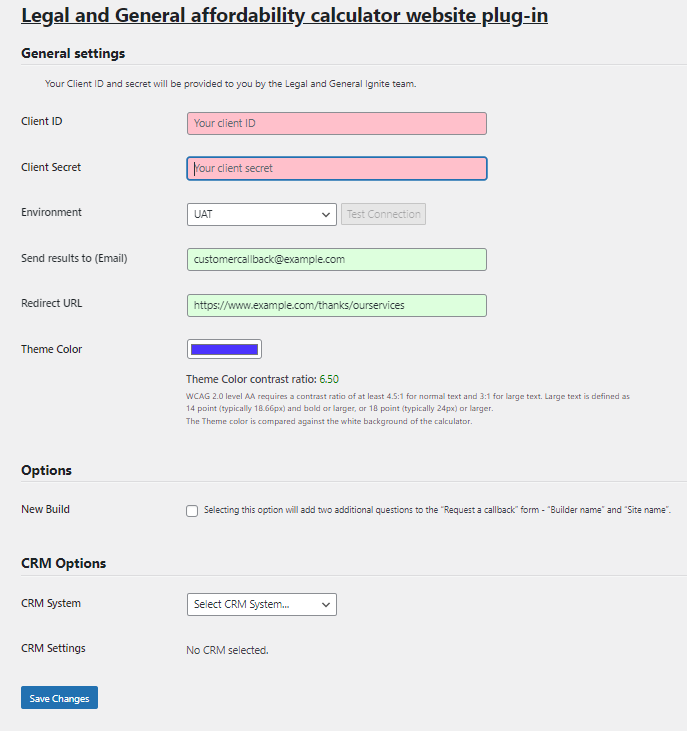 7. Under the 'pages' tab in WordPress Admin, choose the page you'd like the calculator displayed on and click edit. Now enter the shortcode: [LGSF_affordability] in the desired location on the page. Once the page is saved and viewed, the plugin should be available for use. If your happy you can publish the page.

8. Visit the page and the plugin should load and display the form shown in Appendix A. The colour should match the choice you made in step 6.
Need help setting up
If you have any questions on how to set up the Affordability website plug-in on your site, you can contact our Tech Support Team using the following email address: mortgageclubtechnologysupport@landg.com
Figure 1 - Form
Figure 2 - loading bar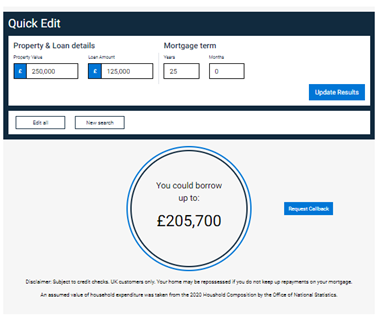 Figure 3 - Results page