The millennial life insurance gap

If you believe some people, millennials are the 'Peter Pan' generation who never want to grow up. Some cynics even claim they're more interested in selfies than saving for the future. But we wanted to scratch beneath the stereotypes and discover what millennials really think about life insurance.
For our wide-ranging report, The Millennial Life Insurance Gap, we spoke to more than 2,000 UK millennials to find out where life insurance really fits in their priority list. The results paint a fascinating picture of this much misunderstood generation.
4 in 10 millennials with joint mortgages (equal to 1.5 million people) don't have life insurance.
One-third (36%) of those joint mortgage holders said that if they died, their partner couldn't afford the mortgage alone.
On average, the 200,000 millennials with joint mortgages – and no life insurance – say they'll most likely get it in 5.8 years' time. Until they do, their loved ones' quality of life could be unprotected.
Our results suggest that there may be up to 200,000 millennials in the UK with a joint mortgage and no life insurance.
Portrait of a millennial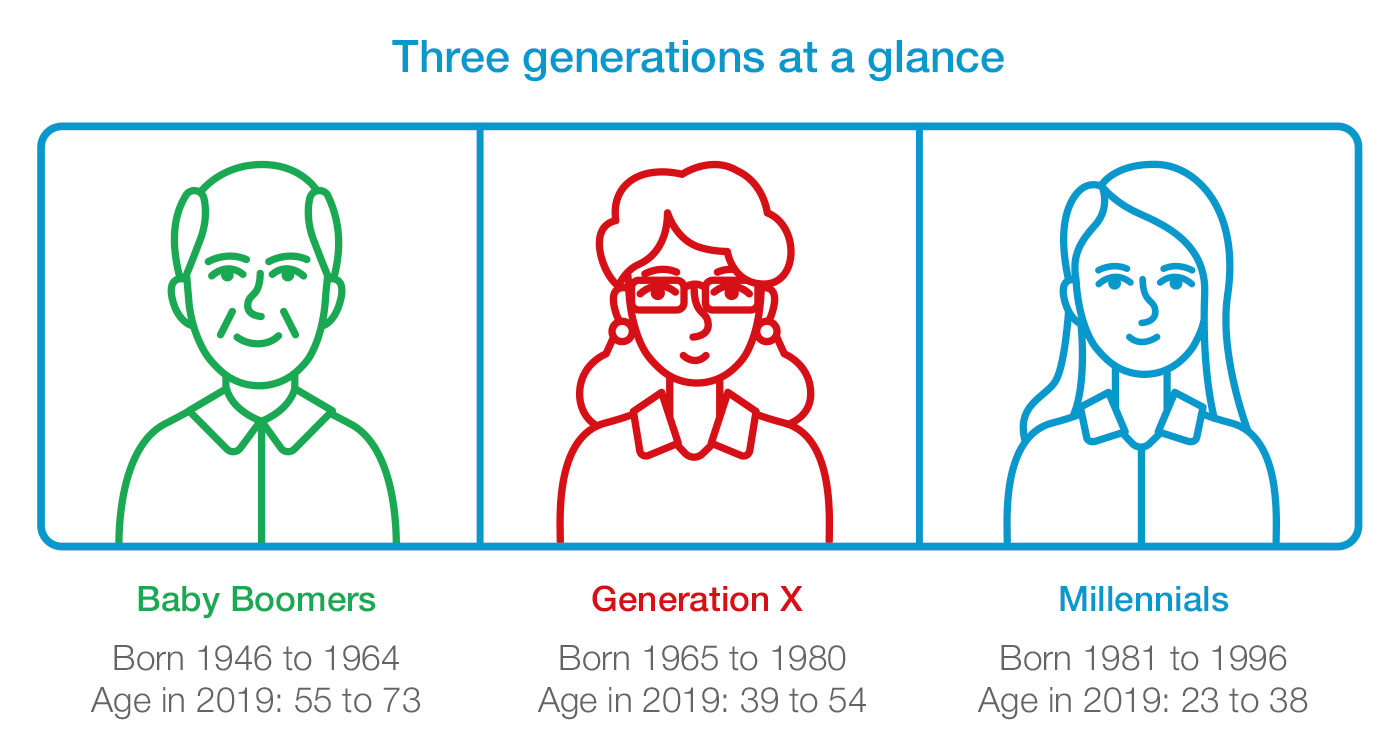 If you're aged between 23 and 38-years-old, you're a millennial. Statistically, you're less likely to own a home than Gen Xers and baby boomers; you're more likely to delay marriage, and the chances are, you've got student loans and credit card debts to pay. But while millennials tend to postpone life's big decisions, this is usually out of necessity, not choice.
Homeownership is the best predictor of having life insurance. But homeownership among young people is 40% lower than 20 years ago.
Age matters – a 38-year-old is 4.3 times more likely to have life insurance than a 23-year-old. Not just because of age, but factors like marriage, mortgages and children.
Millennials never say never. Our stats show that 20 and 30-year-olds still love the idea of marriage, owning a home and having kids, but they want a sound financial footing first.
Millennial life insurance myths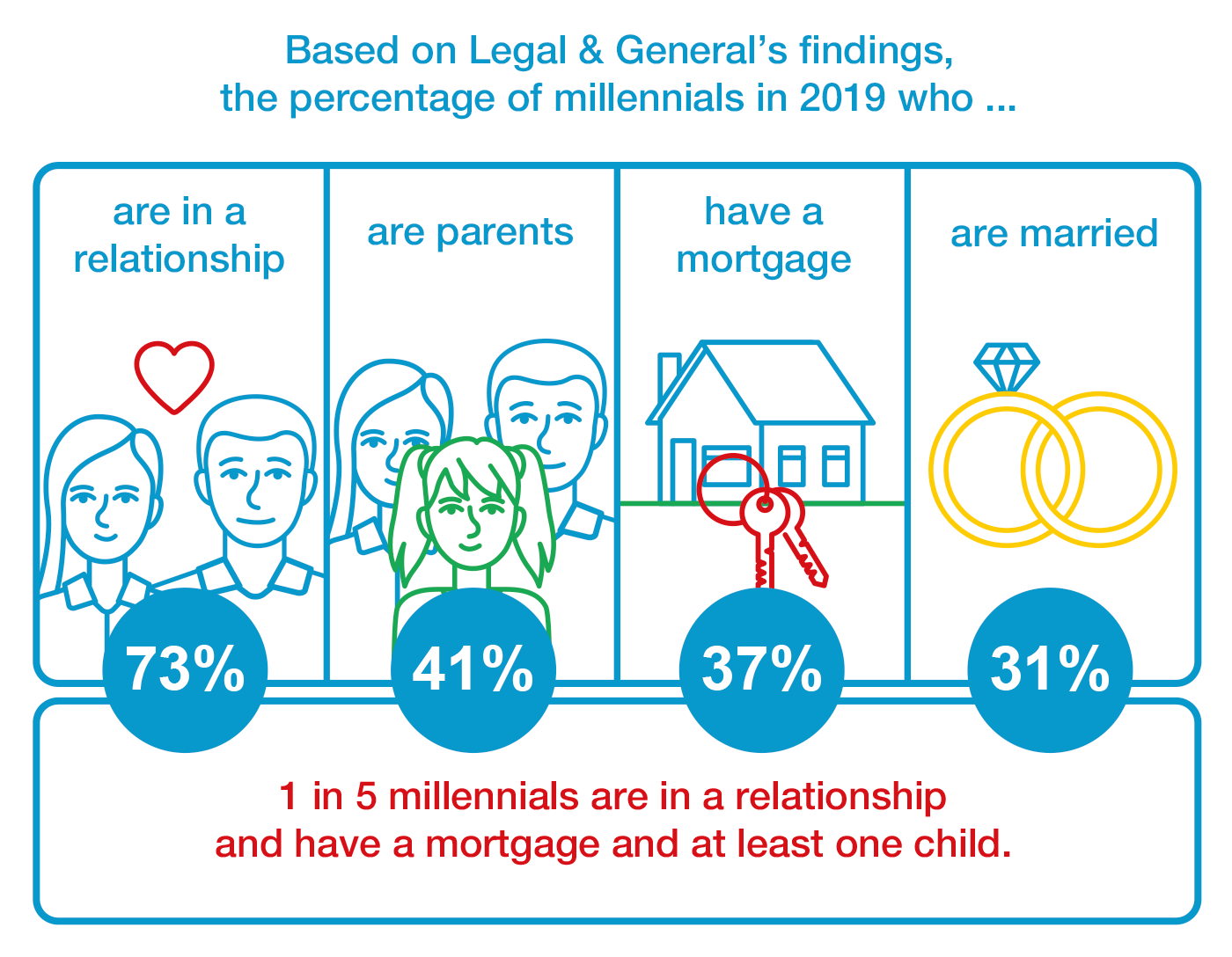 Contrary to the belief that millennials are too busy living in the moment to think about the future, the young people we surveyed told us that day-to-day expenses are the real barrier to getting life insurance.
The top 3 expenses that were cited as more important than life insurance were paying the rent or mortgage (78%), utilities (67%) and debt (52%). In contrast, just 20% claimed entertainment subscriptions like Netflix were more important, and the figure was the same for dining out and drinking. When you factor in that 52% of millennials have student debt and 46% have credit card debt, it's easy to see why many millennials are wary about adding to their monthly outgoings.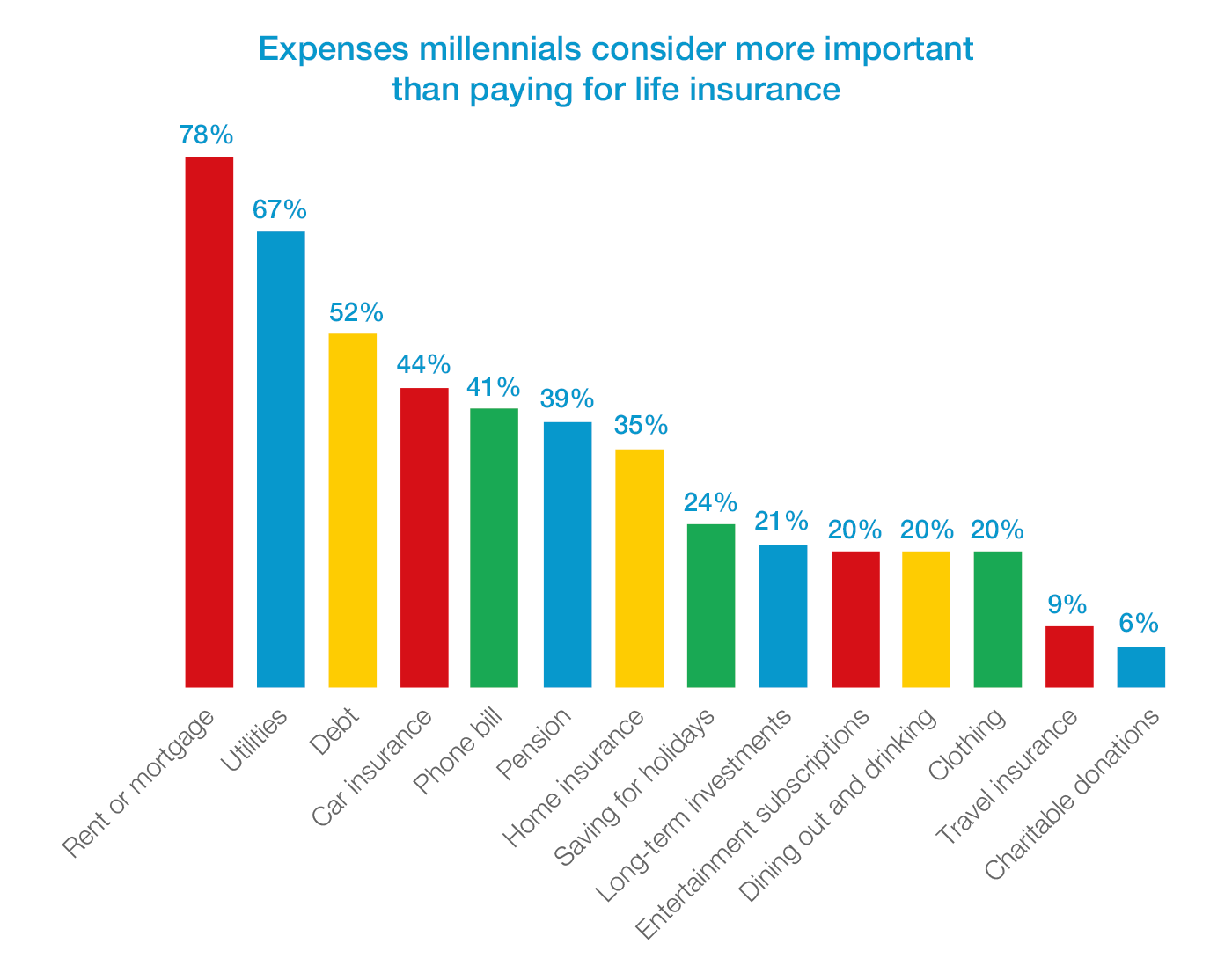 The great knowledge gap
At the same time, while there are plenty of myths about millennials, the same can be said for young people's understanding of life insurance. When asked to guess how much life insurance would cost a month to cover a 30-year-old non-smoker with a cash sum of £100,000 for 30 years, respondents' estimates were more than three times as much as the reality. Moreover, around 8 in 10 millennials did not know how level term or decreasing term life insurance worked. We also found that millennials value honest marketing, and while no one likes to think about death, they want to hear the straight truth.
What do you know about life insurance?
If you're one of the 1.5 million millennials who currently have joint mortgages but no insurance for protection, our report is essential reading. But even if you're an expert in life insurance, our findings offer a fascinating glimpse into the hopes and fears of 20 and 30-somethings while busting a few myths along the way.
Download our report, The Millennial Life Insurance Gap, for a fresh perspective on life insurance.