Life insurance for young adults
Let's face it – life insurance is hardly at the top of every young person's agenda, as college, university and the first steps on the career ladder provide plenty of distractions in young adulthood.
But while life insurance is rarely associated with young people, in many ways, being a young adult with no dependants is the best time to get life insurance, if it is needed.
In this guide, we'll explore why getting life insurance sooner rather than later can be a good idea.
When should young people get life insurance?
You can get life insurance from the age of 18, but whether you should or shouldn't depends on your circumstances more than your age. Life insurance is worth considering once other people, such as a partner, children or other family members, rely on you to help with everyday living expenses, like bills or childcare costs. For that reason, life insurance for 30-year-olds and over is more common. But of course, every person's situation is different, and many younger adults get life insurance if they have dependants
Life insurance in your 20s – is it worth it?
If someone else depends on you financially, then even in your 20s, life insurance is something you may want to consider. With our life insurance, the amount you pay (your premium) stays the same throughout the length of your policy (unless you make changes). This means it may be wise to get life insurance when you're younger, rather than risk delaying the decision, as any future illnesses will make your premiums more expensive, or could restrict your ability to get cover at all.
Am I too young for life insurance?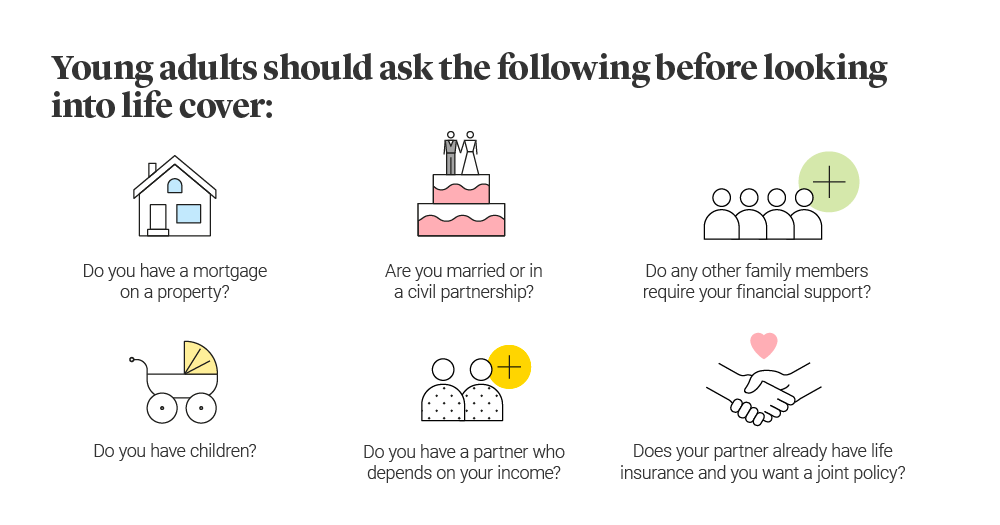 If you answered 'yes' to one of the above, life insurance is something you may want to consider as a young adult.
Am I too old for life insurance?
You can be covered by a Legal & General life insurance policy up to the age of 90, or 75 if you add Critical Illness Cover (for an extra cost when you take out your policy). You must be no older than 77 when you take out a Life Insurance policy, 74 if you want Decreasing Life Insurance or 67 if you add Critical Illness Cover. Read more about your options if you outlive your life insurance term. Other eligibility criteria apply - please read our Policy Summary PDF for more details.
How does the cost of life insurance change with age?
All things being equal, life insurance is cheaper for young adults than for older people. Below you can see how the typical cost of a life insurance policy can change based on your age.
x

| | | |
| --- | --- | --- |
| Age | 20 | 40 |
| Smoker status | Non-smoker | Non-smoker |
| Amount of cover | £400,000 | £400,000 |
| Term length | 25 years | 25 years |
| Cost | £10.47 | £42.74 |
However, the costs and availability of cover vary according to your individual circumstances, such as your health, lifestyle, smoker status, participation in dangerous sports, occupation, and the type and amount of cover you need, as well as how long you wish to be covered.
Quotes taken 22 November 2023.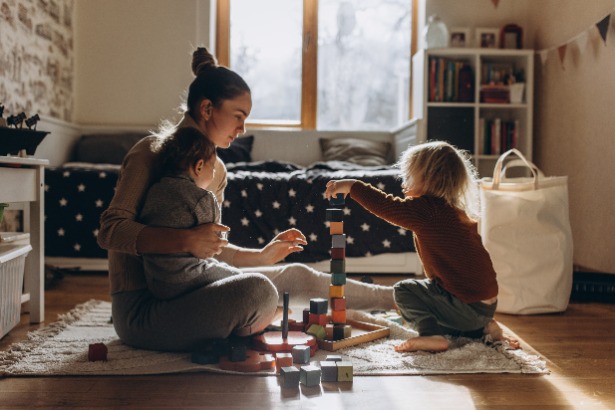 As you get older, you may have reasons to increase your cover or alter your policy. You can request to increase your cover upon certain specified life events, such as:
The birth or legal adoption of a child
A pay rise following a new job or promotion
Marriage or registered civil partnership
Moving home or renovating, leading to increased mortgage payments
Becoming the legal guardian of a child
Divorce or dissolving a civil partnership.
Read more about making changes to your policy.
Do I need life insurance in later life?
Life insurance isn't just for young adults, but when you're approaching retirement age, some people may find it harder to justify having a policy. For example, you may have paid off the mortgage, or your children might have reached adult age and financial independence.
However, a life insurance payout can cover various living costs – not just a mortgage – and it's worth remembering that cancelling a policy will mean you face higher premiums if you take out a new one, since you'll be older.
What's the best life insurance policy for young adults?
If you're researching life insurance as a young adult, you can be forgiven for not knowing the exact details of each type of policy. So here is a quick summary of the various kinds of Legal & General life insurance for young people:
Life Insurance – This could pay out a cash sum if you die or are diagnosed with a terminal illness (life expectancy less than 12 months), during the length of your policy term. The amount of cover stays the same for the length of the policy.
Decreasing Life Insurance – This type of life insurance helps to protect a repayment mortgage. The amount of cover reduces roughly in line with the way a repayment mortgage decreases, meaning it can be a cheaper form of life insurance for young homeowners.
Critical Illness Cover – This can be added to your Life Insurance or Decreasing Life Insurance policy for an extra cost when you take out the cover, and means you'll have extra financial protection; it could pay out a cash sum if you're diagnosed with, or undergo a medical procedure for one of the specified critical illnesses that we cover during the length of your policy, and you survive 14 days from diagnosis.
Please note, these are not savings or investment products and have no cash value unless a valid claim is made
How to get life insurance as a young person
If you've decided you'd like to get life insurance while you're a young adult, you may wish to use our life insurance calculator to help you decide how much life insurance you need. You can then get a Legal & General online quote in just two minutes and apply online.