Life insurance when renting
For millions of people, renting is reality. Between 2000 and 2021, the number of people renting in England rose from just over 2 million to almost 4.43 million.
And while many people traditionally take out life cover when they get on the mortgage ladder, life insurance can also be an important consideration for renters, too.
Here, we look at some of the reasons you might want to consider life insurance as a renter; because if you've got financial dependants, having a landlord instead of being a homeowner shouldn't be a factor that stops you financially supporting your loved ones if you were no longer around.
Do I need life insurance if I'm renting?
As mentioned, if other people depend on you financially, regardless of whether you're a homeowner or a tenant, taking out life insurance could support them with a cash pay-out if you were to die during the length of your policy.
That's because life insurance is designed to cover your life as an individual - or couple - rather than a property. Whilst Decreasing Life Insurance is often used to cover a repayment mortgage, our Life Insurance is one option for renters with bills to pay.
Why do some renters not have life insurance?
It's clear that many people choose not to get life insurance when renting. Our report, the Millennial Life Insurance Gap, found that a 30-to-35-year-old married couple with at least one child is 2.4 times more likely to have life insurance if they have a mortgage than if they rent.
Those who rent are generally younger than homeowners, and while 'cheap monthly premiums' were the biggest priority for millennials in our report, we found that 92% over-estimated the cost of life insurance for someone ages 30.
According to a Sainsbury's Bank study, those who don't have life insurance gave a number of reasons why: they don't believe they have enough money or equity (29% of respondents), or they haven't got round to it (18%), or they don't have any dependants who would need the money (14%).
The life insurance protection gap
in 2019, more than 1.7 million families with children in England live in rented accommodation, so life insurance should by no means be the preserve of homeowners with dependants. More than half of renters live with a partner, according to research by Trinity McQueen, and 57% are classed as ABC1, the most affluent social grade.
But, as renting becomes ever more of a reality for many, there is a concern that a generation of people may not have adequate life insurance cover in place, if at all. Our research indicates that just 41% of parents aged 23 to 38 have life insurance. A growing life insurance protection gap raises the prospect that many families may not have a financial lifeline when they need it most.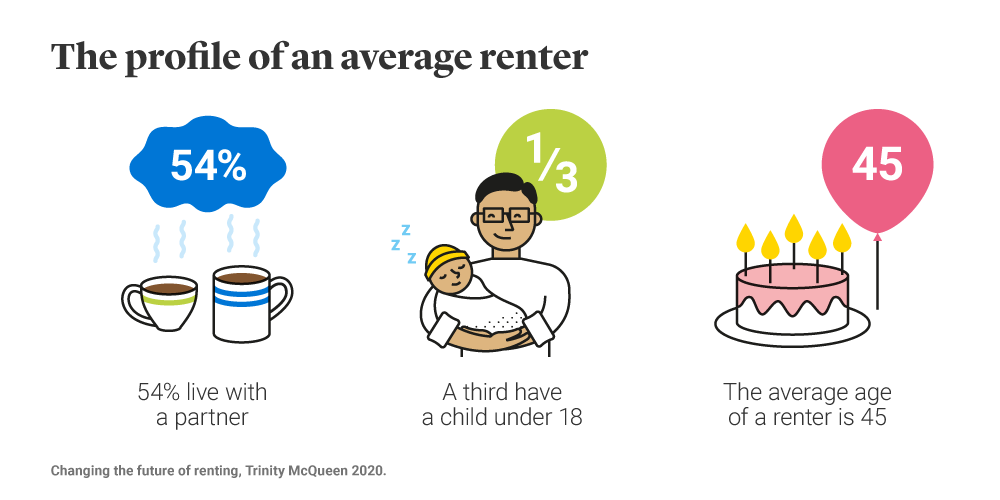 Life insurance for renters
Here are some life insurance options you might want to consider when renting:
Life insurance
if you die or you're diagnosed with a terminal illness (life expectancy less than 12 months) during the length of your policy term, Life Insurance could pay out a cash sum. This could be used to cover the rent and bills while you're no longer around. Available from just £5 a month, depending on your circumstances and needs, so Life Insurance is worth considering for renters of a budget.
Single of joint life insurance
Couples in a rental accommodation with children may want to consider whether to take out single or joint life insurance; the former covers one person, whereas the latter covers two lives. Joint life insurance can be cheaper, but pays out upon the death of the first insured person (when the cover will stop) whereas two single policies ensures the surviving partner still has cover after the first death.
Critical Illness Cover
When taking out Life Insurance or Decreasing Life Insurance with legal & General, you can add Critical Illness Cover for an extra cost. This add-on could pay out a cash sum if you're diagnosed with, or undergo a medical procedure, for a specified critical illness during your policy, so long as you survive for 14 days from diagnosis. The cash sum pay-out could be used to help pay the rent, bulls or other expenses.