There is more than one type of life insurance, so how do you know which policy is right for you? To the uninitiated, the variety of life insurance policies that are available can make picking the right one a little daunting. In this guide, we'll explain the main types of life insurance and what kind of customer they might be best suited to.
Life insurance explained
Life Insurance is a financial product that could mean your loved ones receive a sum of money if you were to pass away while covered by the policy. In broad brushstrokes, there are two main types of life insurance you need to know about: term life insurance and whole of life insurance. Later, we'll look at different types of life insurance within those definitions, but lets start with the big two:
Term life insurance
As a rule of thumb, term life insurance provides financial cover against death for a set period. As the applicant, you choose how much cover you need, and the duration of the policy length, which may cover the length of a mortgage, or other life milestones like your children's school years. With this type of life insurance, you will only receive your payout if you pass away or have a qualifying terminal illness during the chosen term.
Whole of life insurance
In contrast, whole of life cover provides lifetime coverage, which means your loved ones are guaranteed a payout whenever you die, providing the claim is valid. Unlike other types of life insurance which only payout if you die within a certain period of cover. The cost of this type of life insurance will reflect that fact that the provider will expect to pay out on a valid claim, whenever death may occur. This type of insurance may also be referred to as Life Assurance. The word 'assurance' is used because you're assured that a valid claim will be paid regardless of when you die, so long as you pay your premiums.
Read more about the difference between life insurance and life assurance.
This article mostly focuses on term life insurance. As we will explore, there are different types of life insurance within this category to meet different needs.
Types of term life insurance
Here is more information about the main types of term life insurance:
Decreasing life insurance
For many people, the first time they talk about life insurance is when they first take out a mortgage. In this instance, you could choose a term duration that covers the length of your mortgage repayments, as once the mortgage has been paid off you may not have a need for life insurance to protect it. Decreasing term life insurance, sometimes known as mortgage life insurance, means your cash sum decreases roughly in with the way a repayment mortgage decreases, though the premiums stay the same unless changes are made to the policy. The upshot is that you can choose the exact amount of cover for your needs, and the premiums are lower, due to the fact the cash sum reduces over time.
Level term life insurance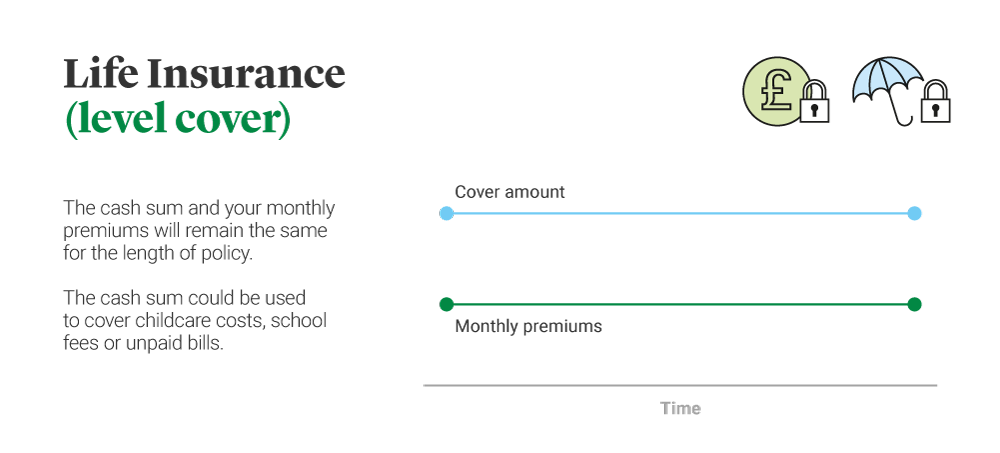 For many households, a 'level' policy is the best type of life insurance as the cash sum stays the same throughout your policy term, and your monthly premiums will remain the same unless you make a change to your policy.
Read more about the difference between mortgage insurance and life insurance.
What does a level term life insurance policy cover? The cash sum could be used to cover mortgage, childcare costs, school fees or unpaid bills. If your children, partner or other relatives depend on you financially and your parental responsibilities, this type of policy could help financially protect your family if you passed away.
Increasing term life insurance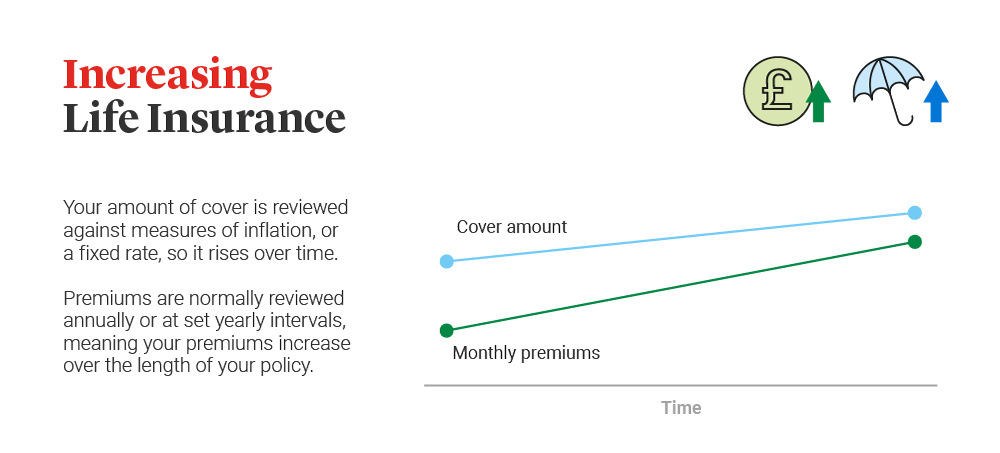 Perhaps one of the lesser known types of life insurance policy is 'increasing term life insurance'. This means you pay higher premiums over the length of your cover but your cover amount is reviewed against measures of inflation, or a fixed rate so it rises over time. Premiums are normally reviewed annually or at set yearly intervals. This type of life insurance is normally designed to protect against inflation and the rising costs of living.
Critical Illness Cover
Anyone can experience a critical illness at any time. And if this happens to you while protected by critical illness cover, a successful payout could lessen the financial impact on your family. But how does this type of life insurance work?
Legal & General's Critical Illness Cover can be added for an additional cost when you take out Life Insurance or Decreasing Life Insurance. It could pay out a cash sum if you're diagnosed with, or undergo a medical procedure for one of the specified critical illnesses that we cover during the length of your policy, and you survive for 14 days from diagnosis.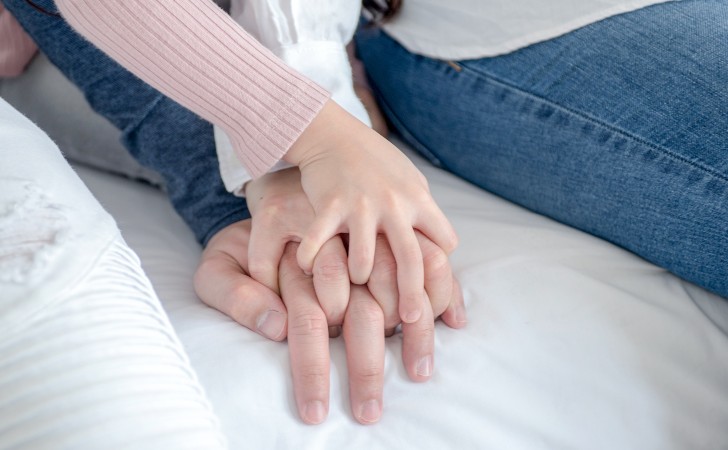 Terminal Illness Cover
A terminal illness is a difficult scenario for anyone to imagine, but financial protection is available in the form of terminal illness cover. Our Terminal Illness Cover is automatically included on Life Insurance and Decreasing Life Insurance policies with a term of 2 years or more. Terminal Illness Cover could pay out the full amount of cover when life expectancy is less than 12 months and you meet our definition of a terminal illness.
Over 50s Life Insurance
So far we've covered types of term life insurance, but the one exception on our list is over 50s life insurance – a type of 'whole of life' cover. Our Over 50s Fixed Life Insurance is for people aged 50 to 80, and comes with guaranteed acceptance and no medical questions. 100% of claims are paid in full, and the money can be put towards funeral costs or a small gift to loved ones when the policyholder passes away.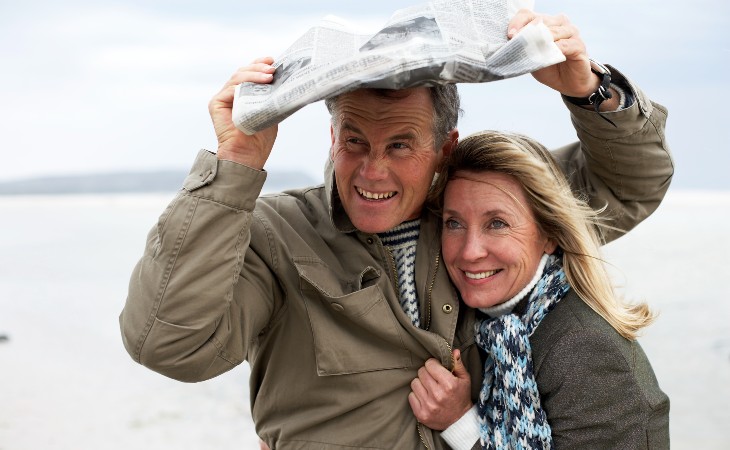 Should I get single or joint life insurance?
If you take out Life Insurance or Decreasing Life Insurance with or without Critical Illness Cover, you can choose to take out single life insurance or joint life insurance.
A single policy covers one person and pays out following a valid claim during the length of the policy, at which point the cover ends. Some couples decide to take out two single policies so that the surviving partner still has cover after the death of the first person. By contrast, joint life insurance covers two lives, but will only pay out once the first person dies or is diagnosed with a terminal illness (or specified critical illness if critical illness cover is chosen) and meets our definition during the length of the policy. It may be cheaper to get joint life insurance, but for some households, both partners may need cover.
Other types of term life insurance
In addition, you may hear the term renewable term insurance, which means you can extend your term without having to undergo a new medical examination, or new underwriting. With this type of life insurance, you may have to pay higher premiums as you get older, and there will be a renewal limit. If your term life insurance can be converted into a whole-of-life arrangement, then you have a convertible life insurance policy. Legal & General do not offer this type of cover.
What life insurance should I get?
We hope we've explained life insurance in a simple as way as possible. Ultimately, the best type of life insurance is the policy that matches you and your loved one's needs, providing the right amount of cover at a price you can afford.
If you have particular requirements about the kind of life insurance you need, you can contact Legal & General and speak to a financial adviser.
Find out more about the types of life insurance we offer:
Its important to remember that life insurance is not a savings or investment product and has no cash value unless a valid claim is made.