Death in service vs Life Insurance
Death in service benefit and life insurance are similar in that both can help protect your loved ones in the event of your death. We'll explore some of the similarities and differences in this guide.
What is death in service benefit?
Death in service is an employer-provided benefit where a nominated beneficiary receives a tax-free lump sum if you die while employed. This pay-out is typically two to four times your salary but varies by employer. It is not mandatory for employers to offer this benefit.
Is death in service the same as life insurance?
No. While it's easy to confuse the two, death in service is notable for being an employee benefit to help loved ones adjust financially if the employee dies. Whereas life insurance is a separate policy that you arrange yourself and is designed to pay out a cash sum of your choosing if you die during the length of the policy. This could help pay the mortgage and other living costs, rather than provide compensation with a multiple of your salary.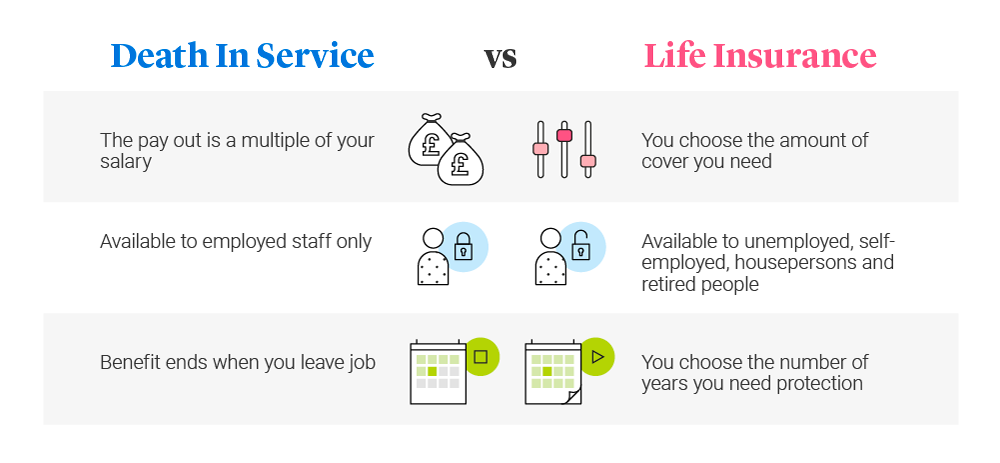 Am I covered by death in service?
You will only be covered for death in service if your employer has chosen to offer this benefit. If so, you could receive a lump sum (between two and four times your annual salary) in the event of your death. Usually, you just have to be on the payroll in order to be eligible, and your death doesn't have to be work-related. You do not qualify for this cover if you are self-employed.
Bear in mind that death in service covers you as the employee, and not your partner, unlike joint life insurance. This could leave a protection shortfall unless you or your partner have made other arrangements.
If you think you may be eligible, check with your employer so you know what you are entitled to receive.
What are the advantages of death in service benefit?
If you're covered at work by death in service, here are some of the positives:
It is normally provided at no cost to the employee.
The benefit is paid tax-free in the event of a claim.
As long as you're on the payroll, your death is covered.
Your loved ones would receive a cash sum – a £25,000 annual salary could trigger up to £100,000 in death in work benefit.
What are the disadvantages of death in service benefit?
Here are some of the drawbacks compared to life insurance:
If you change jobs, your new employer may not offer death in service, or the salary multiple could be different.
Should you rely on death in service benefit and need to apply for life insurance at a later date, it could be more expensive as life insurance costs more as you get older; or it may also be difficult to obtain cover if your health changes .
The amount of cover is based on a multiple of your salary, which may or may not be enough to meet your protection needs.
As it is an occupational benefit, you can only nominate a beneficiary. While it would be unusual for trustees not to pay the benefits as you have asked, this remains a request rather than a binding obligation.
What is life insurance and how does it work?
Life insurance is designed to help protect your family financially by paying out a cash sum if you die during the length of the policy. If you change jobs, or even retire, your life insurance will continue until you die or your policy comes to an end. Cover can be arranged on a joint or single life basis to suit your needs.
You can also opt to put your life insurance in Trust so you have peace of mind knowing that the pay-out will go to the people you intend.
Life insurance is not a savings or investment product and has no cash value unless a valid claim is made.
You can choose between:
Life Insurance - Your chosen cash sum could be paid out if you die during the length of the policy. It could be used to help protect the family's lifestyle and everyday living expenses or help to pay the mortgage.
Decreasing Life Insurance - Designed to help protect a repayment mortgage so the amount of cover reduces roughly in line with the way a repayment mortgage decreases. This means your loved ones could continue to live in the family home without worrying about the mortgage.
Critical Illness Cover - can be added to life insurance or decreasing life insurance for an extra cost. It pays out if you're diagnosed with, or undergo a medical procedure for one of the specified critical illnesses while your covered, and you survive for 14 days from diagnosis. It could help with child care costs, household bills or to help maintain your standard of living if you're forced to take time off work to recover.
Do I need death in service and life insurance?
Having death in service benefit is certainly a positive if your employer offers this perk. But you will want to have a long and hard think about whether a multiple of your salary would be enough to support your beneficiaries or loved ones. For example, if you have an outstanding mortgage balance of £300,000, a death in service benefit of £150,000 won't cover the ongoing costs. And while death in service might seem attractive if you have no intention of leaving your job, there is no guarantee you will stay in the same role indefinitely, whereas with life insurance you'll have the security of knowing the policy length is defined, during which your beneficiaries or loved ones could receive a cash sum, so long as the premiums have been paid to date.
But of course, having some financial protection is better than no protection, so have a think about your individual circumstances and contact Legal & General if you have any questions about our life insurance products.