27 August 2020
How do life insurance payouts work?
The cash sum from a life insurance payout can prove invaluable at a difficult time. But how do life insurance payouts work? In this guide, we'll explain the life insurance claims process.
What is a life insurance payout?
A life insurance payout is a sum of money that is paid out when the policyholder dies while covered by the policy. When you apply for life insurance, you will need to work out how much money your loved ones would need if you were no longer around.
Does life insurance actually pay out?
Yes, but it's worth remembering that the cash sum is contingent on the claim being valid; for example, the premiums will need to have been paid, you will need to have provided accurate information during the application, and you won't be covered if within the first year of the policy you die as a result of suicide, or an event where in our reasonable opinion, you took your own life. Other terms and conditions may apply.
When should you contact your insurer?
If you're making a claim for a life insurance payout, you should contact Legal & General as soon as possible after the death of the insured person. As we will explain below, you will need to allow time to find documentation to support your claim.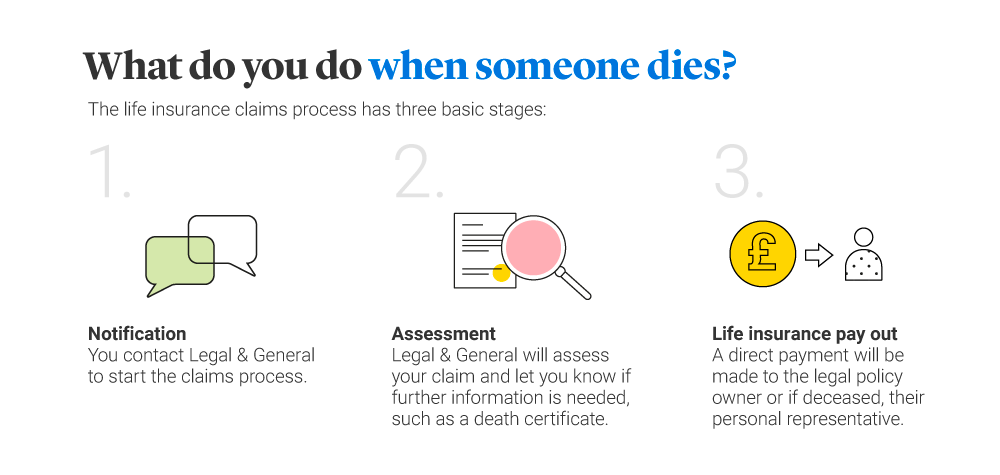 How to claim on a life insurance policy
The life insurance claims process has three basic stages:
Notification
Assessment
Life insurance pay out
Notification
This is when you first contact us to start the life insurance claims process. As a minimum, we'll need the policy number, the life insured's GP/Doctor's contact details, plus information about who you are and your relationship with the insured person. Our claims team will let you know if we need any other information or documentation at this time.
Assessment
Once we're notified, we may need a claim form to be completed and returned to us, and will potentially ask for further evidence, depending on the type of claim. For example, for a life cover claim we may ask for the death certificate.
Life insurance payout
Who we pay out to: we will make a payment directly to the legal owner of the policy, unless that person is deceased, in which case it will be paid to their personal representative, usually the executor of their will.
Where we pay out: any claim will be paid as a lump sum in pound sterling to a UK bank account. If you wish to be paid outside of the UK, then arrangements for transfers must be made at your expense.
Funeral pledge
We realise that sometimes families can experience significant financial demands at a time when they've recently lost a loved one. That's why we offer our Funeral Payment Pledge - we agree to pay part of a claim amount early and advance up to £10,000 on any valid life claim to cover the cost of the funeral. Find out more about our Funeral Payment Pledge.
Does the pay out stay the same no matter when you die?
That depends on what type of life insurance you apply for. If you take out a Life Insurance policy with Legal & General, your potential pay out stays the same for the duration of your policy term, unless you make any changes to it. Remember that no pay out will be made if there is no valid claim during the length of the policy.
If you take out Decreasing Life Insurance, your cash sum decreases roughly in the same way your repayment mortgage decreases.
How long does a life insurance pay-out usually take?
We aim to pay all life insurance claims as soon as possible, but the exact time it takes can vary. We often have to ask other parties for information to help us consider your claim. Well do all we can to get everything we need as quickly as possible.
What can cause delays in the pay out?
Delays can be experienced when claiming the sum assured if the life policy was not placed under trust. If the deceased policyholder had made a will, the executor will apply for a Grant of Probate. This is a legal document which confirms that the executor has the authority to deal with the deceased person's assets. If the deceased policyholder died without the will then they are deemed to have died intestate and again the administrator would apply for a letter of administration also known as a grant. This could cause, not only a longer delay in paying the claim, it could mean that the policy proceeds being passed to an unintended beneficiary.
Who can claim on a life insurance policy when someone dies?
An individual's ability to claim for a life insurance pay out depends on the nature of the policy. For example:
Joint policy in trust - the lump sum would be paid to the surviving policyholder. However, half of the value of the sum assured would form part of the policyholder's estate. If both policyholders died, the lump sum would be paid to the trustees for either distribution or for use of the lump sum for the benefit of the beneficiary (or beneficiaries) of the trust.
Joint policy not in trust - the lump sum would be paid to the surviving policyholder. However, half of the value of the sum assured would form part of the policyholder's estate. If the policyholder died with a will or without a will (intestate), the lump sum would be distributed according to the deceased's will or the rules of intestacy, this could mean that the lump sum would be paid to the beneficiary/beneficiaries that the policyholder had not wanted to benefit from. If both policyholders died at the same time, the younger person is deemed to have survived the older person, which in turn would form part of their taxable estate and could be liable to Inheritance Tax (IHT)
Single policy in trust - the lump sum would be paid to the surviving trustees who would then either distribute or use the lump sum for the beneficiary or the beneficiaries of the trust.
Single policy not in trust - the lump sum would form part of the deceased's policyholder's taxable estate and may be liable for IHT.
In some cases, and rather unfortunately, life insurance policies sometimes remain unclaimed. There are many reasons for this from the policyholder forgetting they had a policy to the policyholder being the last member of their close family to pass away, and the policy just gets lost or no obvious evidence can be found in their files.
Because there is no timeframe for a life insurance claim, if a pay-out is due, it can be claimed. However, there is a limit to how long an insurer can hold on to a policy once they know the policyholder has died. Once we've been told by a bank or building society that someone has died, we'll hold on to the policy for about two years.
After that, we pass it to the Unclaimed Assets Register (UAR), where money and other assets whose rightful owner can't be found are held.
If you think this might have happened to a life insurance policy and you want to trace it, you can search the UAR. Whilst this is not a free service, it might help in your search for lost assets from other financial providers. It's worthwhile remembering that if you're looking for a whole of life policy, it won't be added to the register until the policyholder's 100th birthday.
After 15 years, if a policy is still unclaimed, it becomes part of the government's dormant assets and the money goes to charity. The good news is that you can still make a claim on a policy that's dormant, and the lump sum would be paid out on a valid claim, no matter how many years it's been dormant.
Need to make a claim?
For anyone making a claim on a life insurance policy, we understand that it's likely to be a difficult time for you. That's why we try to make the life insurance claims process as straightforward and stress-free as we can. Find out how to make a claim and get the support you need.
Have you considered your organ donation decision?
England, Wales and Scotland now use an opt-out system for organ donation to allow more people to save more lives. Everyone over 18 and living in England is now considered to agree to be an organ donor when they die, unless they have opted out, or are in an excluded group.
You still have a choice whether or not you want to become an organ donor so it's really important that you make your decision and record it on the NHS Organ Donor Register and discuss it with your family.
Your family will always be asked to support your registered decision, and clinicians will never proceed with organ donation if your family or loved ones object. Each year, hundreds of opportunities for transplants are missed because families aren't sure what to do or have misconceptions about organ donation.
Consider organ donation today, and if the time comes, families find the organ donation conversation much easier if they already know what their relative wanted. Whatever your decision, talk to your family today and Leave Them Certain.