01 November 2023
Unlocking the value of referring clients to Conveyancing Services
As a broker, your clients rely on your expertise to navigate the complex world of real estate transactions. To further enhance the services you offer, it's essential to understand the significant benefits of referring your clients to specialised conveyancing services. Here are the advantages of such referrals and why they can be a game-changer for both you and your clients.
Expertise and Specialisation
Conveyancing is a specialized field within real estate that involves the legal transfer of property. By referring your clients to a professional conveyancing service, you ensure that they have access to experts who specialise in this complex and crucial aspect of the transaction. This expertise minimises the risk of errors, delays, and potential legal complications.
Time and Stress Savings
Property transactions often involve mountains of paperwork, legal documents, and various administrative tasks. eConveyancer provides digital onboarding which can save your clients up to 2 weeks of valuable time and waiting for post to arrive.
Risk Mitigation
One of the most significant advantages of referring your clients to conveyancing services is risk mitigation. Property transactions can be rife with potential legal pitfalls, and even a small oversight can lead to significant issues down the line. The firms listed on eConveyancer have been hand-picked and many are award winning, for their dynamic skills and client ratings
Smooth, Efficient Transactions
Conveyancers are skilled at streamlining the process. They can quickly and efficiently manage property transactions, facilitating the smooth transfer of ownership. eConveyancer have recently upgraded their platform which supports secure online messaging and document sharing.
Personalised Service
Reputable conveyancing firms offer personalised service tailored to your client's unique needs. They understand that each transaction is different, and they can adapt their approach accordingly. eConveyancer have a dedicated customer service team who support their brokers and each case to ensure a smooth transaction.
Enhanced Reputation
Referring your clients to reliable conveyancing services can help boost your reputation as a trusted and knowledgeable broker. The panel of firms listed on eConveyancer are handpicked and regularly monitored based on their client rating.
Referring your clients to conveyancing services is a win-win strategy. By taking this extra step, you not only strengthen your professional reputation but also provide an invaluable service that can solidify your position as a trusted real estate expert in the eyes of your clients. Don't miss the opportunity to offer your clients the full spectrum of support they deserve by recommending specialised conveyancing services with eConveyancer.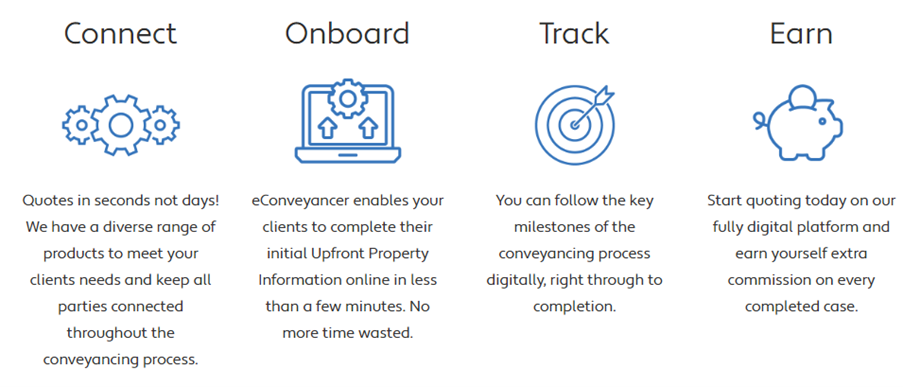 For adviser use only. Please note this content has been supplied by our lender partner and as such, is their responsibility. No party shall have any right of action against Legal & General in relation to the accuracy or completeness of the information in this article.