Deciding when to retire used to be easy.
If you were a man, you'd probably stop working when you reached 65. Women would step back at 60. You'd stop making National Insurance contributions and leave your working life behind you. There'd probably be a lovely speech from your boss and a carefully chosen farewell present, quite possibly a suitably engraved carriage clock.
Everything's much more flexible now. While you currently have to wait until you reach 66 to get your State Pension, you can start drawing your workplace and private pensions from the age of 55 (increasing to 57 from April 2028) – typically recognised as early retirement age.
But many people don't want to stop working, so they keep going into their 70s or beyond. Once you pass 55, when you retire is really up to you. Bosses do still make lovely farewell speeches, though there are fewer carriage clocks involved in the whole process.
Because there's more choice, deciding exactly when to retire can be hard.
By retiring early, you could enjoy a new lifestyle and put work stresses behind you. But if you haven't saved up enough, you might run into financial challenges. And if you love your job and get a lot out of it, leaving it might actually be bad for your health and general wellbeing.
Working into later life also lets you put more into your pension pot. That means you'll be more financially secure when you do retire. There's no legal requirement to take your pension at a specific age. You can leave the money invested, or explore other options to better safeguard your future.
So we've put together this article about the risks and rewards of retiring or staying at work, to help you understand your options, whether you're nearing early retirement age or considering working into your 70s, 80s and beyond.
When do most British people retire?
Most people retire when they're about 65 years old. But there's a big trend towards working later. The number of people working into their 70s has risen by more than 60% in the last decade.
That's because:
Life expectancy is rising steadily. In 1960, people lived on average to 71. That's now risen to 81. Many of us want to keep earning through that extra decade.
More jobs can now be done online, and working from home is the new normal. That means fewer of us are doing physically challenging manual jobs, making working longer more accessible.
We're ageing better than the generations before us. Fewer people are taking early retirement due to ill health.
How to take early retirement
That said, you might be looking forward to the idea of putting your feet up and enjoying early retirement. If you're a business owner, you'll pass the responsibility of running the business on to someone else, then start taking money from your personal pension and living off any investments you've made. You might even decide to sell the business outright.
If you're an employee, you'll hand in your notice and access funds from your workplace pension and any private savings you've got.
Knowing how to take early retirement is one thing. Being financially independent is quite another. The good news is that we've got some tools you can use, further down this article. The important thing is to weigh up whether early retirement is the right path for you to take.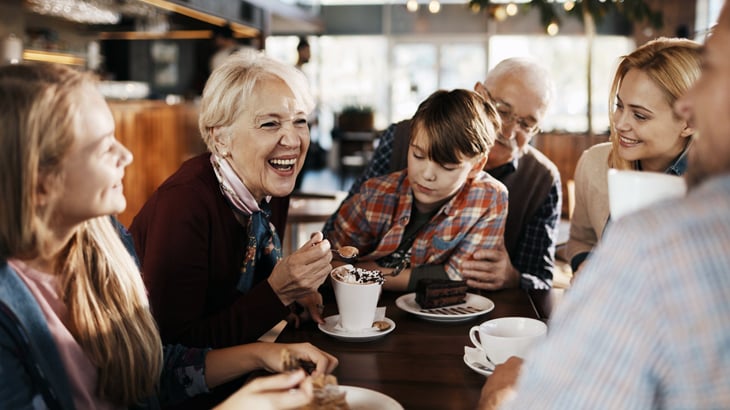 What are the pros and cons of retiring vs. staying in work?
Why it's good to retire (be it at early retirement age or later)
You might just feel that work's taken up quite enough of your time. Once you've retired, you can spend more time with your family and friends. Perhaps you have interests you've always wanted to pursue. You can use all the time and energy that went into your working life to:
Or you might be looking to remove the stress that can come with work. YouGov research showed that over 50% of workers in Britain felt stressed at work and spend a fair amount of time thinking about it outside of working hours.
Why it's good to keep working
Staying in work can be good for your health and wellbeing. It can provide mental stimulation, as well an opportunity to meet new people and enjoy the social benefits of being at work, which can help if you're worried about feeling lonely or isolated when you retire.
Working into later life also lets you put more into your pension pot. That means you'll be more financially secure when you do retire. There's no legal requirement to take your pension at a specific age. You can leave the money invested, or explore other options to better safeguard your future.
How you can do both at once
Don't forget that you can retire and still keep working by taking on a part-time role. That'll also help supplement your pension. If you're over state retirement age, you won't have to pay National Insurance, though you may be taxed on your work income.
When can your pensions start supporting you? And how much will you get?
Accessing your State Pension
To access your State Pension, you need to:
Be at least 66 years old (which will rise to 67 between 2026 and 2028, and eventually 68)
Have made at least ten years' worth of National Insurance contributions
To get the full £203.85 a week, you need to have paid National Insurance for 35 years. If you retire early, you might not hit this threshold. You can check to see if you'll qualify for the full State Pension and find out how much you could get on the Gov.uk website.
You'll get your State Pension whether or not you have other sources of income (like a workplace or personal pension). And again, all of that applies in exactly the same way to men and women.
Accessing your workplace or personal pension
Since 2012, UK staff have been automatically enrolled in workplace pensions. They can start paying out when you reach 55 (increasing to 57 from April 2028), whatever your sex. That's true for personal pensions too.
Thinking about taking your pension?
Answer a few simple questions to get a better understanding of what to consider before accessing your pension savings.
Are you all set up for the right retirement lifestyle?
We want to help you retire when you're ready. A big part of being ready, is knowing that you've saved up enough to support your dream retirement lifestyle. Of course, how much that is can vary quite a bit.
To help you work out how much you might need, we recommend a trip to the Retirement Living Standards website. It'll help you think through the kind of later life you'd like to lead and work out what sort of annual income you'll need to fund it.
For a deeper dive, there's our Open University course, Retirement Planning Made Easy. It helps you think through:
How much you might need in your pension pot
How to provide an income when you retire
What to do if your retirement savings fall short
Dealing with divorce and bereavement
You can also download our Retirement Income Guide. It covers everything from how you'll fund your ideal retirement to how you'll fill your days, what the best way to access your retirement income might be, and how you can plan for later life.
Wrapping up with a little inspiration
Retirement is a great opportunity to enjoy life. As you'll discover in our Colourful Retirement Stories series, many of us use it to do something we've always craved, or to live a new and exciting life in different surroundings. The decision on when and how to retire is entirely yours – and it can be a very exciting one. We hope we've made it a bit easier to make.