Britain is on the move. For the first time in a decade, the number of annual home sales has exceeded 1 million, and for all sorts of reasons – from changing lifestyles to the 'race for space' – there are no shortage of households looking to up sticks. But while moving to pastures new sounds exciting, does it really have to be so stressful? We polled 1,000 home buyers (including first time buyers, people who are moving, or people buying a second home) to discover how they've coped with their big move, and whether life's other teeth-grinding moments – from breakups to job interviews – compare to the stress of moving. We discovered:
Moving house is considered the most stressful thing you can do – topping our poll with 57% of respondents, followed by 32% who chose 'having a child', and 30% who said a divorce or breakup was the most stressful.
'Needing more space' was the most frequently cited reason for moving – 42% of respondents.
Almost 1 in 2 movers (47%) said they experienced increased stress levels due to moving.
Money worries are a big deal for buyers – 40% said what they dread most about moving is not having enough money to cover unexpected expenses.
More than 1 in 4 (27%) of people aged 18-24 said they would not consider moving again – the highest of any age group.
Motivated to move
According to Statista, in the second quarter of 2021 there were 361,000 households in the UK that wanted to find another home, so for countless movers and shakers, staying put is simply not an option. But moving home is supposedly one of the most stressful things you can do, so why do we put ourselves through it?
In the WFH era, it's no secret that many Brits have flocked to suburban hinterlands, small towns and rural villages that were previously considered non-commutable. And as our poll confirms, many movers are happy to put up with the stress of upping sticks in exchange for a garden, balcony, or perhaps a home office or spare bedroom. These motivated movers have reshaped Britain's economic and social geography; in fact, a 2021 New Statesman analysis of the latest Office for National Statistics (ONS) stats found that 18-20 year olds are now the only age group more likely to move into cities than out of them.
We also spoke to consumer spokesperson at Zoopla, Daniel Copley, who confirmed this new trend for homebuyers in 2022, and how the pandemic and WFH has changed what many buyers are looking for in a home. He said:
"We are continuing to see demand for family homes outside of cities as people are more willing to undertake a longer commute one or two days a week from a more rural location. This shift is also evident in the types of properties buyers are searching for, with many now looking for an additional bedroom that can be converted into a study. Outside space has also taken on renewed importance, with a garden or balcony now a must-have for a large cohort of buyers."
No stress?
Whether you're moving to be closer to the great outdoors, or simply for work and family reasons, there's no doubt that getting the keys to a new place is an exciting prospect. But it's also true that all this upheaval brings the potential for stress. Moving house is a challenge at the best of times, but in the context of a global pandemic; uncertainty about future working arrangements; runaway house prices in some parts of the country; the rising cost of materials for those looking to renovate; and a Stamp Duty cliff-edge that came and went, the wider landscape for any mover has not exactly been plain sailing. And as our survey suggests, buyers have been feeling the pressure.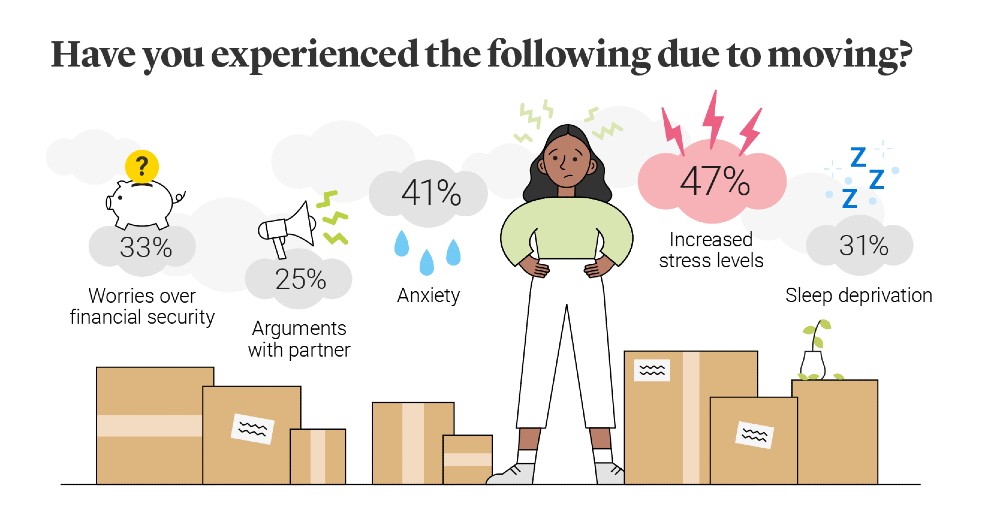 Digging a little deeper, our survey gives an indication of what caused buyers' blood pressure to boil. One factor was time. Almost half (46%) of home buyers had to wait between 3 and 5 months before their move was completed, and the mean amount of time they waited was 3.17 months.
And these are the lucky ones, because not every house hunt has a happy ending. According to data from Quick Move Now, 1 in 3 property sales fell through in the first quarter of 2021. Movers face various risks before exchange and completion – from their mortgage offer being declined, to someone in the chain pulling out or changing their offer – so buying a home means walking the tightrope, all while shelling out for solicitors and surveyors' fees. No surprise, then, that the movers we polled found the waiting game particularly stressful. Below are the top responses we received on the trickiest aspects of moving.
Zoopla's Daniel Copley says:
"Buying a home takes time and patience, with so much of the process out of your hands due to third-parties like solicitors and conveyancers – and time-consuming elements like surveys. Whilst some stressors are unavoidable, buyers can run into problems based on a lack of understanding of the market and buying process. The more research and prep you can do prior to making an offer, the better equipped buyers will be to feel confident in the purchase process."
It all adds up
Even for those with deep pockets, an inescapable source of stress when moving house is cost. A majority (58%) said that purchasing their property cost more than they'd budgeted for, compared to just 42% who said it cost less or the same as anticipated. And when asked which aspects of buying a property kept them awake at night, the results were telling.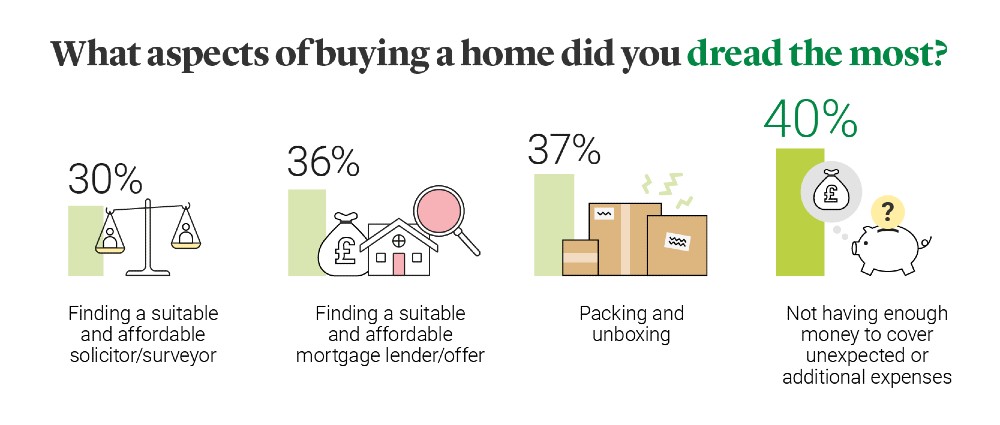 How much more did these buyers fork out? Of those whose recent property purchase blew a hole in their budget, 53% spent an extra £1,001 to £2,000, while 46% coughed up between £501 and £1,000. Just 1% paid up to £500 extra.
Daniel Copley reveals hidden costs are a common stressor faced by homebuyers:
"Something that often takes people by surprise is the additional costs associated with moving, like surveys, movers, and conveyancers. Ensure you budget correctly as this can all add up"
Moreover, we quizzed movers on what they wished they'd done differently before moving house. Two of the top three answers related to money:
33% said that in retrospect, they would save more money than just the deposit required.
5% said they'd want to understand the complexity of buying a property more thoroughly before getting the ball rolling.
27% cited 'budgeting and planning for transition costs' as something they'd do differently.
While costs were a source of stress across the board, money worries were keenly felt by young people in particular. We found that more 18-24-year-olds paid over their budget than any other age group – 85% said their most recent property cost more than they'd bargained for. And regionally, buyers in Greater London were the most likely to have to find some extra cash behind the sofa – 70% said their home cost more than they'd budgeted. In fact, the south-east of England and the West Midlands were the only regions where a majority of people didn't exceed their original budget.
To buy or not to buy?
Even if you've found the home of your dreams, adding up those sums can give any house hunter a headache. That's why we've developed an interactive tool to help you calculate any hidden costs you might encounter while climbing the property ladder.
The stress test
We wanted to know: is there anything more stressful than moving? We all know that moving house is no walk in the park, but how does it compare to other rites of passage that leave us reaching for the stress ball?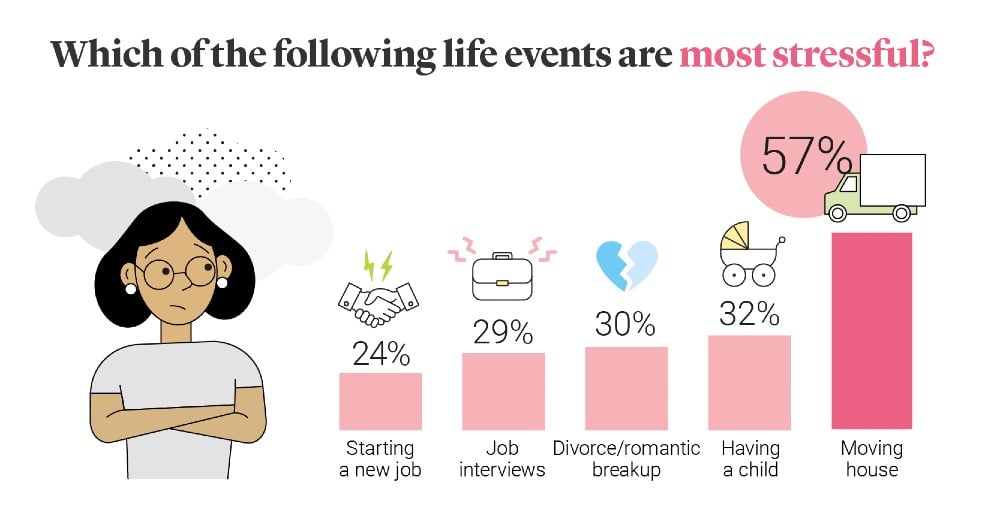 Moving house was cited as the most stressful life event across almost all age brackets. The one exception was 18-24-year-olds – 30% of whom said job interviews were the biggest stressor.
This theme played out across all regions; moving house was reckoned to be the most stressful life event everywhere, and especially in Northern Ireland, where 75% listed it at the very top.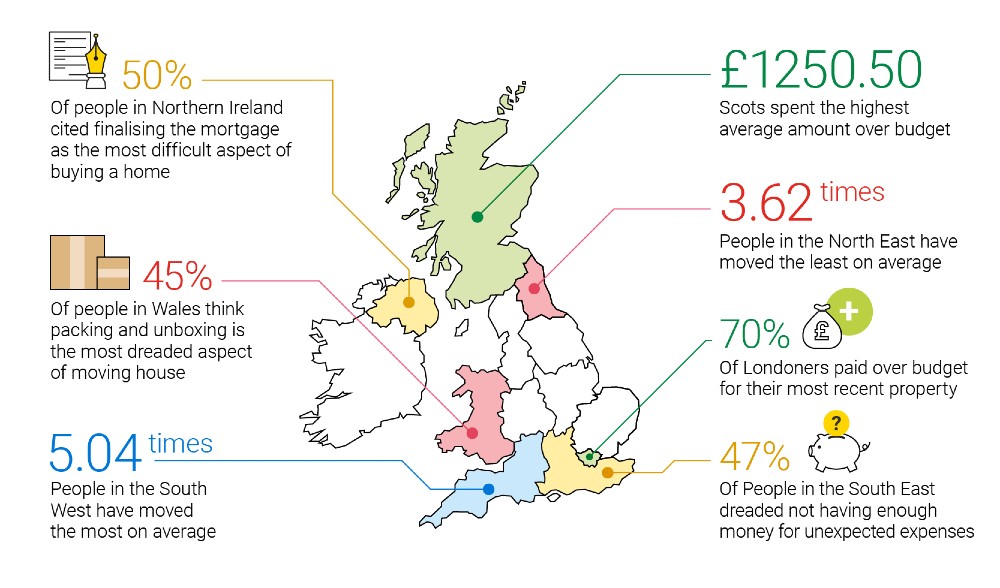 Both men and women cited moving house as the most stressful life event – 51% and 62% respectively. But that doesn't tell the whole story, as women were more likely to state 'having a child' (37%) as their second biggest stressor, while for men it was their third most likely answer (26%) behind job interviews (30%).
Keep on moving

Whatever the stresses – and there are many – associated with moving, our respondents ultimately told us that buying a home is still worth it. Those we surveyed had already moved an average of 4.02 times during their lifetime, and as people get older, that number will rise further still.
Breaking this down further, we found that people in the east of England were most likely to consider moving again – 90% of respondents – compared to 77% in Wales, where many are staying put.
Perhaps surprisingly, more than 1 in 4 (27%) of 18-24-year-olds said they would not consider moving again – the highest of any age group. Has the prohibitive cost of buying a home put the younger generations off?
But despite all the challenges, a resounding 84% of adults polled said they would still consider moving again in the future.
Zoopla's Daniel Copley shared some key advice to make the homebuying process smoother for buyers in the future:
"It is important to get organised ahead of putting an offer into a property. Understand clearly your maximum budget, have your mortgage sorted, and line up a conveyancer ahead of time. These initial steps will show a vendor you are a serious buyer in a position to move fast, giving you the best shot of having your offer accepted, and enabling you to be on the front foot with what can be a very stressful process."
How Legal & General can help
Finding your home sweet home is stressful enough at the best of times, and when you do finally get the keys, the one thing you don't want to worry about is who'd pay the mortgage if you were to pass away. Legal & General Life Insurance can help financially protect your loved ones by paying a lump sum which could cover the mortgage, bills and other living costs, if you were to die while covered by the policy.
We also offer Decreasing Life Insurance which is designed to cover a repayment mortgage as the amount of cover decreases roughly in line with the way your mortgage payments decrease. And remember, life insurance is for renters – not just homeowners – as a payout can support any dependant financially should the worst happen.