Financial Literacy: Talking Money Matters with Kids
Millions of parents believe in the importance of teaching children the value of money. But with household budgets squeezed, we wanted to explore whether parents have changed tack when it comes to money-related decisions and conversation starters with their kids.
We commissioned a poll of 2,000 parents to see whether the era of belt-tightening has changed how we approach family finances.
92% of UK parents say the cost of living crisis has encouraged them to talk more openly about finances with their children.
Parents are starting this conversation early – 87% of parents with children aged six say they've discussed money issues with their child in light of the crisis.
83% of parents give pocket money to their kids, with parents in the North East the most likely to do so (90%).
39% of parents give pocket money to a child "once a week" – the most common answer.
A majority of parents or family members (58%) decide to give their child their own debit card by the time they turn 12 years old.
Parents agree: money matters
Money is a topic that can split opinions, but when it comes to helping children understand the value of pounds and pennies, we found that parents are generally in agreement.
More than 95% of parents told us they believe financial skills are either important (34%) or very important (62%) for children to develop from a young age.
Unsurprisingly then, parents aren't shy about discussing money matters with their kids. 90% of parents have talked about financial matters, such as budgeting and saving, to their child.
Our survey also found that mothers and fathers were almost equally likely to have spoken about finances with their children – 91% of mums said they'd done so, compared with 87% of dads.
There were some regional differences. For example, just 74% of parents in Sheffield said they'd talked about money with the little ones, whereas in Plymouth, the figure rose to 98%. On the whole though, finances are clearly a topic of conversation at dinner tables across the country.
Enter the cost of living crisis
In recent times, millions of UK households have been faced with rising costs for everyday essentials like energy, food and fuel. In fact, 89% of the UK public say their living costs have increased, according to the Office for National Statistics.
With many Britons putting their spending habits under the microscope, what impact has this had on the way we talk to our children about money?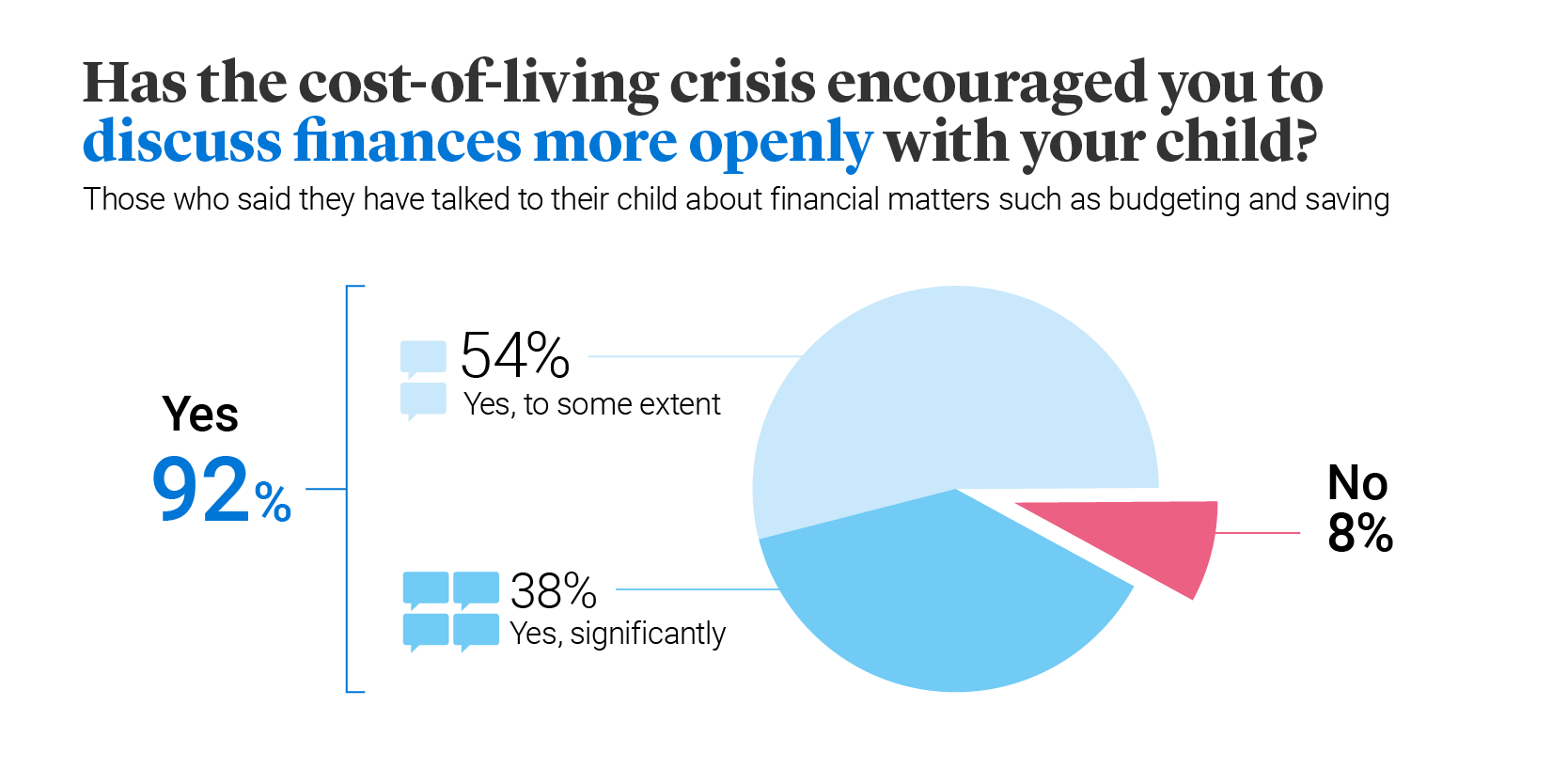 Few people have been unaffected by today's financial realities. For younger parents with rising childcare costs, and often limited savings or access to the housing ladder, the financial impact has been significant.
In our survey, 78% of parents aged 21-24 answered "yes, definitely" when asked if the cost of living squeeze had prompted them to discuss finances with their children. In contrast, just 33% of those aged 55-plus said the same.
Cost of living conversations
While parents are now increasingly willing to discuss money issues with their offspring, that doesn't mean they always know what to say. While almost nine in ten (89%) parents told us they feel well informed enough to discuss financial matters with their children, this dropped to 76% among the youngest respondents (21–24-year-olds).
Even though money is tight for many families, our survey suggests that parents are still happy to introduce a range of subjects and solutions when it comes to demystifying all things 'money'.
83% of parents give pocket money to their child
51% of parents (or another family member) have given their child a debit card
86% of parents believe children should learn about finances at home
The power of pocket money
Many of us will remember our first piggy bank, and our survey suggests that parents still see the value in giving children small sums from a young age.
A majority of the parents we polled were pro-pocket money, and this trend appears to peak in the teenage years.
70% of parents give pocket money to children aged 6-years old – rising to 89% amongst children aged 16.
Digging into the data, we found that "once a week" was the most common frequency for giving pocket money (39% of respondents), with "once a month" the next most popular (19%).
Meanwhile, there were some differences in the responses of men and women. 91% of dads said they give pocket money to their kids, compared to 79% of mums. Fathers were also more likely than mothers to give pocket money weekly (46% versus 35%) whereas mums were more likely than dads to select "once a month" (21% versus 16%).
Regionally, 90% of parents in the North East of England said they give pocket money to their kids – the highest of any area in the UK. But in terms of whether to give debit cards to a child, parents across the country seemed a little more split.
Is there a right time?
Naturally, every parent is at a different stage in their journey. While it's unlikely that parents would discuss bank accounts and debit cards with a young infant, there is a time and a place for conversations about money with young children.
We wanted to figure out when exactly a majority of parents believe it's the right time to introduce their children to debit cards.
By the age of 12, most parents believe their child is ready for their own debit card, with 58% of parents giving their child a debit card. But when it comes to other financial conversations, parents told us there is no time like the present.
96% of parents with 12-year-olds said they have chosen to discuss finances more openly due to the cost of living crisis. But perhaps surprisingly, 87% of parents with children as young as six years-old said the same thing.
And parents also believe that financial literacy isn't just a job for mums, dads and other family members. 88% of parents agreed that children should learn about finances at school.
Protecting their financial future
Few things are certain in life, and during a cost of living crisis, that goes without saying. But for some extra peace of mind, Legal & General Life Insurance could provide welcome financial assistance when your family need it most. Policies are available from as little as £5 a month and if you were to pass away while covered the payout could be used by your loved ones to cover mortgages, childcare costs or other everyday expenses.