Who have been the great unsung heroes of 2020? We polled 1,000 UK citizens of all ages and backgrounds and found that while everyone has made a fantastic contribution, people in later life have really gone above and beyond the call of duty.
Key takeaways:
People over 50 are more likely to have done favours for a neighbour than any other age group during the pandemic – 29% said they'd done so.




Over two-thirds (67%) of people we surveyed over 50 said they've followed Covid guidelines closely – the highest percentage across all age groups.



This age group are the most appreciative of key workers such as nurses and heavy goods drivers.



Captain Sir Tom Moore is the person who the public have been most impressed by during the coronavirus pandemic, followed by the Queen.



People aged 50 and above are more likely than any other age group to cite 'more concern for the environment' as a future change they'd like to see (39% versus 27% of under-20s).
2020 is a year that will live long in the memory and perhaps more than ever, it's been a time where we've relied upon each other – friends, family and strangers. And while we're all aware of acts of kindness from social influencers, overnight celebrities and those with a public platform, some of the biggest heroes who've often gone unnoticed are the slightly older members of society.
All too often, the conversation about older people in relation to coronavirus has been defined solely by health risks. And while we recognise the reasons for this, and honour those who've been shielding, or families who've been touched by tragedy, we wanted to tell another side of the story – that of a generation who've been instrumental in fighting the virus, observing the rules diligently, and making our communities stronger.
We wanted to uncover some of the ways in which people aged 50 and over have stepped up to the mark, but also, how perceptions have changed about hidden heroes of all ages – from delivery drivers to care workers. We spoke to 1,000 men and women from different parts of the UK, from teenagers to retirees, and found that whether at home or on the frontline, later-life individuals have more than played their part in bringing us all together.
I need a hero!
When we think of some of the stars who've shone brightest during the coronavirus pandemic, the older generations are well represented. So firstly, we wanted to know which veteran public figures our respondents have been most impressed by.
Perhaps unsurprisingly, Captain Sir Tom Moore was the leading choice, cited by 43% of all those surveyed. The figure rose to 55% in the south-east of England, and 57% in Edinburgh. In fact, of those who expressed a preference, the 100-year-old former British Army officer was the number one choice from respondents across every age, gender and regional category, except in the north-east where he was tied with the Queen.
In many ways, Captain Tom embodies the quiet dignity and spirit of self-sacrifice demonstrated by a generation of senior citizens, both today and in years gone by. But while the TV studios helped shine a light on this hitherto hidden hero's remarkable work, how many other Captain Toms are out there going unnoticed?
Frontline heroes
One of the great stories of 2020 has been the newfound appreciation for key workers who've kept Britain running, in good times and bad. And while we are familiar with the story of older people staying at home – often for very sensible reasons – those over 50 have also played a critical role in ensuring the country is well-stocked, healthy, and able to receive everything from parcels to prescriptions. In fact, more than 15,000 retired medics1 re-joined the NHS to help the fight against coronavirus. But, before we take a closer look at some of these heroic efforts, how are key workers viewed by different age groups?
But it's not just in the appreciation stakes where older citizens excel. In many key professions that we all depend upon, workers over the age of 50 are overrepresented2.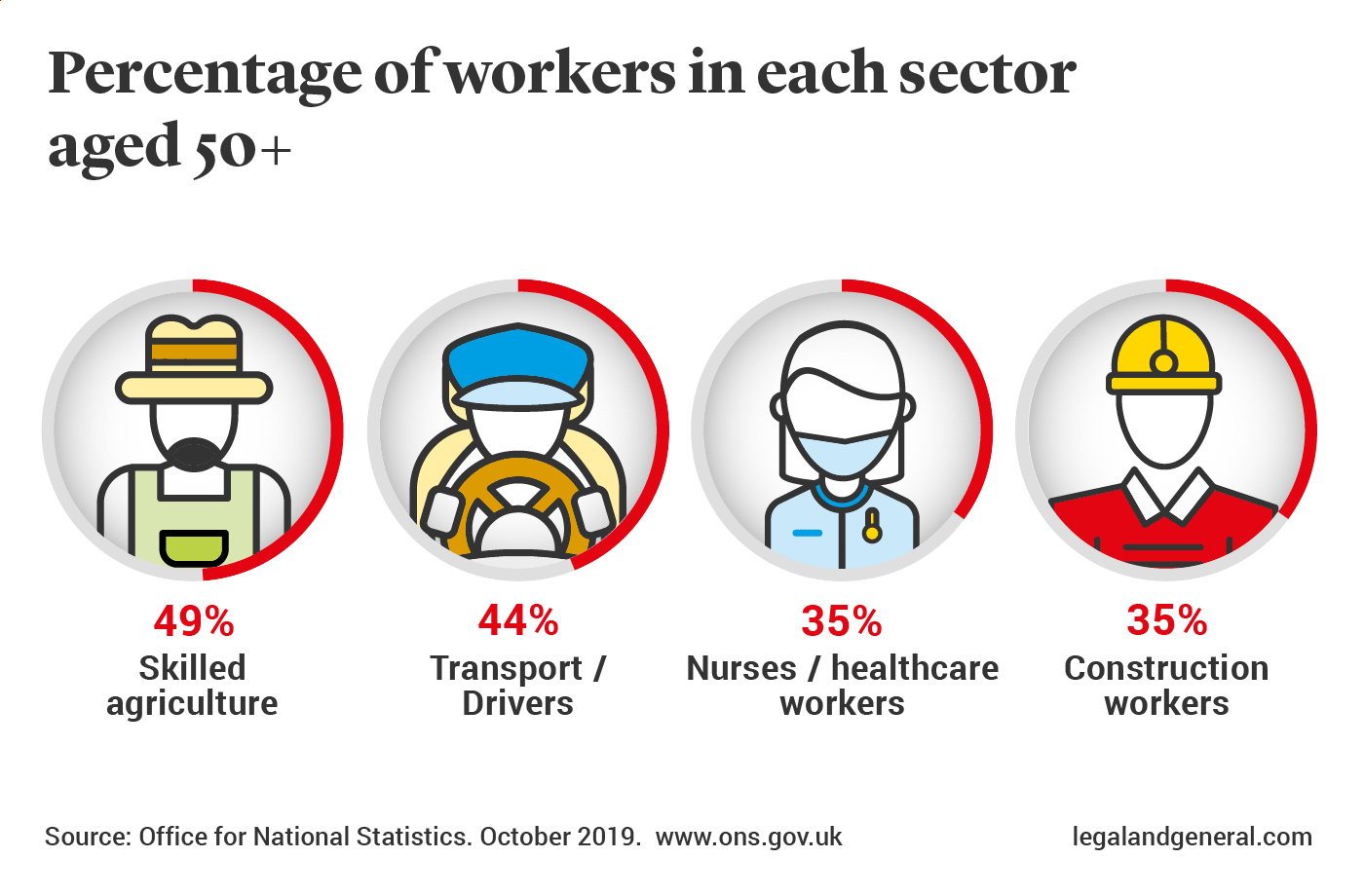 So when we talk about the heroes who've kept our hospitals, construction sites and bus depots open during the pandemic, it's not simply younger workers we should praise, but millions of older people too.
And of course, these hidden heroes often go to work despite a greater risk to their health. The average age of an HGV driver in the UK is 57-years-old3 and according to the Office for National Statistics4, driving occupations represent some of the highest rates of Covid-19 deaths.
Of course, we have to recognise the increased health risks faced by many senior citizens, but that doesn't mean we should define a generation of older people as simply the casualties of coronavirus. Many have been leading the fight on the frontline, helping to keep us safe and inspiring others. Their heroic stories will be told for years to come.
Heroes at home
While recognising the hidden heroes on the frontline, the contribution made by those who've stayed at home has, in its own way, been just as impressive. We've all made sacrifices during 2020, but when it comes to sticking diligently to the public health restrictions, the response of older people has been second to none.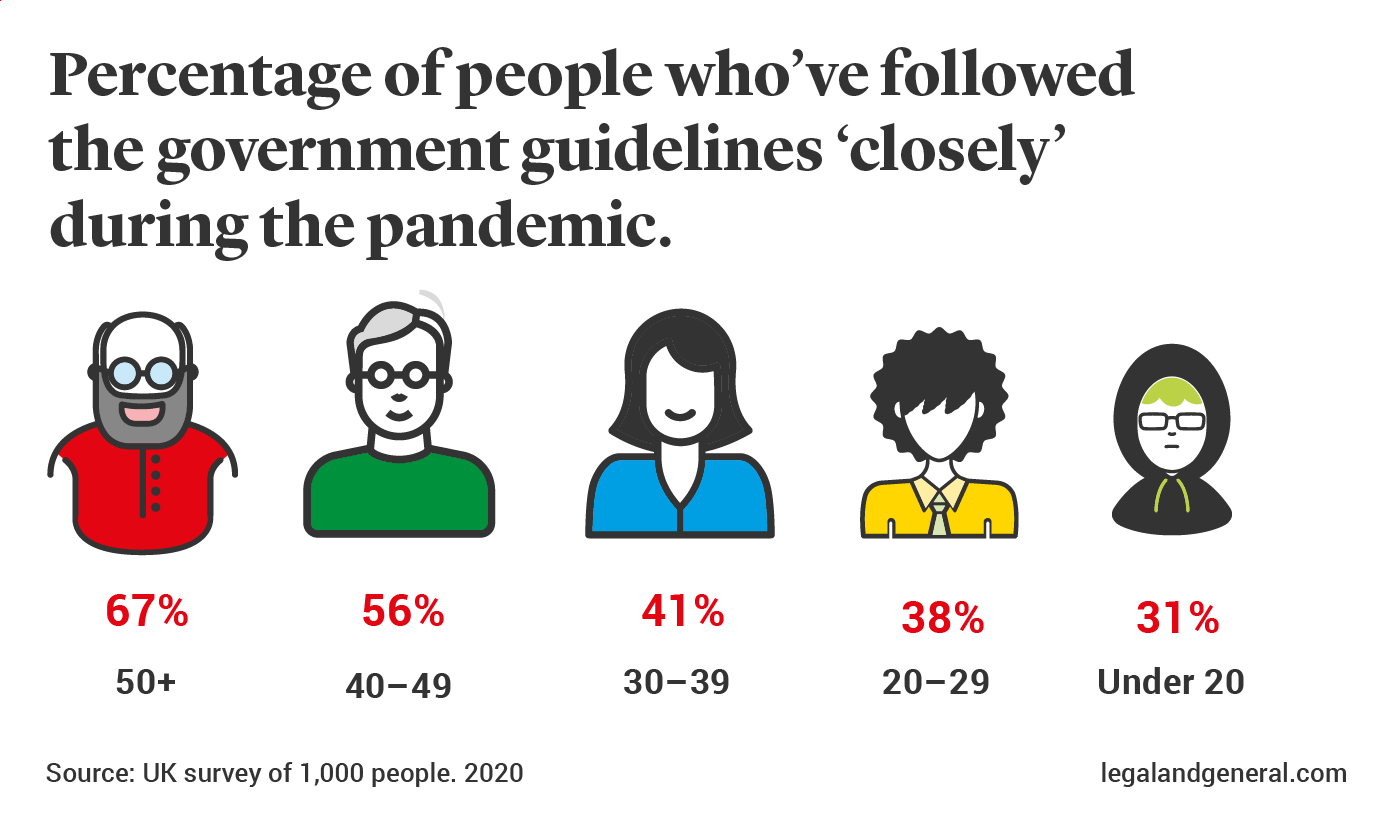 In the north-east and the south-west, 95% of respondents of all ages said they had stuck by the rules either 'closely' or 'mostly'. And the theme was replicated in cities; 90% of Mancunians and 88% of Liverpudlians said they were happy to comply with the nationwide lockdown in the early party of 2020.
If our survey is anything to go by, our older citizens are rooted in values of community and family. When asked for their post-pandemic resolution, those over 50 were the most likely to answer 'see my family more' (41%), and fittingly perhaps for the times we're living through, the least likely to say 'travel more' (23%).
But while we found differences in behaviour and outlook across different age groups, this is not to say there is a generational 'war'. If anything, our survey showed that people of all ages will pull up their sleeves and help in the way that's most relevant to their lives. For example, while over-50s were the most likely to help their neighbours (29% said they'd done so, versus 15% of those under 20), they were the least likely to have gone to collect medicine or pick up a prescription for someone, which 22% of young people under 20 said they'd done. Overall, a picture emerges of an older generation helping in and around their home, and younger people playing their part by queuing in public spaces and taking on responsibilities for their loved ones while out and about. It turns out there are hidden heroes from all ages, regions and walks of life.
Intriguingly, while a majority (52%) of all people have reached out to family to check on their mental health, the rate is highest among younger people (60%) and lowest (46%) among older citizens. But could this be because the younger generation have grown up with a greater level of awareness of mental health? We found that those aged 50 and above were more likely to donate clothes or household items (16%) than those under 20 (12%), or 20-29 year-olds (just under 16%). So while the older generation may have been raised at a time when mental health issues received less media coverage, there is no shortage of people over 50 carrying out acts of kindness that enhance others' mental health and wellbeing.
Changing perceptions
Just as older citizens are supporting the nation's mental health – without necessarily getting the plaudits they deserve – they're confounding expectations when it comes to other forms of awareness.
As the stats show, far from being gloomy pessimists as is sometimes stereotyped, those in later life are often more open and enthusiastic about social change than people many years younger. Among those we surveyed, the over-50s expressed the strongest support for giving key workers greater recognition, the biggest thumbs-up for local shopping, and perhaps most surprisingly, the greatest level of concern for the environment; in fact, people over 50 were the most likely age group to cite David Attenborough as an inspiration.
What's more, the appetite for change among older citizens was spread widely throughout the UK. Among all respondents, support for better elderly care was strongest in Wales (cited by 52% of people), home working found its largest share of support in Nottingham (33%), and the south-west (31%) was the region most keen to see 'more community spirit'. When it comes to embracing the future, for the older generation the glass isn't half-empty but half-full.
A time for heroes
2020 has been unprecedented in so many ways. But equally, it's shown that the values of bygone generations are timeless: strong communities, self-sacrifice and the kindness of strangers. People in later life have been at the forefront of this story, and we hope that we've shone a light on that hidden heroism we all depend upon. After all, not all superheroes wear capes.
How heroes can keep on giving
After decades of service, whether that's working hard at your job, raising a family or helping out in the community, you should be able to relax and enjoy your later years, without too many worries.
Over 50 Life Insurance comes with guaranteed acceptance for UK residents aged 50-80, with full cover after one year. It gives you the opportunity to leave a little extra to your loved ones, whether that's helping to settle unpaid bills, or putting some cash towards the cost of a funeral.
Take a look at our lifestyle hub for top tips and guides for staying healthy and active and pursuing hobbies and travel.