The Role of a Grandparent
No two families are the same, but for many of us, grandparents play a vital and ever-changing role in our lives. But has the role of the grandparent changed?
In a busy modern world where our work and life patterns can be unpredictable, we wanted to explore whether the grandparent-grandchild relationship has adapted to our changing habits.
Across two surveys, we polled a selection of grandparents and grandchildren to find out how they feel about grandparenting in 2023. Our research was split into four themes – hobbies, values, time, and influence. Here's a taste of what we discovered:
Cooking (51%), gardening (34%) and puzzles (33%) are the most common hobbies that grandchildren say their grandparents introduced them to.
Manners and politeness (51%) are the life lesson that grandchildren are most likely to say they learnt from their grandparents.
The north-east is the region where grandparents and grandchildren spend the most amount of time together (just over 141 days a year).
Are today's grandparents more emotionally involved? 34% of 18–24-year-olds told us that advice on friends or relationships was the most important life lesson from their grandparents – higher than any other age group.
Grandparents are conscious of interfering – 64% say they avoid making decisions when it comes to raising their grandchildren as they don't want to undermine the parents.
Habits of a lifetime
The things we love most can often be traced back to our childhood – and for many of us, that involved a close relationship with our grandparents. Whether it's our earliest memories of playing at grandma or grandpa's home, or the skills they taught us along the way, our grandparents can make an impression on our lives that passes down over the generations.
But in the hustle and bustle of modern life, with grandparents and grandchildren often living further apart than ever, are there still opportunities for inter-generational sharing? According to the grandchildren we surveyed, grandparents have been the inspiration behind countless hobbies and habits to last a lifetime.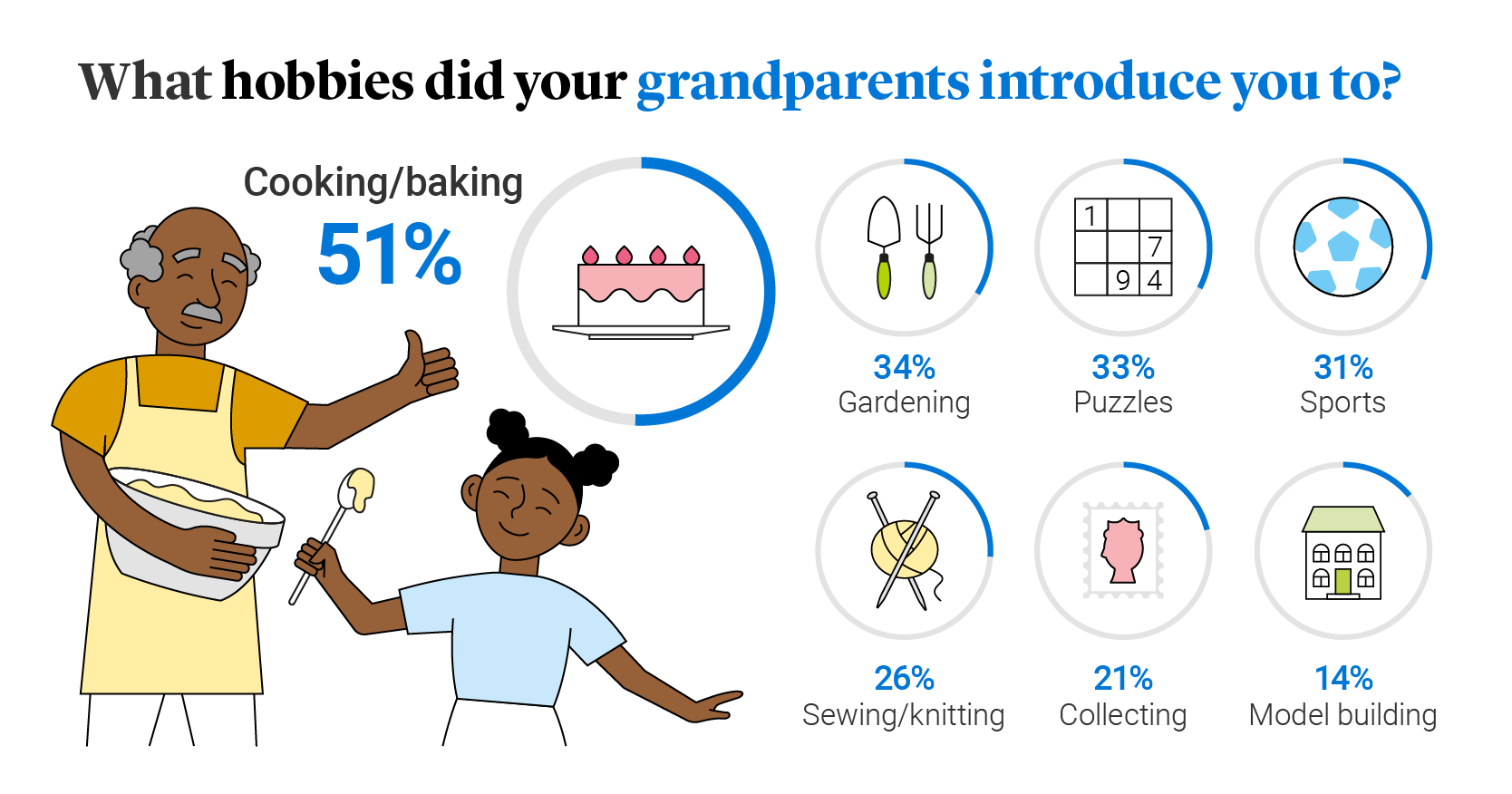 As the results suggest, there are few memories more evocative than our grandparents' cooking. One grandchild told us that having their grandma nearby was "like having a second mum", adding: "I remember treasuring the time every Christmas as children when we would bake a Christmas cake at her house."
But while our grandparents' special recipes live long in the memory, there are other (perhaps more surprising) hobbies that have undergone a renaissance thanks to our grandparents' influence.
In fact, our survey showed there is a surge of interest in crafting among young people. 32% of 18-24-year-olds have been taught sewing or knitting by their grandparents – more than twice as likely as 35-44-year-olds (15%) and 45-50-year-olds (15%).
At a time where many people are worried about screen time, it's perhaps no surprise that tactile hobbies like crafting have become cool in the eyes of a new generation of knitters, sewers and crocheters. And our grandparents' influence is key to this story.
Values that shape who we are
It's no secret that people of different generations won't agree on everything, but nevertheless, our survey showed that grandparents are an important influence in helping us learn 'right from wrong'.
And according to the grandchildren we polled, grandparents are a positive influence not just in what we think – but how we act.
Across grandchildren of all ages, manners and politeness was the most frequently cited life lesson learned from grandparents, peaking at 54% among 45-50-year-olds.
But these days, as attitudes towards the grandparent-grandchild relationship evolve, it seems we're increasingly a little more 'open'.
34% of the youngest cohort (18–24-year-olds) told us that advice on friends or relationships was the most important life lesson from their grandparents; in contrast, just 14% of 45-50-year-old grandkids said the same.
Far from there being a 'clash of values', one grandchild told us they cherished their grandparents' "advice and acceptance".
"My grandparents were very accepting of me and that helped me a lot, especially as a teenager. It makes me think about how I would behave if I were a grandparent."
Indeed, while younger people are often associated with a concern for the environment, in many cases, our grandparents demonstrated these values many moons ago.
"My nan was green way before green was a thing," said one grandchild. "[My nan] made me realise the importance of being self-sufficient and [the] importance of looking after [the] environment."
Cherishing the time we have
By definition, none of us are getting any younger, but our survey suggests that grandparents are more sensitive to the fact that time is of the essence.
We found that a resounding majority (84%) of grandparents agreed that they don't want to miss out on spending time with grandchildren, while just 51% of grandkids said the same of their grandparents.
However, the nature of the time we all spend together is changing. Childcare costs have become a significant factor in parents' lives, and almost half (48%) of grandparents say they spend time with their grandchildren to reduce the cost of childcare.
And of course, the COVID-19 pandemic made a significant impact on how we perceive spending our precious time with loved ones. 36% of grandparents told us they've spent more time with their grandchildren since the pandemic, compared to just 19% who've spent less time.
Many families are no strangers to long-distance grandparenting, so we wanted to get a picture of how much time UK grandparents spend with their grandchildren.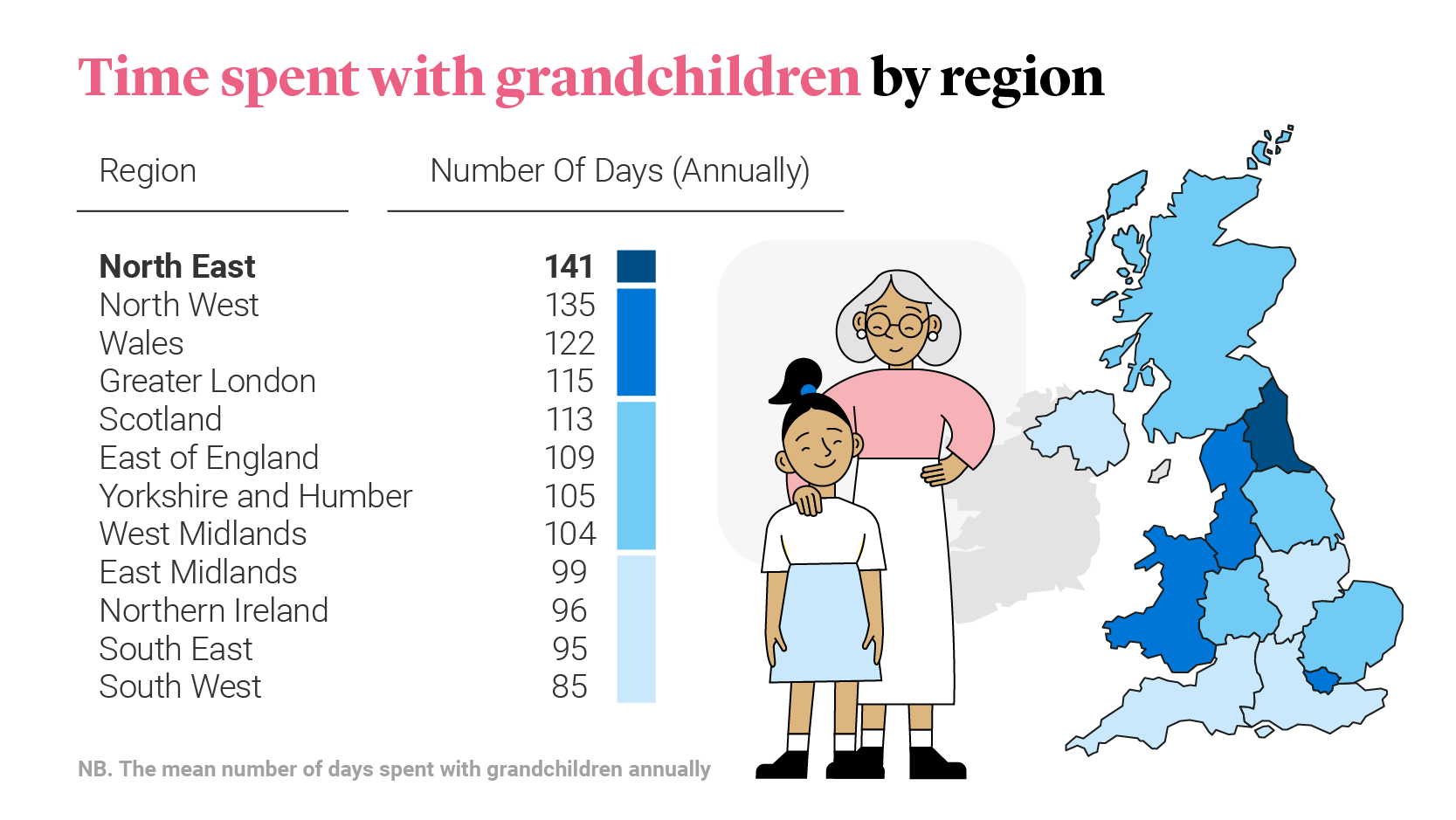 A positive influence
Even when a parent-grandparent relationship is strong, there is always the potential for disagreement – or even conflict – when it comes to key decisions about a grandchild's life. Our survey shed light on how on how grandparents feel about everyday family interactions.
Understandably, few grandparents want to feel like they're interfering and according to our survey, 64% say they avoid decision-making when it comes to raising their grandchildren as they do not wish to undermine the parents. However, 74% say they feel valued when they're asked for advice on their grandchildren's upbringing.
Additionally, just 29% of grandparents describe themselves as a "decision maker" in how their grandchildren are raised, though there was a slight difference in whether grandfathers agreed with the statement (33%) versus grandmothers (26%).
So how can grandparents make meaningful interventions? While financial assistance is an obvious answer – 44% of grandparents have given money as a birthday or Christmas gift – we found that grandparents play a key role in a host of other activities.
Regionally, Yorkshire and the Humber was revealed as the region where grandparents do the school run most often – 125.11 mean days per year, compared to the south-west (74.6 mean days).
From the grandparents we spoke to, a common theme was treading a careful but supportive line.
"I act with [my granddaughter's] parents' guidance and actively try to make sure everything is done within their wishes", said one grandparent, while another added: "I always back up their parents' decisions on things and I try to follow parents' rules when the children are with me."
A special relationship
While lifestyles and social norms may change over the years, the role of a grandparent is perhaps as integral as ever. To wrap up our research, below are some of the themes and phrases that cropped up most often when we asked grandchildren to share stories about their grandparents. As you can see, the bonds of affection remain as strong as ever.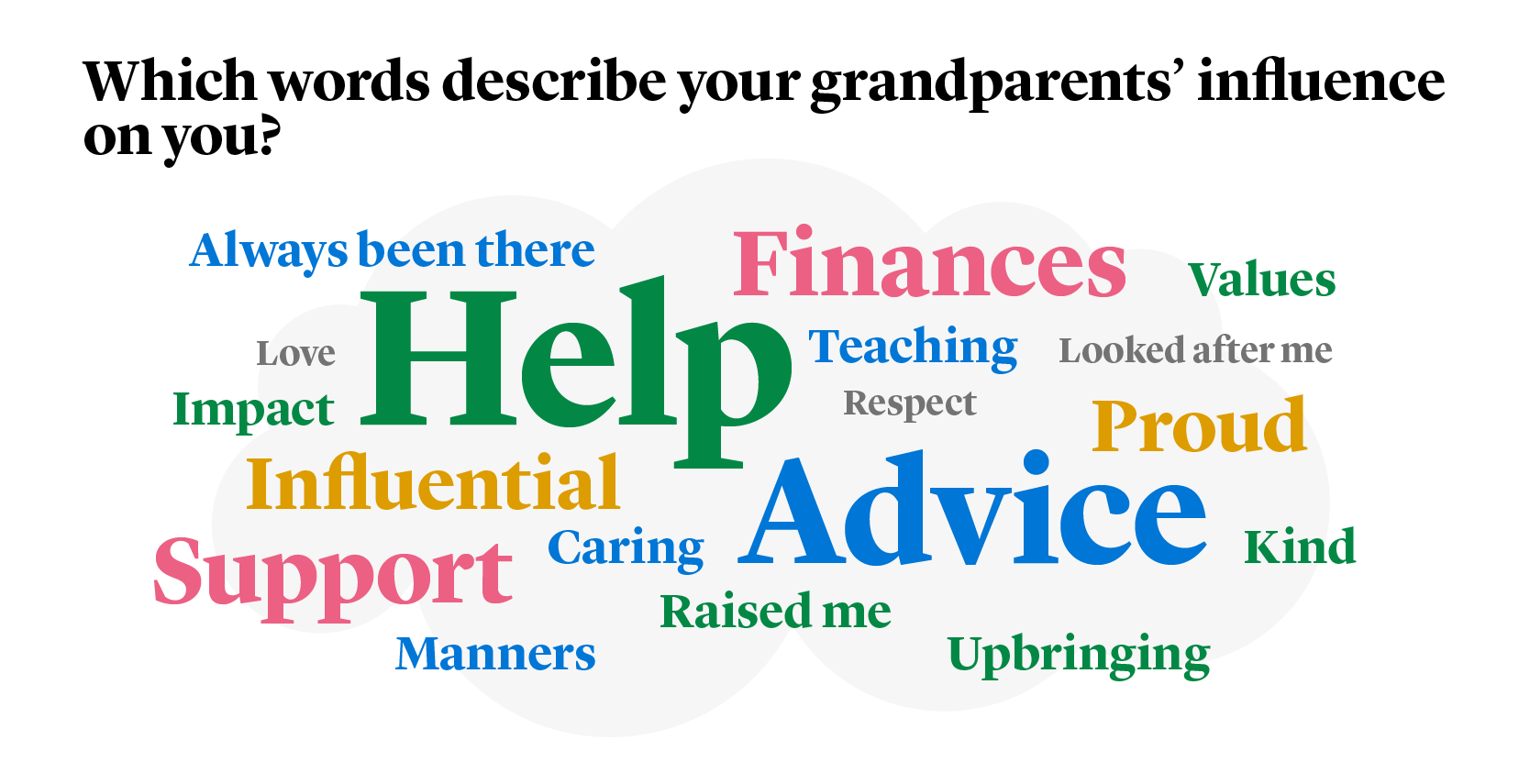 Methodology
We surveyed 2,000 grandparents and 2,000 grandchildren to investigate the key topics of hobbies, values, time and influence in illustrating the role of a grandparent
Respondents were asked to share stories and case studies to demonstrate the role that grandparents have in their family
Surveys were conducted in February 2023 with Censuswide
Additional Sources
https://www.gov.uk/government/news/over-80-of-young-people-eager-to-take-action-to-help-the-environment
https://theinspiredsewist.com/sewing-becoming-trendy/
https://blog.anthonythomas.com/why-crafting-is-cool-again
https://www.theguardian.com/lifeandstyle/2015/jan/17/loneliness-long-distance-granny