Exclusive Research

How is multigenerational living perceived by the general public - and experienced by those who live this way? To find out, we surveyed more than 1,000 UK residents, including many with experiences of living in multigenerational households.
Approximately half of respondents believe it would be positive if multigenerational living became more popular.




1 in 3 respondents believed that multigenerational living would likely become more popular than nuclear family households someday.


Approximately 1 in 3 respondents believed governments should financially incentivise multigenerational living.

4 in 5 respondents who lived in multigenerational homes believed they were better off due to it.


These days, the way we think about home extends beyond the nuclear family. Across the UK, recent years have seen a rise in multigenerational households, with grandparents, parents, and children all living under one roof.
Elsewhere in Europe, these arrangements have long been common. In Italy and Spain, for example, the family home is often shared by people of different generations. This has proven problematic in the age of COVID-19, as these households can be more difficult to socially distance in, not to mention the risk of people bringing the virus into the home.
In the UK, however, the experience of living at home as a child, then 'flying the nest' in adulthood, has been the expectation for many families. But according to recent estimates, there are now roughly 1.8 million multigenerational households in the UK, a sizeable increase since the turn of the century.
Our findings reveal the benefits and drawbacks that shape family members' decisions to live together and the impacts of these arrangements across generations. To see what we uncovered, explore our results below.
Cohabitation Across Generations
Multigenerational homes include a wide array of family relations. For the purposes of this project, we adhered to the common understanding of a multigenerational home as a household containing two or more adult generations, or three generations in total.
Many respondents seemed to recognise that multigenerational living is on the rise. In fact, more than half believed these living arrangements would become more common in the years ahead, and a third believed this style of living would one day surpass nuclear family households in popularity.
Generally, this prospect was viewed in neutral or favourable terms. Forty-nine percent said an increase in multigenerational living would be "positive" or "very positive," while 39% had neither a positive nor negative view. Of course, these abstract opinions are one thing, but how would respondents feel about welcoming their own relatives into their homes? We also learned that more than half of all respondents, 51%, believed that multigenerational living would grow in popularity over the next decade.
The answer seems to depend on the family member in question: Overall our respondents were most likely to be willing to take in their mothers, followed by their fathers and grandparents. The idea of taking in in-laws, on the other hand, prompted significantly less willingness overall. Additionally, willingness does not translate to enthusiasm in all cases: With the exception of mothers, a majority of all other respondents said they wouldn't feel 'happy' about any type of family member moving in.
We also learned that women were more willing than men to allow their relatives to move in. In an interesting twist, respondents demonstrated preferences for long-term parental houseguests based on their gender. Women were more willing than men to move their fathers in, while men were more willing than women to move their mothers in. When it came to in-laws, however we saw the near inverse: men would be least happy about living with their mother-in-law, while women felt that way about their grandfather-in-law.
In addition to these findings, we learned that respondents were more likely than normal to allow their family to move in with them for the duration of the COVID-19 pandemic.
Indeed, multigenerational households are often formed by necessity. As the UK population ages, more adults find themselves caring for their elders, often staying home to do so at the expense of their own careers. This ongoing demographic transformation may explain why a third of respondents believed that multigenerational would one day become more common than single-family homes: The "graying" of the UK may demand new domestic arrangements. Interestingly, women tended to be more willing to have relatives live with them than men. This is striking, given that women are far more likely than men to shoulder the burden of unpaid care for elders.
Financial Incentives and Impacts
Choosing to live with multiple generations could reflect concerns about money. Family members might welcome relatives in difficult financial circumstances, or view separate homes as unaffordable. After all, the record number of young people now living with their parents more likely reflects current economic conditions, rather than a surge in affection for mum and dad.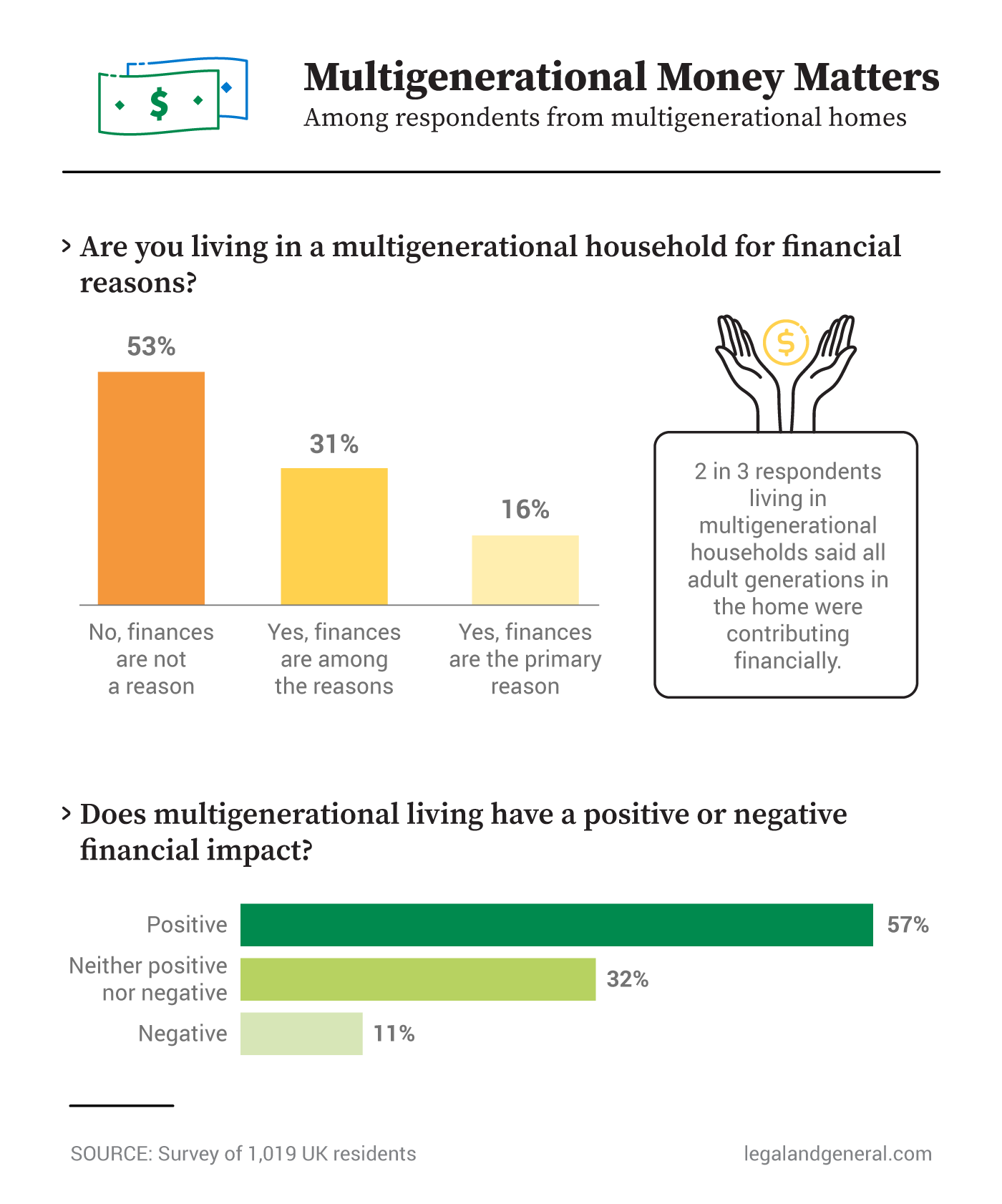 Somewhat surprisingly, just 16% of respondents who lived in multigenerational homes said finances were their primary reason for doing so. Another 31% said financial concerns were one of several factors they considered. Yet, the majority of those in multigenerational homes said money concerns had not influenced their choice.
There are definite perks, however: 57% said their multigenerational housing arrangement had a positive effect on the family finances. This result may reflect the benefits of pooling residents' resources. Two-thirds of respondents in multigenerational homes said each adult from different generations contributed financially to some extent. Growing up in these households doesn't seem to dim the desire to earn independently, though. Respondents raised in multigenerational households had slightly higher salaries, on average, than those who were not. We even learned that respondents who had lived in multigenerational homes had a higher than average annual income.
About a third of respondents approved of government incentives for multigenerational living. Similarly, 35% said individuals should receive some benefit for living with their elderly parents. As the UK struggles to address the needs of its elderly citizens, these proposals represent possible alternatives to traditional social care programmes.
Pros and Cons: Anticipated and Actual
How do people with current or past experience of multigenerational living view these housing arrangements? What benefits and drawbacks do they report, and how do they feel about their experience regarding that balance?
Among those who had lived in a multigenerational home, roughly 8 in 10 described the experience as positive overall. Furthermore, of those who grew up in a multigenerational situation, the vast majority said they had benefited from the experience. These statistics support the view that living with multiple generations can yield important, intangible benefits, such as combating loneliness. Additionally, our data revealed that 4 in 5 respondents who had lived in a multigenerational home believed they were better off for having done so.
That being said, some of the anticipated benefits of multigenerational living may never quite materialise. For example, 77% of those without experience of multigenerational living believed these arrangements would help with childcare duties. But among those who had lived in multigenerational homes, just 49% of these individuals reported this benefit. While multigenerational living might be a positive experience overall, those of us looking in from the outside seem to overestimate the benefits.
An even more obvious discrepancy emerged around "shared financial responsibility," with only 39% who had lived in multigenerational homes reporting this particular benefit.. On the other hand, 68% of respondents with experience in multigenerational homes did report closer family bonds resulting from their living arrangement.
Additionally, widely perceived downsides of multigenerational living were less common than imagined. For example, whereas 67% of those without multigenerational living experience thought a "lack of boundaries" might cause issues, just 39% of individuals who lived in multigenerational homes reported this problem. A similar pattern emerged concerning problems with privacy and personal time. While these problems do arise in many multigenerational homes, they're not inevitable.
Attitudes by Age Group
With multigenerational households on the rise, which age groups are most likely to welcome this trend? From our data, positive attitudes about multigenerational living are clearly correlated with age. We compared respondents from the four most recent generations: Generation Z (born 1997-2012), Millennials (born 1981-1996), Generation X (born 1965-1980), and Baby Boomers (born 1946-1964).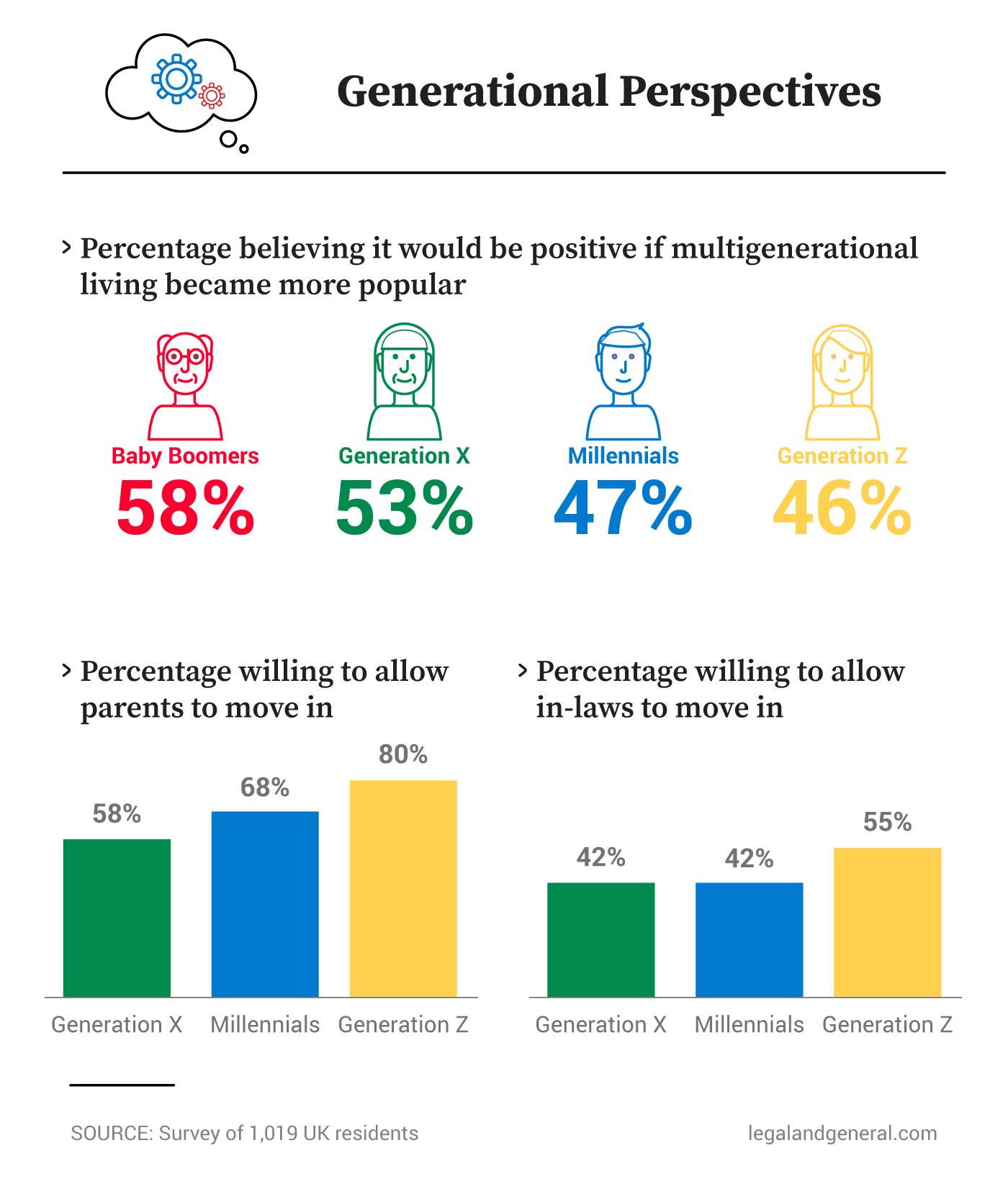 Nearly 6 in 10 baby boomers said it would be positive for multigenerational living to become more popular. A majority of Gen Xers felt the same, whereas millennials and Gen Zers were less optimistic about this prospect.
These attitudes might be explained by self-interest: As the UK population ages, many individuals will struggle to live independently without some form of support. For baby boomers and Gen Xers anticipating this future, living with relatives might seem preferable to moving into an assisted living facility or long-term care home. Of course, all age groups can potentially benefit from multigenerational arrangements, not just older individuals in need of support or care. Of respondents who had lived in multigenerational homes, approximately 80 percent said they were better for it.
In the same vein, baby boomers were most likely to believe that multigenerational living would eventually become more popular than living with just the nuclear family. Interestingly, however, Generation Xers were most likely to believe that multigenerational living would surge within the next decade. This finding could reflect their own impending decisions about their ageing parents and the choice to welcome them into their homes.
Baby boomers were also willing to host multigenerational arrangements: 86% said they'd be willing to let their grandchildren move in. Some have suggested that these arrangements could combat challenges common among young adults, such as feelings of isolation.
When it came to letting parents move in, Gen Zers were most open to the idea, whereas millennials and Gen Xers were progressively less willing.
Finding Solutions for the Whole Family
Clearly, families create multigenerational homes for a host of worthy reasons, ranging from purely practical motives to a sense of familial obligation. Moreover, most respondents who had lived in multigenerational households viewed them in largely positive terms.
Yet, as our results show, many of us would hesitate before expanding our own households. Even those currently living in multigenerational homes tend to have some misgivings about certain aspects of these arrangements. Family matters, after all, are rarely entirely straightforward.
Additionally, many public perceptions of multigenerational living are overstated or unfounded. People living in multigenerational homes tend to report fewer perks and problems than those without this experience would imagine. Ultimately, our results affirm that there is no formula for family living: We must all develop our own solutions, imperfect though they may be. And of course, no amount of practical benefits can outweigh the challenge of moving in family members who simply don't get along!
Methodology and Limitations
For this study, we surveyed 1,019 UK residents. To ensure sufficient sample sizes of each generation, survey quotas were used. Respondents were surveyed using the Clickworker and Prolific platforms. Respondents ranged in age from 18 to 76 with an average age of 39. In some cases, questions and responses were rephrased for brevity or clarity.
Fair Use Statement
We welcome you to share our work with others, particularly if they're currently living with multiple generations or considering doing so. Our findings may resonate with their own attitudes about their living arrangements. If you do decide to share this project, however, we kindly ask that you honour two requests. First, please use our information and images only for noncommercial purposes. Second, please include a link back to this page whenever you post our work in order to attribute our team appropriately.