The average cost for a funeral in the UK in 2019 was £4,2022. If funeral costs keep rising at the same rate, the average funeral could cost £6,206 by 20283.
Naturally, most of us don't tend to dwell on the average cost for a funeral until we have to. Based on our experience of interviewing people around the country, it seems that a lot of people are more certain about the songs they would like played at their funeral rather than how much a funeral costs. Given that there's little discussion about funeral costs, we wanted to find out what the public know about funeral prices in the UK. Watch the video to see what people thought.
While most people we spoke to didn't have an exact figure in mind, most were aware that funeral costs can be expensive. To give you an idea of the sums involved, we've taken a look at funeral costs region-by-region across the UK. This research was carried out by Matter Communications for our partner, funeral service provider Dignity. As you'll see, funeral costs can vary depending on where you are in the country. See the infographic below to find out the average funeral costs where you are.
Given the wide regional variation in average funeral costs, it pays to plan ahead and consider how your loved ones might pay for your funeral. It can be daunting to think about funeral costs, but when you've spent your life taking care of your loved ones, the last thing you'd want is to leave them with financial worries.
How much do funerals cost?
Funeral costs have continued to rise and could reach £6,206 to 20283.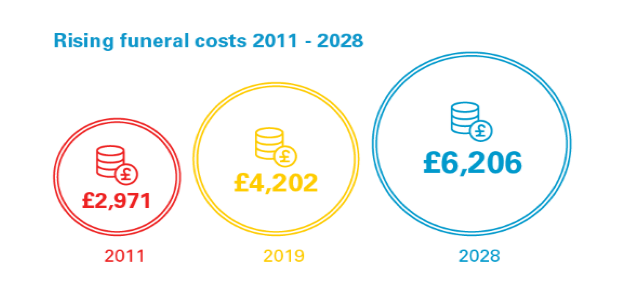 Average UK funeral costs by region
The funeral costs shown in the table below are broken down into separate amounts for the funeral director charges only, and the total average cost of a cremation or burial funeral.
x

| | Funeral Director charges | Cremation funeral (total) | Burial funeral (total) |
| --- | --- | --- | --- |
| Greater London | £3,413 | £4,514 | £7,883 |
| South East | £3,340 | £4,553 | £5,250 |
| South West | £3,060 | £4,302 | £4,901 |
| East | £3,143 | £4,348 | £4,879 |
| North West | £3,008 | £4,180 | £4,897 |
| Yorkshire & Humber | £2,991 | £4,184 | £5,372 |
| North East | £3,168 | £4,345 | £5,034 |
| West Midlands | £2,811 | £3,977 | £5,096 |
| Scotland | £2,879 | £3,806 | £5,052 |
| East Midlands | £2,941 | £4,138 | £4,603 |
| Wales | £2,771 | £3,715 | £4,696 |
Why are funeral costs so high?
Funeral costs are high largely due to the expense of hiring a funeral director, as well as the third party costs for the burial or cremation; this includes the cost of the service, plus the minister or officiant. More specifically, think about the costs incurred for each element of the funeral, such as selecting a coffin, the hearse, transportation, and the hygienic treatments used to embalm the deceased, all of which adds to the overall cost.
Cheapest burial funeral costs in the UK
Even within each region there can be high variations in funeral costs. So let's look in closer detail at the cheapest places to arrange a burial funeral in the UK:
Strabane, Northern Ireland (£2,055)
Abergele, Wales (£2,593)
Slingsby, North Yorkshire (£2,621)
Armagh, Northern Ireland (£2,780)
Newcastle, Tyne & Wear (£2,800)
Pickering, North Yorkshire (£2,820)
Ballymena, Northern Ireland (£2,910)
Bude, Cornwall (£2,998)
Wells-next-the-Sea, Norfolk (£3,195)
Holywell, Wales (£3,200).
Cheapest UK cremation funeral costs
If you're after a cremation funeral, here are the cheapest places according to the research:
Bradford, West Yorkshire (£2,300)
Glasgow, Scotland (£2,300)
Strabane, Northern Ireland (£2,503)
Pontyclun, Wales (£2,550)
Slingsby, North Yorkshire (£2,680)
Worcester, Worcestershire (£2,725)
Hull, East Yorkshire (£2,749)
Wick, Scotland (£2,760)
Taunton, Somerset (£2,800)
Wallasey, Merseyside (£2,829).
What are the optional funeral costs?
In addition to the cost of hiring a funeral director and the cremation or burial costs, there will be other funeral costs that depend on what kind of funeral you choose to have. Optional extras include floral tributes, as well as memorial headstones and plaques. You can incur extra costs when hiring transportation and a venue for the wake. For the service itself you can pay for order of service sheets, and if you opt for a cremation, you may want to factor in the cost of an urn for your ashes.
What does a funeral director fee cover?
Your highest funeral costs are likely to be the fee charged by the funeral director. At first glance these funeral prices might feel excessive, but your funeral director has an important role to play and their duties can go on far longer than you'd expect. They act as a guide in both planning and delivering the funeral, and together with their staff, will ensure all family members are cared for to make a difficult day as easy as possible.
While not all funeral directors will cover the following tasks, you can generally divide the funeral director's role into three stages:
Before the funeral, where their role typically includes collecting the deceased, preparing them for the funeral and helping plan the service, as well as arranging visits to the chapel, offering a choice of coffins, producing orders of service, completing the necessary paperwork and advising on a minister or officiant.
On the day of the funeral they ensure everything runs smoothly; for example, they may check that vehicles and pallbearers are in place, that if a funeral procession has been requested, it takes the right route and arrives precisely on time, and that a difficult day is as stress-free as possible.
After the funeral, they will keep in touch, often advising on the next steps regarding ashes, the collection and payment of charitable donations and the arrangement for any memorials.
The research found that the average cost of a funeral director's charges is £2,750. Note, this figure refers to the funeral director fees, rather than the total cost of a cremation or burial funeral. Of course, your exact costs will depend on the choices you make, such as how many limousines you wish to hire, and the type of coffin material you want, but the figure of £2,750 is an average and takes all such decisions into account. There is also some regional variation in price; according to the research, Bradford has the lowest average funeral director charges at £1,129, compared to £4,050 in London.
How to find a funeral director
Understandably, organising a funeral can be emotionally difficult, but with a bit of research you can find the right funeral director at the right price. If the deceased was living in a care home, the staff may be able to recommend a good funeral director based on their experience. You could also consider recommendations from family, friends and faith leaders. Your funeral director should ideally be a member of the National Association of Funeral Directors (NAFD) or the National Society of Allied and Independent Funeral Directors (SAIF), which means they will follow specific codes of practice. It's sensible to contact more than one company so you can compare funeral costs.
Cremation costs versus burials
In general cremation does tend to cost less than a burial. There is some degree of variation in regional cremation costs, and in the price between privately owned crematoria and those owned by local councils. Of the towns surveyed, the average cost of a cremation was £819, which excludes funeral charges. This ranged from a low of £555 in Bangor, Wales, to a high of £1,070 in various towns, including Cobham, Surrey. The average cost of a cremation funeral, including the crematorium fee, doctors' fees (not applicable in Scotland), the minister's fee and the funeral director charges, was £3,986.
There are significant regional differences in burial costs, mostly due to the cost of the plot itself. Third party burial and funeral costs can vary significantly based on any number of factors. For example, fees can rise if you're not a resident of the area where you wish to be buried.
In the table above the average regional costs are illustrative figures for third party burial costs. Remember these are averages, and even within the regions shown there can be big variations in price, depending on the cemetery chosen. For example, in some areas of Greater London, a burial funeral could cost you as much as £11,064 – well above the London average. This regional variation in funeral prices is due to the local cost of burials and the number of crematoria available. Overall, around 78% of funerals in the UK are cremations, while 22% are burials.
Is there help available for funeral costs?
You can apply for a Funeral Expenses Payment if you or your partner receive specific benefits – such as Income Support or Child Tax Credit. You will need to meet certain rules on your relationship with the deceased – for example, being a partner, close friend or relative. While there is no cheap 'government funeral' as such, the Public Health (Control of Disease) Act 1984 stipulates that local councils are legally responsible for funeral arrangements in cases where there isn't enough money in the estate to pay for it, or there are no relatives or friends who can arrange the funeral.
How to organise a low cost funeral
If you're ineligible for government support and simply want to plan a low cost funeral, the cheapest way is to undertake many of the tasks yourself. For example, you can collect the body from the hospital mortuary yourself, and legally there is no obligation to embalm it. You'll need to pay doctors' fees for the cremation certificate, which currently costs £164 – the fee is waived in the event of a sudden or unexpected death as the death would be referred to the Coroner. You can potentially save on cremation costs by booking a morning slot. You could also research coffins made of bamboo, wicker and even biodegradable cardboard, though be careful, as coffin prices vary and green coffin options are not always cheaper. You can technically arrange a funeral yourself without a funeral director, though you will be responsible for booking the crematorium, transporting the body and choosing who will lead your ceremony, if you have one. What's more, instead of hiring caterers, your family and friends may be able to help with preparing food and drinks at the post-funeral gathering.
In all these cases, planning ahead is key, and by doing your homework you can ensure peace of mind for your family and friends at a difficult time.
What is a direct cremation?
Some people opt for a direct cremation, where the deceased is taken straight to the crematorium after they pass away. This approach is one way to reduce cremation costs, as there is no funeral service, embalming or viewing in a chapel of rest. You also won't have to think about coffin prices, as there is no ceremony. As well as helping you to save money on funeral costs, a direct cremation is suitable for those who wish to avoid the emotionally difficult build-up to a traditional funeral, keep things simple, and put the emphasis on remembering the departed in their own way and their own time.
Planning your funeral costs
Even the most modest funeral is likely to cost a tidy sum, no matter where you live in the UK. Funeral prices might seem sky-high at first, but it's a great feeling knowing you can provide financial support for your family after you're gone. By planning your eventual funeral costs in advance, you could make life a little easier for your loved ones.
Some people make a special provision that their funeral costs are to be paid from their estate. However, if funeral costs continue to rise, it may be necessary to review and increase the amount you set aside. So, if you haven't done so already, now may be a good time to think about other options that can help cover your funeral costs. For example, you can take out a prepaid funeral plan or over 50s life insurance. A prepaid funeral plan lets you pay in advance at current funeral prices. If you're considering this option, make sure you read the information thoroughly as not all plans are the same. For example, some plans guarantee to cover the third party cremation costs, while others only provide a contribution, which means there could still be outstanding costs left to pay for the cremation.
An over 50s life insurance plan is another option to consider if you don't have funds to contribute towards your funeral costs. Over 50s life insurance is not designed to meet the full costs of a funeral, and does not guarantee to do so.
Over 50s Fixed Life Insurance
Our own Over 50s Fixed Life Insurance is designed to pay a fixed cash sum to your loved ones that can be used to contribute towards your funeral costs, unpaid bills or even to enjoy as small a gift when you're gone.
Find out more about Over 50s Life Insurance and how you can help contribute towards your funeral costs.
Sources:
1.Street interviews carried out on behalf of Legal & General, July 2017.
2.Independent research by Matter Communications on behalf of Dignity in 2019.
3.2028 forecast based on average annual compounded growth rate of 4.43% each year (2011 - 2019).