We live in difficult financial times. The cost of living crisis is hitting us all. But if you're nearing retirement or already retired, the current economic clouds could have a very important silver lining – annuities.
Once you've bought an annuity, it's a very stable way of funding your retirement. They're one of the few ways you can get a guaranteed retirement income for the rest of your life. And pension annuity rates are currently at a long-term high. In fact, at the time of writing this they're the highest they've been since 2008.
What makes annuities so stable?
Once you've locked in your annuity rate, the income you'll get is completely secure. Your annuity will pay out for the rest of your life – so you can live to 100 plus and still get your regular payments. And it will keep paying your agreed amount, whatever happens in the stock market and the wider economy. Though of course, depending on how long you live after buying your annuity, you might get back less than you paid into it.
Want to learn more about annuities?
Making sure you can fund your retirement is a really important decision. Whatever your goals, if a guaranteed income will help you achieve them, a pension annuity can help.
Why are annuity rates rising?
UK annuity rates are going up because they're closely linked to interest rates. That's because annuity providers usually buy government bonds to create reliable returns for their customers. When interest rates go up, bond returns rise with them. That boosts annuity rates too.
What impact are current annuity rates having?
Annuities are becoming much more attractive because of rising pension annuity rates. UK pension savers will get higher guaranteed payments when they buy an annuity.
For example, our annuity rates have gone up by an average of 41% since October 2021. So if you're 65 you could lock down a rate nearly 50% higher than you could have got this time last year. And if you're 80 it could be 33% higher.1
Other factors, like your age and the size of your pension pot, will also affect the annuity rate you're offered. You can find out more about these in our article 'How do annuities work? '
What are the best annuity rates in the UK?
To find the best pension annuity rates, UK savers should compare the market and see what's currently available. You can visit the award-winning Annuity Ready website to compare rates across the whole market. We'll also compare the annuity market for you, and show you the best income you could get, even if it's not with us.
Annuity rates are linked to interest rates, so when interest rates go up, annuity providers generally start offering better deals. They'll also look at your age, health and other personal circumstances. Any product choices you make (like setting up payments to your partner after your death) can also affect the rate they offer you.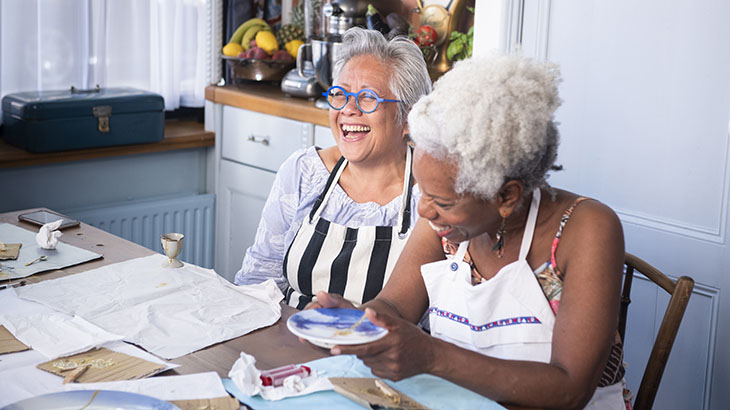 Is an annuity right for me?
An annuity could be right for you if you're worried about current financial conditions and want a guaranteed income. Though you do need to be aged 55 plus and usually need to spend at least £5,000 to buy one.
It could be a particularly good choice if you're in poor health or well into your retirement. Many providers offer enhanced annuities that pay out more to people with common health issues. And as a rule, the older you are, the better pension annuity rate you'll get.
Of course, that can also be an argument for waiting a bit to buy your annuity. And with interest rates going up, providers might keep putting rates up for everyone. In the end, deciding when to buy one will depend on your personal needs and circumstances.
Remember also that it's not an either/or choice. You could spend some of your pot on an annuity, creating a guaranteed income to (for example) cover your ongoing living costs. Then you could draw money down from the rest of your pot if and when you need some extra cash.
You will need to make sure your annuity fits in with the rest of your finances. Depending on your circumstances, you might have to pay tax on your annuity income. It could also affect any means-tested benefits you're getting. And there's one key point to always bear in mind:
once you've bought a pension annuity and your cancellation period has ended, you can't:

change it
cash it in
surrender it.
So it's very important to make sure that you choose the right annuity, and set it up in the right way for you. You should shop around and get professional guidance. It's definitely worth talking to a financial adviser – if you don't already have one, visit the Unbiased website to find one.
What's next?
If you're nearing retirement and not sure if an annuity's right for you, or how to get the best out of your Pension Pot more generally, Pension Wise can help. It's a free government guidance service from MoneyHelper.
To find an independent financial adviser of your own, visit the Unbiased website. Once you've found the right one, you'll probably have to pay for their advice. You can also try comparing annuities for yourself – again, just visit the Annuity Ready site to get started.
And if you're not sure how much to save, the Retirement Living Standards website will help you see how much different retirement lifestyles might cost. Then you can use our own Retirement Income Calculator to see how much you might need to save to achieve that level of income.
1Legal & General average direct annuity rates for ages 65, 70, 75 and 80. Assumes £40,000 pot, standard rate with five-year guaranteed period, 50% spouse benefit. Oct 2021 to Oct 2022.