Best Life Insurance Provider of the year (Direct) three years running
We're immensely proud to be awarded Moneyfacts Life Insurance Provider of the Year (Direct) at the annual Consumer Moneyfacts awards for three years running! And in 2018 and 2019 we were Highly Commended runners up in the same category.
Why choose Legal & General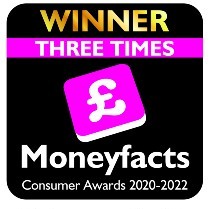 Award winning cover
We've been crowned the 'Life Insurance Provider of the Year (Direct)' award for three years running.
The UK's No.1 Life Insurance Provider
**Based on new individual Life Insurance sales in 2021, Term & Health Watch report 2022, Swiss Re.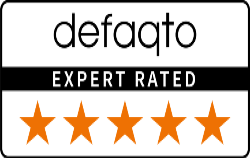 Expert rated
5 Star Defaqto rated cover, the highest rating possible!
The results are based on both consumer feedback from Moneyfacts annual survey and in-depth analysis by their dedicated research team to ensure the awards highlight products combining technical appeal with customer approval.
Our Life Insurance also has a 5 Star Rating from Defaqto.
What our customers have to say
Trust and reliability are two major factors for customers when choosing the best life insurance companies, but the most important thing for us is hearing first hand from our customers, how life insurance really has made a difference to their lives.
Kay is a Legal & General customer, who together with her husband, Chris, decided to take out life insurance to help protect them should the worst ever happen. Watch Kay and Ellie's full story as they share with us the impact that life insurance had on their lives at such a difficult time.
Kay and Ellie's story video
Kate and her husband, Ian, decided to take out Legal & General life insurance to help protect them financially. Here Kate tells us how life insurance helped her and her children while trying to deal with the tragic loss of her husband.
Helpful tools
If you're not sure which of our products might suit your needs, take a look at our useful types of life insurance article which could help you you decide the right product for you.
You can also use our life insurance calculator to help you work out how much cover you might need.