Tomb with a view: The best UK cemeteries to visit
It's not everyone's idea of the perfect day trip, but Britain is blessed with some of the most magical cemeteries around. From marvellous memorials to the burial grounds of historic figures, there are countless UK cemeteries that are worth a visit. We analysed TripAdvisor traveller rankings to find out which cemeteries are the most loved in London and throughout England. We discovered:
Honouring the fallen is of great importance to the public – the World War II war grave cemetery, Cambridge American Cemetery and Memorial, topped the chart.





Highgate Cemetery – the resting place of poets, painters and philosophers – is the most beloved burial site in the capital.





Liverpool Cathedral gets people talking – it has the highest number of reviews (9,068) and is the third highest rated cemetery by UK travellers overall.
Tomb with a view
There are more than 12,000 historic cemeteries, churchyards and burial grounds in England and Wales, so getting top-rated by visitors is no easy task. While cemeteries are associated with sad occasions where we sometimes shed tears, they're also places of contemplation, reflection and often, beauty. So, what are the top ranked cemeteries to visit in England?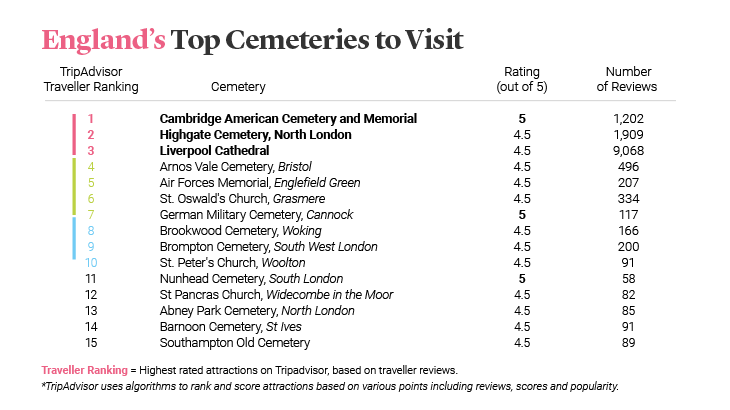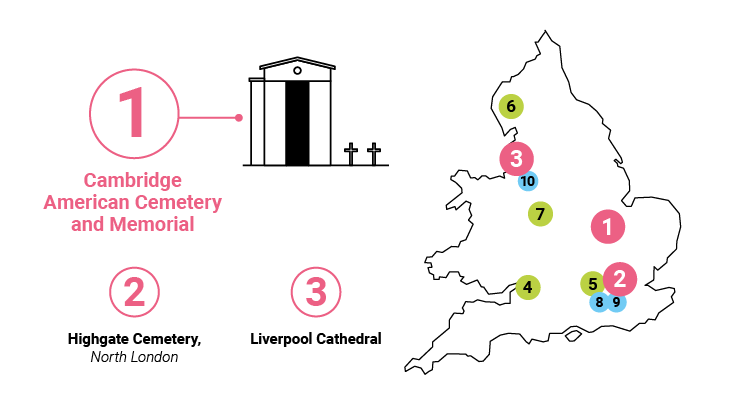 Cemeteries in the capital
Our research revealed that four of the top fifteen most popular English cemeteries were in the capital, so we were in grave danger of producing a London-dominated list. But it got us thinking: what are the most highly rated cemeteries within the M25?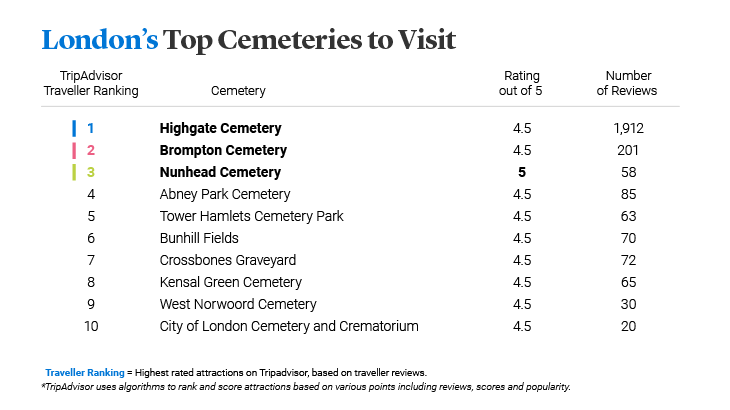 Aside from the aforementioned Highgate Cemetery, London is home to plenty of other much-loved resting places. Brompton Cemetery is a Grade I listed gem with a restored chapel, a modern café, visitor centre, and more than 35,000 graves, including the burial site of women's suffrage campaigner Emmeline Pankhurst.
In the south of the city, Nunhead Cemetery is a grand and sprawling Victorian burial site consecrated in 1840, while Kensal Green – the oldest cemetery in the capital – is where the pioneering engineer Isambard Kingdom Brunel is buried.
Cemeteries elsewhere in the UK
While our study focused on cemeteries in England, it would be remiss not to mention some of the beautiful resting places that can be found throughout the UK. The Necropolis in Glasgow is a sprawling 'City of the Dead' with epic views of Glasgow Cathedral. In Wales, the stunning Llandaff Cathedral, in the outskirts of Cardiff, dates from 1107 and while parts of the cemetery are wild and untamed. And in Northern Ireland, the Clifton Street Cemetery (which opened in 1797) offers guided tours and is a great place to learn more about Belfast's past.
Celebrating our cemeteries
As our research shows, there are magical cemeteries the length and breadth of England. From the ancient timber roofed St Oswald's Church in Grasmere, Lake District, to the stunning beach-side Barnoon Cemetery in St Ives, Cornwall, our cemeteries are so much more than burial sites where we go to mourn the deceased. Of course, funeral plans have to start somewhere, and while few of us would like to contemplate our own burial service, perhaps it's nice to remember that cemeteries can be inspirational places and the backdrop to many of life's unique occasions – from film sets and weddings to a sleepy Sunday stroll.
Planning a funeral in later life
No one likes to think about their own funeral, but it's never a bad idea to discuss some of these later life decisions with your nearest and dearest as early as possible. Do you want a small or large occasion? Traditional or modern? Do you want the venue to be somewhere special that means something to you, or simply the nearest church or hall?
Everyone is different, and the most important thing is that you have a fitting send-off according to your own wishes. And if you haven't got money set aside already for your funeral expenses, you could consider Over 50s Life Insurance as one option to help towards your funeral payments and ease your loved ones' financial worries.
But whether you opt for a cemetery burial, cremation or another way of departing, we hope our list of the best cemeteries shows that there are plenty of wonderful locations where people past, present and future will be memorialised for generations to come.