What is the difference between health insurance and life insurance?
Given so many insurance terms are used interchangeably, it's easy to see why some people may not know the difference between health insurance and life insurance. But the distinction is important, so in this article we'll explain how these products differ.
What is health insurance?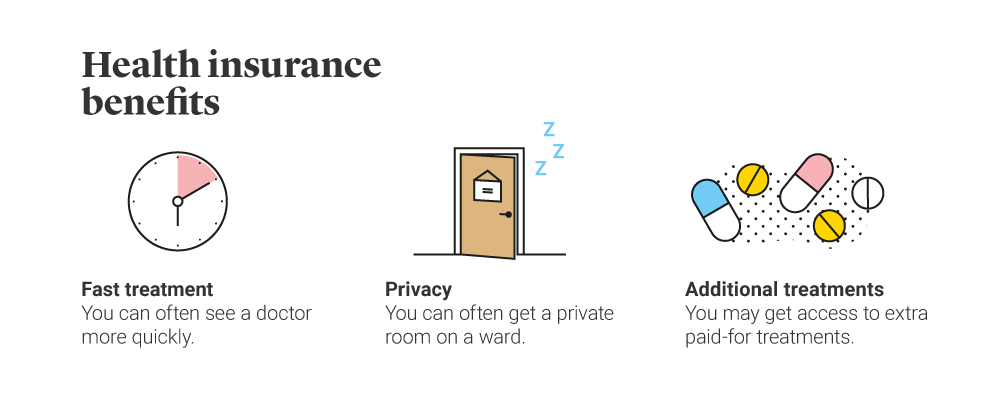 Health insurance in the UK often refers to private medical insurance, which offers paid-for healthcare treatment, as opposed to the NHS, which is free at the point of use. You can usually get private health insurance on an individual basis, or as a family with your partner and children. While we are all grateful for our wonderful NHS, there are reasons to consider private health insurance.
Faster treatment – you can see a doctor more quickly. According to the British Medical Association the median waiting time was 14.1 weeks in May 2023. Some private healthcare clinics claim that patients can be seen and discharged within 2 to 4 weeks.
Privacy – you can often get a private room on a ward.
Additional treatments – while most treatments and drugs are available on the NHS, if you have a particular need you may have to pay for private healthcare. The National Institute for Health and Care Excellence (NICE) determines whether a drug is cost-effective enough to be used by the NHS; sometimes certain cancer drugs are unavailable outside of private healthcare.
What does private health insurance cover?
So, what services might you be entitled to if you take out private health insurance? Every private health provider will offer different benefits, but here are some possibilities:
Access to a private room in a wide range of private hospitals
Specialist treatments unavailable on the NHS
You don't want to wait for NHS treatment
You want to choose the date for a hospital operation
You want to be treated by a consultant of your choice
You want a second opinion on treatment you've had on the NHS
You want health screening
What does private health insurance not cover?
While private health insurance might give you access to a range of treatments, your policy may not cover you for any pre-existing conditions or chronic long-term illnesses, which you would disclose when applying for health insurance. Also, some policies may not cover you for pregnancy and childbirth. In contrast, the NHS offers free universal healthcare to all people who are 'ordinarily resident' in the UK.
What is life insurance?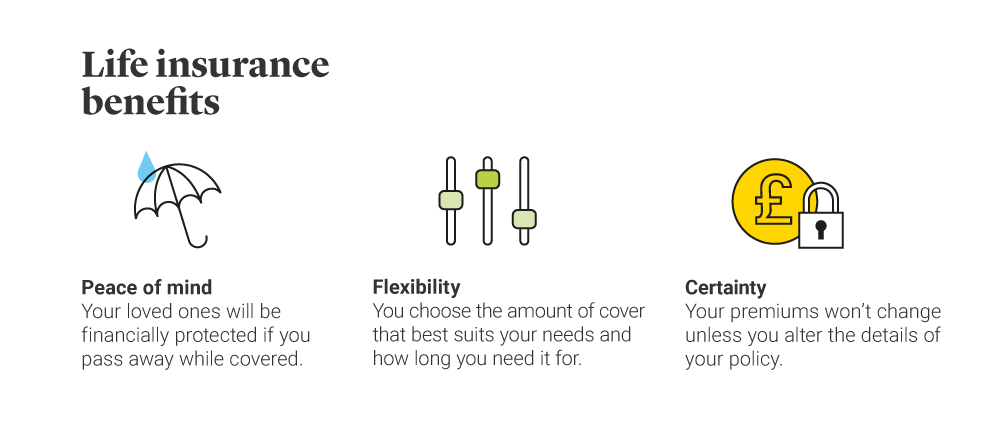 Life insurance can help minimise the financial impact that your death could have on your loved ones. Our Life Insurance is designed to pay out a cash sum if you die or if you're diagnosed with a terminal illness with a life expectancy of less than 12 months during the length of the policy.
There is also the option to add Critical Illness Cover for an additional cost when you take out your policy.
Some of the advantages of life insurance include:
Peace of mind – your loved ones will be financially protected if you pass away while covered by the policy. This can mean less stress for your loved ones at a difficult time, and they can be spared any extra disruption in knowing the finances are taken care of.
Certainty – your premiums won't change unless you make any changes to your policy. And as long as your premiums are paid during the policy term, your loved ones can make a claim.
Flexibility – you choose the amount of cover that best suits your needs and how long you need it for. And if you add critical illness cover, it could pay out if you become critically ill with a specified critical illness.
Please remember that life insurance is not a savings or investment product and has no cash value unless a valid claim is made.
Health insurance vs Life insurance
There are important differences between health and life insurance which you should consider before applying for either type of policy. They are fundamentally different propositions: health insurance is designed to pay for treatment costs – for example, urgent surgery, or seeing a doctor more quickly – while you're alive.
In contrast, life insurance provides a cash sum to your loved ones if you die during the length of the policy. A life insurance payout is a one-off event that could help pay for the mortgage or help with everyday living expenses.
Read more about Legal & General's Life Insurance
Can I have both health insurance and life insurance?
Yes, some insurers allow you to get a joint health and life insurance policy, or you can do so as two separate plans. Having both policies in place could provide added protection to your everyday health and your family's financial future.
This option wouldn't be possible with Legal & General as we don't currently offer health insurance.
Get a Life Insurance quote
The future is never certain, but having the right financial cover in place could give your family some much-needed certainty in hard times. Get a free life insurance quote to give you and your family the ultimate peace of mind.