One way that the Covid-19 pandemic has impacted our daily lives is the increase in the number of people who went from working in an office to logging in to their laptops at home. According to a study by The Office for National Statistics, 85% of people working remotely said that instead of going back to the office full time, they would prefer to use a hybrid approach in the future (a combination of the two). So what could a future of cutting down on the commute mean for our need to stay active?
Setting up offices in our spare rooms has meant it's more important than ever to find new ways to turn keeping fit at home into a long term habit. And as sitting too much is a proven risk to our health, we've put together this handy guide on how to get moving with easy exercises to do at home and stay motivated.
Before you pull on your workout gear, it's best to grab a pen and paper and note down what your goals are. According to Positive Psychology, those who set specific, challenging, and achievable goals have higher performance rates 90% of the time compared to those who do the opposite.
Whether you're looking to improve your current fitness levels, or simply want to make sure you're not sat at your desk all day, try writing down your fitness goals to keep that motivation fresh in your mind.
Working from home may mean you find yourself chained to your desk more than before. It's easy to take a quick coffee break when you're in an office, but virtual working can make people feel guilty over being away from their desks.
Try blocking out lunch and coffee breaks in your calendar so people know when you're away. If you're able, why not try standing during a conference call to stretch your legs? And if your fitness tracker is giving you a nudge to move around, you could try walking to the other end of the house and back again to get those steps in.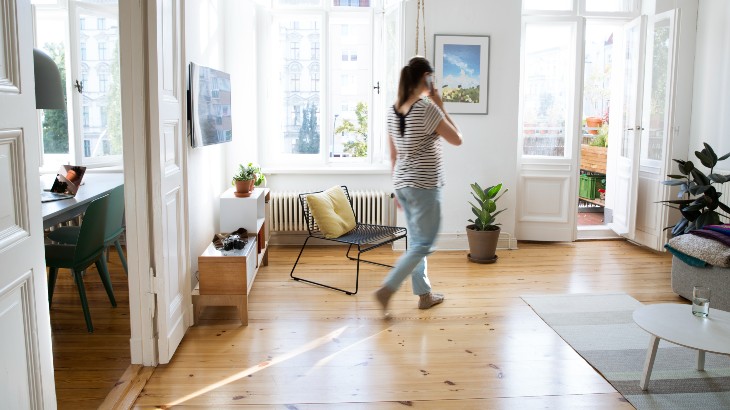 Make sure you always spend at least five minutes warming up before a workout. By gently raising your heart rate and circulation, you'll increase blood flow to your muscles and loosen up your joints, which can reduce injury and the risk of aching the next day.
Walk everywhere

Walking is a great way to improve and maintain your health. According to Bupa, walking for as little as two and half hours a week at a brisk pace can help:
Increase cardiovascular fitness
Reduce the risk of high blood pressure and strokes
Improve management of conditions such as joint and muscular pain or stiffness and diabetes
Strengthen bones
Miantain a healthy weight
Keep your muscles and bones healthy
Improve your mood, reduce stress and help manage anxiety
You could try walking to the shops on your lunch hour, or simply swap the car or bus for the pavement as often as you can to build a routine.
Remember: To walk at a brisk pace means you are still able to talk but not sing and you may be slightly out of breath.
Stair climbing
One of the best ways to keep fit at home is to use your stairs. Studies show that climbing stairs burns a lot more calories compared to running and walking as it engages all the abdominal muscles, stimulates surrounding organs, activates the spine, and reduces the risk of knee, leg, and ankle injuries. And the best part? It can be done whatever the weather. Just some of the benefits of daily stair climbing are:
Helping to lose weight
Improves heart health
Increases muscle strength
Helps build endurance
Improves mental health by releasing endorphins
Online classes are a great way to boost your motivation and learn new exercises – and there are so many free resources to choose from. Why not try a Zumba workout video from YouTube? Or a yoga live stream on Instagram? As finding an online class is so convenient, you can easily turn them into a work from home exercise routine that fits in with your day.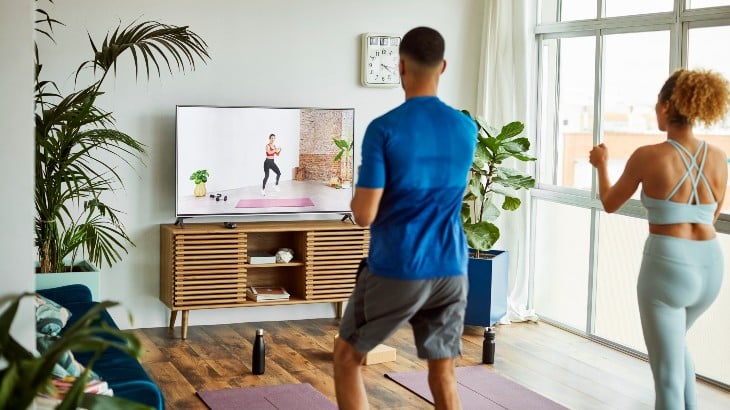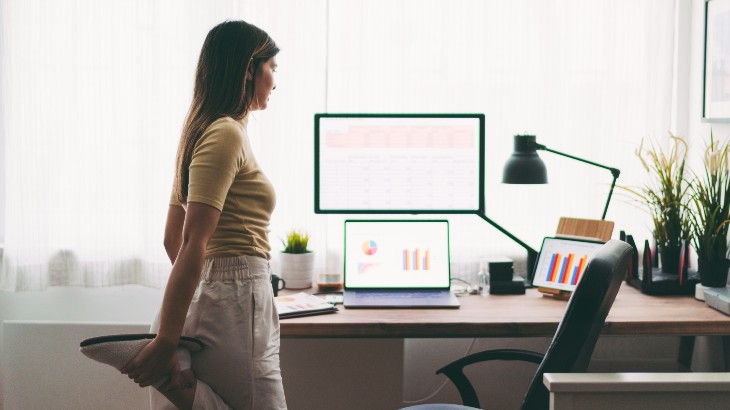 Even if you find it hard to stay active, there are plenty of ways to exercise at your desk while you work. The NHS offers easy to follow fitness guides that can be done from the comfort of your office chair. Simple sitting exercises like chest and neck stretches, upper body twists and arm raises can help improve mobility and loosen muscles.
Remember to not be too hard on yourself if it takes you a while to get into a routine. Not only are we all still adjusting to life after a pandemic, but any new habit can take time to set in. Sometimes parenting responsibilities, lack of time or tiredness may mean while you managed to fit in a few desk stretches, you didn't get a chance to get your heart rate up. Take time to reflect on what worked and what didn't so you can change things up next time if you need to.
Protection for the unpredictable
Make sure your loved ones are protected against the unexpected. Life Insurance ensures those closest to you will be looked after when they need it most.