Caring for an elderly parent can give vital support to a loved one when they need it most. But of course, looking after the elderly is not without its challenges, so in this guide we'll provide some pointers on how to be a carer for an elderly relative, covering some of the best ways to offer support, keep them company and assist with practical matters.
Looking after the elderly
If you've taken on the responsibility of looking after elderly parents, you're certainly not alone. According to Carers UK around 10.58 million people in the UK are carers, equating to 1 in 5 adults. These responsibilities require time and energy. As we'll explore, there is a broad range of ways that you can care for aging parents, both in their own home and while out and about.
What to consider when looking after an elderly relative
Being a carer for a relative can be hugely rewarding, but challenging too. It's worth thinking carefully about what helping elderly parents means in reality. Here are some of the factors you may want to consider when it comes to looking after aging parents.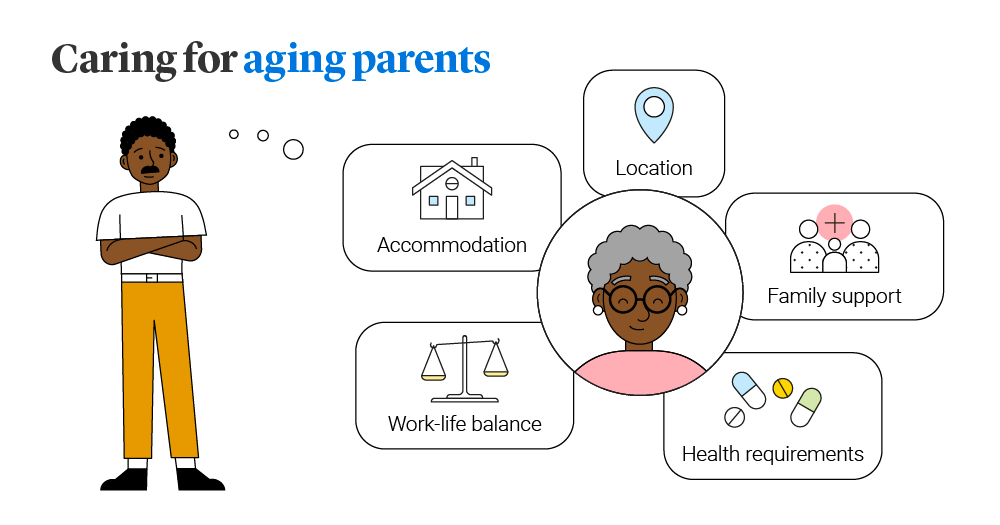 Accommodation
Where will your parent be living as they age?
Caring for the elderly in their own home may seem preferable, but depending on the circumstances, you may have to consider if your parent's home needs to be adapted to meet their needs. For example, would they consider moving to a care home or sheltered housing?
Location
Are you geographically close enough to your parents so that you can care for them, or would you need to relocate?
What are the transport links like?
It may be challenging to care for an elderly parent if you live overseas, so thinking about these questions as early as possible could help you plan ahead.
Work-life balance
If you're in employment, do your work hours leave you with enough time to look after an older parent?
It's important to make sure that your career isn't unduly affected by caring for an elderly relative, especially if other people rely on your income.
Health requirements
Can your family member access the specialist care they need?
Think about whether you have the time to liaise with care and health professionals, especially if you're caring for an elderly parent in their own home.
Family Support
Do you have other people who can support you in looking after your parent?
If you have siblings, it's only fair that responsibilities are shared fairly, and in keeping with everyone's needs.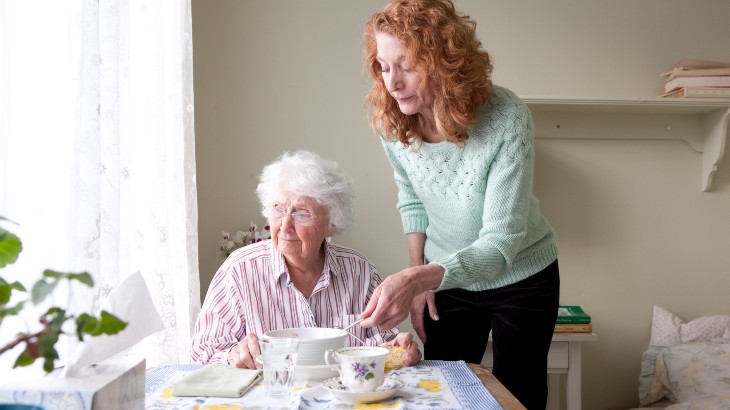 Ways you can care for an elderly relative
There is no shortage of ways you can help elderly parents, and we've broken it down into three main themes.
1. Practical support
Rolling up your sleeves and helping in practical ways can mean any number of things, such as:
Arranging social care. Contacting a parent's local authority to arrange a care and support plan could help identify the nature of the care they need – from specialist housing to care in their own home.


Adapting a home. Even if you're not a DIY person, you may be able to apply for a

Disabled Facilities Grant

which could make a financial contribution towards home adaptations.


Personal care. An elderly parent may require help with personal care, from bathing and washing to getting in and out of bed. You may wish to do this yourself, or hire homecare support to help with an elderly person's daily needs.


Keeping a home safe. An older person may feel more vulnerable in their home, or there could be an increased risk of accidents occurring. You can enhance the safety of a home by clearing hallways of clutter, adding grab bars to the bathroom, or improving the lighting to enhance visibility and deter any intruders.
Making meals. Cooking takes time, but if you have any spare energy, cooking for an elderly parent can take some weight off their shoulders and give them the nutrition they need. Even if you're less inclined to cook, shopping for groceries and running other errands can be a big help.
2. Financial support
Looking after an elderly person's finances could be invaluable for them. Here are some ways you could assist:
Paying for social care. In the vast majority of cases, social care isn't free at the point of use. So you may wish to make a financial contribution towards your parent's care costs, whether they'd prefer to live in a residential home, or require specialist homecare.
Help with paperwork. The level of support your parent receives from the local authority may depend on their income, savings and assets. You could support a parent with any paperwork related to their finances; for example, by helping them prepare for their 'means tested' financial assessment, or applying for disability benefits on their behalf, or a Carer's Allowance for yourself.
Managing a bank account. Your parent could set up a Power of Attorney, allowing you to manage their day-to-day financial affairs of your parent. This could give you the opportunity to take care of a parent's everyday spending, and ensure they're getting the best deals from utilities providers.
3. Emotional support
It's not just money and practical matters that can make a difference. Helping with an elderly person's mental health is vitally important too.
Communication. Having a phone call with an elderly parent could lift their spirits and remind them that they're loved. There are also talking therapies available through the NHS.


Physical activity. You can encourage an elderly person to stay active by taking regular walks. There is evidence that regular exercise can help reduce the risk of conditions like heart disease, stroke and dementia.


Social interaction. Encouraging older people to stay connected with their social networks can be invaluable. According to Age UK , these social ties "help maintain thinking skills as we age". Whether it's a regular phone or video call, or organised events such as coffee mornings, quizzes and walking groups, staying connected can help keep older people in good spirits.
Caring for yourself
While caring for aging parents is commendable, you also have to make sure that you look after your own mental and physical health. It's important to have open and honest conversations with your family members about how much support you can provide, and be realistic about what you can do to contribute. Sharing your care responsibilities with others – whether they're hired professionals or close family – could give you a greater balance with your other responsibilities in life.
Wellbeing Support for Over 50s Life Insurance customers
If you are thinking about life insurance you might be interested to know that Over 50s Life Insurance policyholders with Legal & General can benefit from our personalised health and wellbeing support services. Legal & General have partnered with RedArc Assured Limited to offer Wellbeing Support – practical and emotional assistance to help Over 50s policyholders when they're going through a challenging time.
This service gives you, the policyholder, and your immediate family such as a spouse, partner, or children living at home, access to a wide range of wellbeing services through RedArc's registered nurses. Support and help from a dedicated nurse can range from a reassuring chat, information, advice and guidance, to a clinical assessment and additional services based on your needs.
Additional resources
Being a carer for a relative can be hugely rewarding, but of course, it's not without its pressures. For more help and support, here are some additional sources of information: