10 November 2022
Using a lifetime mortgage for energy efficient home improvements
As property prices continue to see post-pandemic growth, housing wealth amongst the over 55's has reached an estimated £4.4 trillion. Products such as lifetime mortgages give clients more options when it comes to planning their retirements. As a result, we're seeing more people choose later life mortgages to help them achieve brighter financial futures.
Travel aspirations, supplementing pensions, or supporting loved ones through life's milestones are all common reasons people may choose to access property wealth in later life.
Our research also found that retirees release £1.9 billion of equity each year to fund irregular spending such as home improvements. This figure includes an emerging trend of eco-conscious consumers, whose home improvements proactively seek to make a more positive impact on the environment. Of the existing equity release customers surveyed in our Equity Economy report, 13% used the funds to make sustainable home improvements.
Meet Legal & General lifetime mortgage customer, Lillian.
In 2016, Lillian purchased a former chapel to convert into her forever home. The property had been empty for almost five years. Working with local tradespeople and using sustainable building materials, she was determined to create a home that would meet her changing needs as she got older.
As with many renovations, the time and expense incurred overran. Lillian found herself with a shortfall of almost £30,000 which is when she sought specialist financial advice to explore her options. Taking out a lifetime mortgage enabled her to finish the work, prioritising eco-friendly methods and provided a cushion to top up her pension.
"One of the things I bought with the lifetime mortgage was an air source heat pump. It was an expensive item, but it was important for me because as a gardener, that air source heat pump won't take the heat from the soil."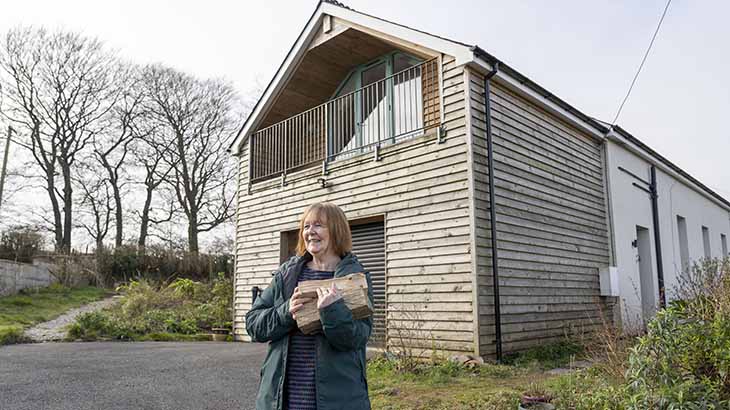 "Having a lifetime mortgage has given me the independence and freedom to do the house up as I would want. To make sure it's long-lasting, it's eco-friendly, and it's given me the freedom without worrying about money.
Equity release is available to homeowners aged 55 or over, and is a loan secured against your client's home. It is usually repaid when the last remaining borrower dies or moves into long-term care. It enables your clients to access tax-free cash, but it can affect means-tested benefits.
Rewarding energy efficient home improvements
At Legal & General, we're seeing more cases of lifetime mortgages, like Lillian's, being used to make sustainable home improvements. That's why we're rewarding our lifetime mortgage or RIO mortgage customers who are using part, or all of their later life mortgage to make energy efficient home improvements.
If your client chooses to make energy efficient home improvements, we'll provide 10% cashback on the total works of up to £1,000, or up to £200 on a lifetime mortgage drawdown (up to three times). The process is simple. Once the work is complete, your client will need to provide us with an invoice of the complete works within 12 months of their loan taking place.