Storing life insurance documents
When it comes to making sure your loved ones are financially protected after you're gone, it really does pay to think carefully about where you store your life insurance documents. Below, we share some tips on how to make sure your insurance documentation is safe and sound so your family have what they need to make a claim.
Why storing your insurance documentation matters
A life insurance claim is triggered upon the death of the insured person. When we are first told about a bereavement claim we will ask the following:
The name of the person who has died
The policy number (which can be found on the policy documents)
Details about the claimant's relationship to the insured person
Details about the deceased's next of kin; the cause, date and place of death (if this is known).
If your loved ones have the policy documents to hand, it can help with this initial call. For example, the policy documents will quote the policy number and your family will know that we are the insurer to contact. So knowing how to store important documents at home and online will make it easier for your family to make a valid life insurance claim at what will no doubt be a stressful and difficult time.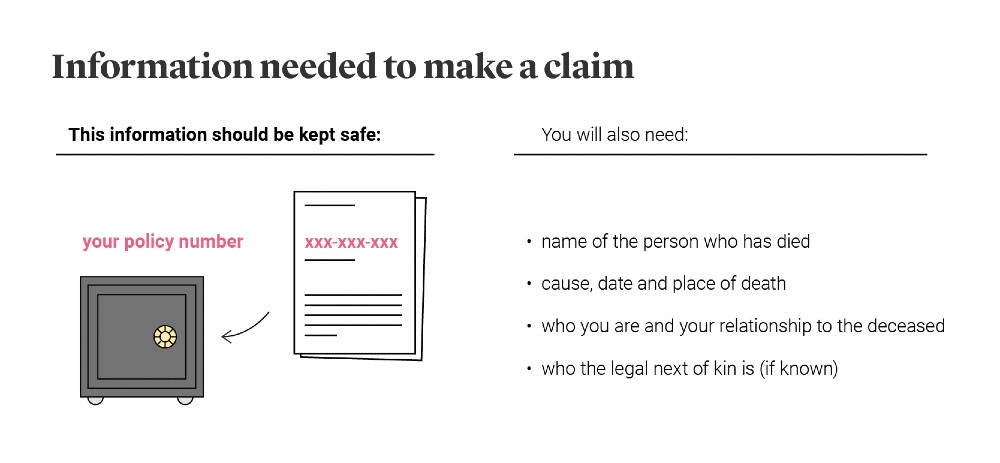 Where to store your insurance documents
Storing documentation is an important consideration for any household, as one break-in, moment of forgetfulness or accidental discarding could result in you losing key information. Here are some ideas for where to store your life insurance documents.
A filing cabinet. A strong and sturdy filing cabinet with multiple labelled drawers is a logical place to store important documents at home, and you can buy special locks for added peace of mind.
A home safe. Modern home safes have smart features, such as a digital PIN or fingerprint scanner. Keep an eye out for safes that are wall mountable (or portable if you prefer) and fireproofed. Home safes could be useful not just for storing a life insurance document, but also for mortgage deeds, birth certificates and passports.
A public safety deposit box. Increasingly, many high street banks are closing their branches and withdrawing their safe deposit box services. But you can still find safe deposit providers in the UK, who typically store documentation in vaults which are protected by security alarms and biometric technology.
Additionally, the deceased's written will may prove useful in making a life insurance claim, and you could consider storing this at home, or with the Probate Service, solicitors or bank. Please be aware that there is likely to be a charge if you ask a professional to store a will for you, so it can be worth shopping around.
How to store important documents online
You may want to digitise your life insurance documents to ensure you have a back-up if your print files are lost, stolen or damaged. Here are some ideas for storing documentation online:
Cloud storage. If you buy a Legal & General policy you have access to My Account, which is a simple way to view your policies online and keep your contact details up to date. There are other solutions which allow you to store thousands of files online – 'in the cloud' – which are backed-up from your computer.
Multiple devices. You could save crucial documents such as life insurance policies in more than one location – such as your laptop, smartphone or tablet.
Flash drives. This refers to portable storage devices, such as USB encrypted sticks, where you could save your life insurance documentation.
You should always consider information security when you choose how to send or store important documents and personal information online.
Tips for storing documentation
Aside from the more obvious storage tips we've covered so far, here are some other things you can to do keep your insurance documentation secure.
Use sealable plastic folders. You might think using a home safe is enough to keep your insurance documents secure, but what if you experience a leak or flood? Sticking your important paperwork in plastic folders could help you avoid any water-based mishaps.
Store items in a high place. Similarly, even if the risk of flooding is small, storing documentation on a high shelf (or top floor) could help you sleep easy, as floods often affect the ground floor.
Protect your passwords. If you decide to make a digital copy of your life insurance documents, you could password-protect these files for added security. Just make sure your family have the passwords kept in a safe place (like a lockbox) or use a digital password manager, where they can store encrypted passwords.
Communicate with others. You don't want your loved ones to be scrambling to find your insurance documents with little clue as to their whereabouts. Verbally informing your nearest and dearest on the location of the files is not only safe – as it doesn't leave a paper trail – but will let them know where to look at the vital moment.
How to organise your life insurance documents
It's important that your next of kin know exactly where to find your life insurance documents if they need to make a claim. Below are some tips for how to store documents at home using a well-organised filing cabinet:
Set up a filing system. Use dividers to separate all your important documents out so your loved ones aren't faced with a jumbled pile of papers to sort through.
Get some accessories. You'll want to ensure your insurance documentation is visible amongst the other paperwork – from property deeds to passports. Accessories like plastic wallets, suspension files and even a shredder can make storing information
Label your files clearly. Use a black marker pen on stickers (or filing tabs), then write each category – such as 'insurance' – on separated hanging files.
How long should I keep insurance documents?
A life insurance claim can only be made following the death of the insured person – note that critical illness cover and terminal illness cover is a different story – so there is no point at which you, the policyholder, should destroy or dispose of the documentation while you're alive and the policy is in place. From the perspective of the claimant, it's worth holding onto the insurance documents until the insurer makes a final decision.