Get the most out of an online doctor's appointment
Since the global COVID-19 outbreak, there's been a huge rise in online doctor appointments. According to a Consumer Intelligent survey, by June 2020 more than a quarter of people in the UK had attended a remote consultation, partly as surgeries paused face-to-face appointments at the height of the pandemic to maintain social distancing.
But interestingly, the same survey found 61% of patients would either prefer to keep speaking to their doctor online or at least have the option to do so. What's more, 86% rated their virtual experience as either good or very good so it looks like online doctor chats could be here to stay.
What is a virtual doctor visit?
A virtual doctor visit gives a patient the opportunity to speak to a doctor online about any health concerns they may have via a video or phone call from the comfort of their own home.
It's a relatively new service that has grown in popularity since the Covid-19 outbreak with both the NHS and private GPs. While the process may vary slightly depending on your GP practice, you'll usually be able to book an online doctor consultation in just a few minutes using the surgery website. You should then receive a confirmation with clear instructions on how to attend your appointment via email or text.
What are the benefits of speaking to a doctor online?
With the world around us becoming more and more digitalised every day, it seems our healthcare services are starting to make the move online too.
Just some of the benefits of this include:
Doctors can reply to patients quicker and are no longer tied to strict hours of working that can conflict with our own schedules.
As patients don't have to worry about travelling to the surgery, it's much easier for them to fit in an appointment on their lunch break, or simply when it's most convenient for them.
It can help doctors see more patients – especially those who live in remote areas.
It can help reduce stress and anxiety in patients who feel embarrassed about discussing their medical worries in person.
It reduces time wasted in patient no-shows by up to 90% as they don't have to worry about getting stuck in traffic or making time to travel.
Patients can still get a prescription from their doctor online based on the virtual diagnosis.
What happens in an online doctor consultation?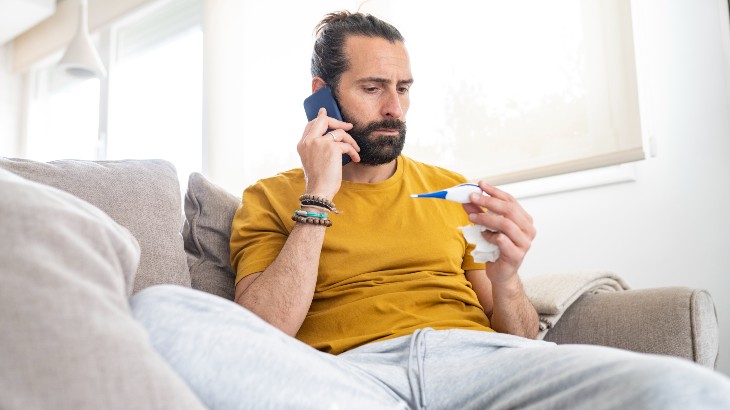 Many surgeries offer online doctor appointments and consultations without the need for video calling. You'll need to fill in an online form or message the surgery about a health issue via your smartphone, tablet, or computer and then you'll get a text or email to confirm the details. You'll receive advice on what to do next and if your GP feels they need to see you, they may suggest another consultation over the phone or via video call.
What happens in a video consultation?
Virtual GP consultations are similar to face-to-face appointments. You'll be sent a text or email explaining how to attend your NHS or private online GP appointment. You can chat online with your doctor using the camera on your smartphone, tablet, or computer. If you need help with the instructions contact your surgery, or ask a friend or family member to help.
At the end of your virtual appointment, you will be advised on the next best course of action and any follow up plans. For example, your GP may offer you a prescription, or ask you to come in for an examination.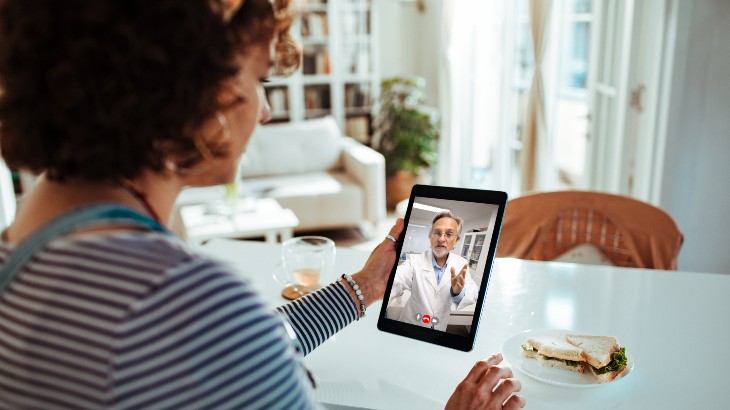 Tips on getting the most out of your online doctor appointment
It's normal to feel a little anxious about an online doctor appointment, so we've put together some helpful tips to help make sure you feel at ease.
Be sure to log on to your video consultation a few minutes early to make sure there aren't any technical or WiFi issues.
Make sure you're in a calm and private space where you feel comfortable talking about any health problems.
Write down two or three of your most important questions.
Write down the names or have your medicines and pill bottles to hand (this includes vitamins and supplements).
Take a bit of time to note down your symptoms before the appointment so you don't miss anything out. When do you notice them more? Is there anything that makes them feel better?
If it makes you feel more comfortable, invite a close friend or family member to sit with you for support. Maybe they can even take some notes for you.
Before you log off your appointment, make sure you fully understand what has been discussed and what will happen next.
Ask about any relevant support groups, where to go for more information and who to contact if you have any questions.
Support when you need it most
If there's one thing we can all agree on, it's always best to be prepared. Taking out life insurance can help financially protect those closest to you, no matter what the future holds.