How much Critical Illness Cover do I need?
Life is unpredictable at the best of times, but critical illness insurance can be an invaluable way to protect yourself against the financial impact of a critical illness. At Legal & General, you have the options to add Critical Illness Cover for an extra cost when you take out Life Insurance or Decreasing Life Insurance. Of course, everyone's circumstances are different, so how much Critical Illness Cover do you really need? Let's explore how Critical Illness Cover works.
What is a 'critical illness'?
A critical illness is a serious illness that has a significant impact on your ability to carry out your normal day-to-day activities, such as going to work or looking after your family. Examples of critical illnesses covered by our Critical Illness Cover include:
Cancer (with the exception of less advanced cases)
Dementia (which results in permanent symptoms).
Stroke (where the symptoms last at least 24 hours)
For full definitions and when you can claim for these illnesses, please refer to our Guide to Critical Illness Cover PDF and Policy Booklet PDF.
How much critical illness cover do you need?
The amount of critical illness cover you require depends on various factors that are unique to each individual. For example:
What are your existing financial commitments?
If you have a mortgage, consider how much of your mortgage remains outstanding, and whether you could pay the monthly repayments following a critical illness, if you were unable to work for example. The same applies if you are renting.
Are your financial circumstances likely to change?
No one has a crystal ball, but you might want to consider whether your current financial landscape will look different in the near future. For example, the arrival of a newborn baby may bring additional financial pressures such as childcare expenditure. It's worth thinking about your future life plans before deciding how much critical illness cover you might need. However, you can always review your protection needs if things change in the future.
How much would you need to maintain your lifestyle?
Ultimately, Critical Illness Cover could payout a cash sum for you to use however you choose. For example, it could help with child care costs, household bills or to help maintain your standard of living if you're forced to take time off work to recover.
It's a good idea to look at your current monthly outgoings and how a period off work might affect you financially. Our life insurance calculator can help you make informed decisions about the protection you need.
Please remember that life insurance is not a savings or investment plan and has no cash value unless a valid claim is made.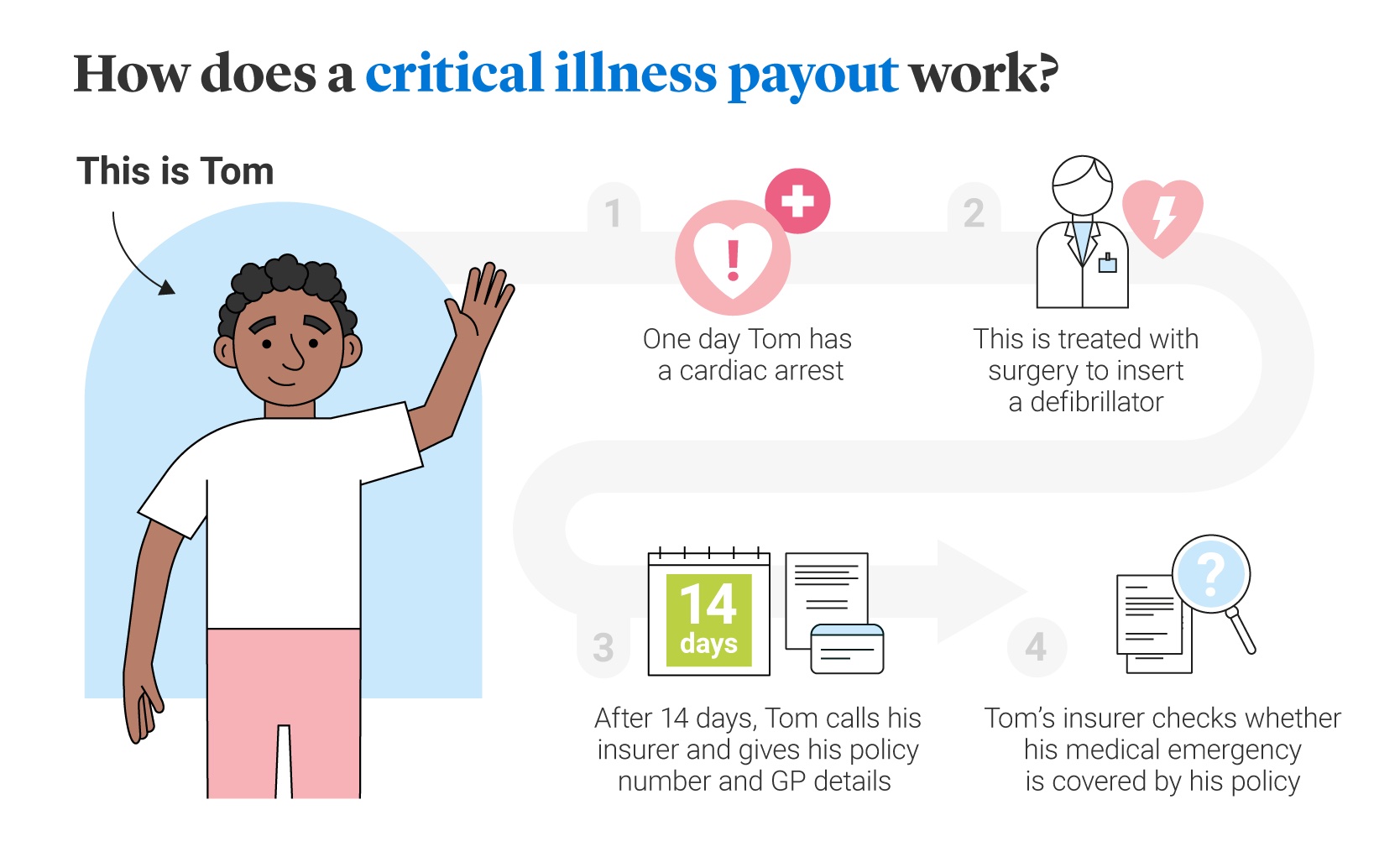 How does a critical illness payout work?
If you're covered by Legal & General's Critical Illness Cover and you're diagnosed with, or undergo a medical procedure for one of the specified critical illness that we cover during the length of your policy, and you survive for 14 days from diagnosis you can make a claim on your policy. You'll need to provide us with a policy number, information about your illness or diagnosis, and how we can get in touch with your GP or medical consultant.
At this stage, we'll then carry out some policy checks, and we may get in touch with your GP. We aim to process claims as quickly as possible. Read more about how to make a critical illness claim.
How much are critical illness insurance premiums?
The amount you pay in premiums for Critical Illness Cover depends on a range of individual factors, including: