If you have found yourself thinking about putting your house on the market, you may want to consider sprucing up your interiors and making some home improvements. Home renovations can add value to your property, whether it's smaller changes such as redecorating, or larger ones like fitting a new kitchen or bathroom.
In this article, we'll discuss how to add value to your home, be it through a bit of DIY or by hiring a builder to take on a more ambitious project.
And, if you're not in the market to sell or let, you can simply enjoy the results for yourself.
How to add value to your home on a budget
Before hiring a team of builders, are there areas of your home that could do with a lick of paint rather than a complete refit? Changing the decor can be an inexpensive yet effective way to increase the value of your property.
Here are a few ideas:
Refresh your walls. Is the wallpaper peeling? Perhaps it is time for a new pattern. If the paint is looking a little faded, go round the house and touch up all the walls with a new colour. This simple job will brighten up the interior. If you're thinking of selling or letting, you're best to choose a neutral colour.
Check your lighting. If the light bulbs have gone out, or are flickering and fading, replace them. Any old lampshades can be replaced with newer ones. If the lighting is dark in your home, try using white light bulbs, or changing the light fitting. An electrician will be able to help, and it could make a real difference to the feel of a room.
Update the curtains. If they're looking a bit outdated or discoloured, consider changing your curtains – or switch them for shutters or blinds for a more modern, fresher feel.
Replace your carpets. If your carpets are looking worn out, or floorboards are creaking in the night, it might be time to replace them. While new flooring can come with a price tag, look out for seasonal sales to make the switch more affordable.
Repair rather than replace. Take a look around your home to see whether anything needs repairing – like skirting boards or loose handles. Fixing these types of smaller job will make the home look more cared for.
Renovating the kitchen
A new kitchen typically increases a property's value by up to 10%, though this figure will depend on how much work you get done, and what your property is worth to begin with.
The goal is to minimise spend and maximise your return. With this in mind, your cooker is a great place to start. If you have an old model, it can bring the appearance and functionality of the kitchen down. Consider whether you'd prefer a gas or electric stove, and choose one to complement the kitchen's interior.
Modernise the appearance of the kitchen by changing the worktops, opting for a material like granite while you're at it. Although this is a pretty costly option, granite is heat-resistant and it holds its own against chips and scratches, so it can be worth the investment. For a more affordable alternative, you could choose a wooden or laminate worktop.
The kitchen cabinets should be scrutinised next. Are they squeaking when opened? Looking a bit off-colour? To save money you could consider repainting them, or simply oiling the hinges. If you want a complete refresh, replace the doors with new ones.
If you've given the walls a lick of paint, why not get a splashback? This will prevent sauces and soups from splashing on the walls during cooking. You can choose from a range of designs, perhaps mosaic tiles, laminate upstands or glass splashbacks. They'll make the hassle of cleaning up after cooking a breeze, and keep your kitchen makeover lasting longer.
Throughout the kitchen, consider the colour scheme you want to go for. Light colours are bright and open up the space – always a sure-fire winner.
Renovating a kitchen is as much about making it look fresh and new, as it is about improving the core equipment available. A few simple tweaks can go a long way, and these don't need to cost the earth.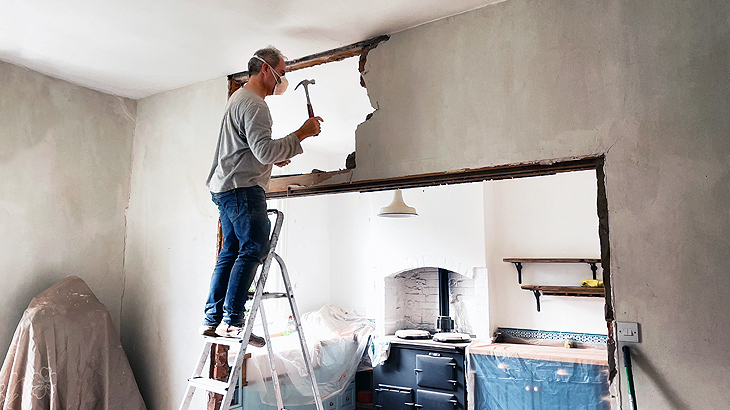 Larger home improvements
Larger-scale work inevitably requires a professional's touch. Adding a new bathroom, converting a loft or extending key areas of your home, should be handled by builders specially equipped for the task. This means you may need to spend a bit more on the job, but the results will be worth it.
En suites
Generally the more bathrooms your home has, the easier it is to sell. Is an en suite right for your home? Consider factors such as whether the addition of an en suite will decrease the size of the room, or if the space can be taken from an adjoining room. Speak to your builder about the costs involved and the best option for your space.
Loft conversions
Turning a neglected storage area in the loft into a new bedroom or study space can increase your property's value by as much as 20%. All told, it's one of the biggest ways to add value, according to Property Reporter.
But it's also one of the biggest home renovations you can make.
Speak to your builder and find out whether your house can support the weight of an extra room. From here, you'll need to factor in height restrictions, the addition of stairs and windows, as well as insulation.
Despite the work involved, a loft conversion is often easier to accommodate than an extension. It usually doesn't require full planning permission, though it's worth checking this with your local council. What's more, a conversion is usually cheaper than an extension.
Extensions
A home extension can be anything from adding a new bathroom, to extending the house into the garden, to adding a conservatory. Once you have an idea about how you'd like to extend your house, speak to your builder about the options and an estimate for the work. Before you get started, find out if you need planning permission from the council to proceed.
Types of extension:
Garage. Whether you want to build a garage extension to your house or a separate building, a garage can be a great addition to a home if you have the space.
Kitchen. Making your kitchen space bigger can transform your living space and increase the worth of your home by up to 10%.
Conservatory. Increase the amount of natural light in your home and add up to 7% to your property's value while you're at it.
Living room. Enhance the family room with an extension – more space is ideal for bigger households or when having guests round.
Home improvements are an excellent way to add value to your home. They'll modernise your living space and act as a major investment in the long run, but always make sure you have the right permission to proceed (in the case of extensions) and the foundations to support the work (in the case of loft conversions).