They say that doing up a house always takes twice as much and twice as long as the original estimates. The sums may not be quite that bad for Lillian, who in 2017 converted a former chapel to her forever home, but she still found herself with a shortfall of about £30,000.
"I wanted somewhere that was sustainable – which is about only using what you need," she says. "I'm very economical in that sense. But everything in this house is the best quality I can afford."
Lillian had a clear plan for the chapel, which had been empty for about five years. She wanted to use local tradesmen, and to create a home that was eco-friendly and sustainable, re-using building materials as much as possible.
"When I first saw [the chapel], it was empty, one or two pews," she says. "It was just a big hole. Some people didn't think I could make a home out of it, but I thought, I'm going to take this on and enjoy doing it up."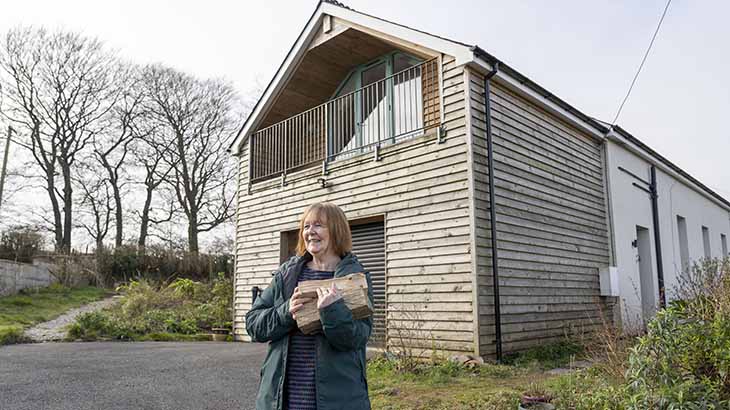 Looking ahead to the future
She planned the build carefully, to create a home big enough for friends, small enough to be manageable – and to be able to meet her changing needs as she gets older. A spell working as a live-in carer had shown her what's important for those who want to remain in their own homes, so she kept the layout simple, leaving it spacious and easy to move around.
She put in a bedroom and a wet room downstairs. Warmth was key (Lillian has vivid memories of growing up with aluminium windows with ice on the inside as well as the outside!), so she insulated the walls, floors and roof, in part with sheep's wool from a local farmer, which she swapped for bricks from the chapel that she didn't need.
Lillian knew future energy bills could rise, which can be difficult to manage on a fixed income. "It was important for me to use both technology and science, and I chose an air source heat pump; it's recyclable and renewable energy," she says. "But my budget was tight; I was concerned about how much it was going to cost me to refurbish with good-quality fittings. I realised I could either keep working or get a loan."
Continuing to work didn't appeal ("I worked hard all my life so don't see the point in doing that," she says), so she started to look at a lifetime mortgage to provide that bit extra to finish the job properly, and also provide a cushion to top up her pension income. "It makes sense to make use of the money that's tied up here in the house," she says. "I had used up all my savings on the house and I wanted to replace that, because I have family abroad and want to see them on a regular basis."
How Lillian funded her renovation plans
Taking out a lifetime mortgage meant some careful planning. But for Lillian it meant she could finish the conversion to the standard she wanted, with added extras such as an air source heat pump that would help to future-proof her lifestyle from rising utility bills.
"It has given me independence – the freedom to not worry about money. I think as you get older it's important to know you've got something behind you, something you can rely on. Peace of mind – really lovely."
Converting the chapel gave her time to get to know her neighbours and community, and she has built a close circle of friends, as well as volunteering in a local charity shop. "It's not like an urban area, there's a lot of isolation in the sense of little smallholdings," she says. "Sharing with other people gives you a brighter outlook; everyone needs a sense of belonging. The community is quite close here and I'm part of that community."
This type of equity release is available to homeowners aged 55 or over (or 50+ for our Payment Term Lifetime Mortgage), and is a loan secured against your home. It allows you to access tax-free cash that won't need to be repaid until you die or move into long-term care. It may reduce the amount you can leave as an inheritance to family or loved ones though, and can impact any benefits you receive, so there's plenty to think about.
Now she can relax in her much-loved garden, secure in the knowledge that the property has afforded the extra luxuries that turn a house into a home.
"I wanted somewhere that I could have sunlight, space, privacy and a little bit of a garden. And this has provided me with those things," she says. "It's my sanctuary."
If you would like to find out more about equity release, our article on frequently asked questions about equity release could help. We also have a lifetime mortgage calculator, which helps you see how much equity you could release with a lifetime mortgage.